March 22, 2017

Humidity Sensor is certified by NMEA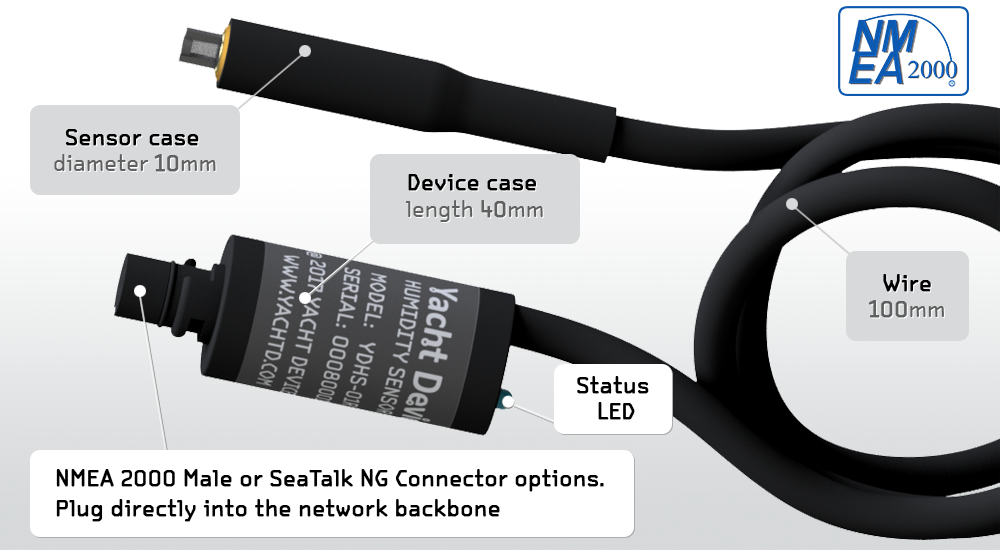 We are pleased to present our new product: the Humidity Sensor for NMEA 2000. This product has already passed National Marine Electronics Association certification and will be in stock on March 31. With humidity, air and dew point temperatures, fog will never be a surprise for you.
Subscribers may worry that our newsfeeds are updated very rarely in the last 3 months. Was it a long vacation? No! Five new devices are in development and we really worked hard all this time. Today we are glad to announce the first product from the 2017 series.
This device looks similar to our thermometer, but has another sensor at the end of the one meter wire. It is a temperature and humidity sensor with really excellent parameters:
accuracy is ± 2 % for relative humidity in the range of 20 .. 80 % and up to ± 3 % in the rest of the range;
± 0.3 °C for temperature in the 5 .. 60 °C (41 .. 140 °F) range and up to ± 1 °C in the rest of the range (-40 .. 120 °C);
measurement resolution is 0.04 % of relative humidity and 0.01 °C;
measurement frequency is 0.75 Hz.
It is a much, much better sensor than the inexpensive weather stations available in electronic superstores. It feels the change when it is touched, it gets excited near a cup of hot coffee, and even reacts to a glass that recently contained a cold drink. In addition to humidity and air temperature measurement, it calculates dew point temperature, so fog will never surprise you.
Sensors can be configured to display inside or outside temperature and humidity. This can be done easily with professional NMEA installer software from ActiSense or Maretron, or it can be done from any chart plotter using a smart sequence of switching of chart datum or magnetic variation setting (tested with Raymarine and Garmin chart plotters, see details in Manual).
What can you do with the Humidity Sensor:
obviously, weather monitoring and fog prediction (save money on radar);
remote monitoring of living quality, from the helm you will see how comfort it is in the cabin;
monitoring of water intake or moisture condensation in lockers (mold prevention);
it would make a great gift for a friend, would not it?
The Device is plug and play, you only need to plug it into a NMEA 2000 backbone to get readings on all chart plotters and instruments on board. Don't miss March 31, when you can buy this product at a discount and find out what other new product will be released in April!
Next articles:
Previous articles:
See also: recent news, all news...