December 25, 2019

The Ethernet Gateway is in stock
This is a really tiny and elegant device. In comparison to the Maretron IPG100, it is 50 times smaller, 19 times lighter (18 g vs 340 g), 4 times cheaper and uses 3 times less power.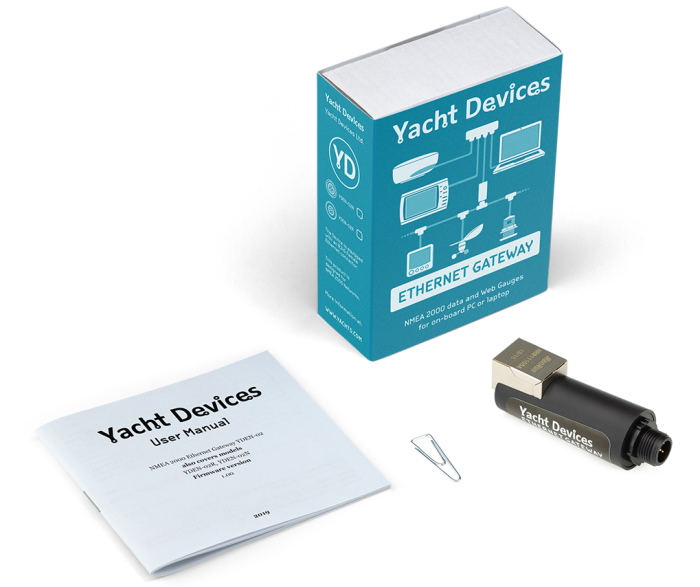 Despite its small size, under the hood (don't really open it) you will find:
web server for configuration and firmware updates;
Web Gauges to view vessel data right from a web browser;
bi-directional convertor between NMEA 0183 and NMEA 2000 with autopilot support;
3 x TCP / UDP data servers with NMEA 0183 and NMEA 2000 data streams for applications;
DHCP server for direct connection with a PC or laptop;
data logger which uses internal memory (12000 points with sailing data);
data export in GPX, spreadsheets or XML formats;
support of free Cloud Services to share your position and tracks online.
As with many of our other devices, it can be plugged directly to the NMEA 2000 or Raymarine SeaTalk NG backbone to save on cables, and it is equipped with a regular RJ45 Ethernet connector.
We have received many questions concerning whether it will support NMEA OneNet or not. The OneNet Standard was scheduled to appear in Q4 2019, but it looks like it is delayed again. It is possible, that in 2020 we'll see the first chart plotters with NMEA OneNet support (because many already have an Ethernet port, so it is only a software question), but for most sensors, OneNet is still very expensive and we do not expect the first wind sensor or heading sensor with OneNet interface before 2025.
The Ethernet Gateway will co-exist with NMEA OneNet on a single physical network, but the Ethernet Gateway will not work as a OneNet gateway. It will not provide interactions from NMEA 2000 devices to NMEA OneNet devices or vice versa.
The main goal of our product is to provide an interface for marine software. In 2019, we see that most marine applications still do not support NMEA 2000 and use the NMEA 0183 protocol released in 1983. Development cycles are very long for software and hardware, so right now we do not see any practical reasons for supporting OneNet.
The Gateway also works over any other marine network based on Ethernet technology, including Garmin Marine Network, Raymarine SeaTalk HS (High-Speed) or Raymarine RayNet.
Many navigational PCs have an Ethernet connection to the marine network to display radar data, and the Ethernet Gateway lets you use the same cable to receive NMEA 0183 and NMEA 2000 data in marine applications. If you have a Wi-Fi router installed on the boat, it will allow using data and Web Gauges on mobile devices, too.
Models of Ethernet Gateway with Raymarine SeaTalk NG connector (YDEN-02R) and NMEA 2000 Micro Male connector (YDEN-02N) are already on stock and can be ordered for USD $189. For more details about the product, please see the product's page or User Manual.
December 23, 2019

Merry Christmas and Happy New Year
It was one more crazy year for us, full of ideas, new products, and new friends. Thanks to everyone for your interest to our products, your emails with ideas, wishes and even gifts sent to us. Your love inspires us to make the best products on the market. These are the reasons why sometimes we work at weekends or at deep night — we want to create something that was never seen or even impossible before.
This year we presented six new products and each one of them is unique on the market:
Along with it, we continue to develop our existing products:
This year, only 4 of our 24 products did not get updates: after adding history data download and digital switching support to our temperature, humidity and atmospheric pressure sensors in 2018, we had a temporary crisis of new ideas. At the same time, we are working on a new generation of sensors with a battery, to continue measurements when NMEA 2000 power is off.
In January, we'll release the Battery Monitor, which will be a Swiss army knife for battery monitoring. It will even allow configuration of your own discharge curve which is used to detect the charge state and health of the battery. The next expected product is a 4-channel adapter for resistive and voltage sensors, which should be available before May. Having all functions of our 1-channel Tank Adapter, it will be a cost effective solution for tank monitoring.
We hope that 2020 will be as productive for us as this year, and that we will bring cheer to your boat with five or six new products. We have several new products in development, but we will announce them after tests on the water in May.
We invite you to Booth C13 in Hall 10 of Boot Dusseldorf 2020, the booth of Kiel Nautic (Mathias Busse), on January 18-26, where our products will be exhibited and you'll be able to test them in action. We'll also be at the expo January 18-21, but will not be at the booth all the time. Please contact us for an appointment at Booth 10.C13. We'll be glad to meet users, dealers and everyone who is interested in learning more about our products.
Our technical support and orders department will be available on all working days except December 31 — January 2, orders placed during these short holidays will be sent out on January 3.
Thank you for a dynamic and very interesting year, we wish you a Merry Christmas and Happy New Year!
December 16, 2019

The Run Indicator is in stock
Along with the release of a new product, our existing digital switching products were updated: Circuit Control, Alarm Button, CAN Log Viewer and our online generator of personalized configuration files for MFDs.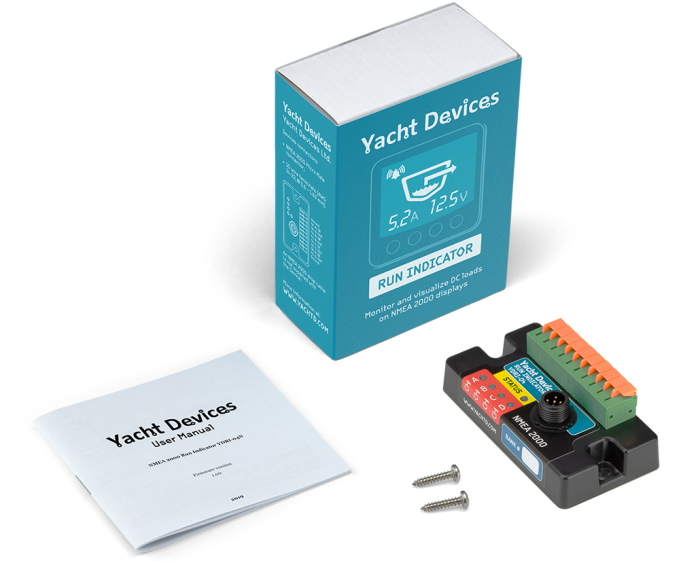 Picture 1. Run Indicator YDRI-04N
The Run Indicator allows visualization of manually switched loads on MFD to confirm that the load is actually functioning (that current flows through the load), and automatically manages digital switching equipment with user rules. It is also suitable to digitize performance of solar panels and wind generators. It is compatible with normally open and normally closed sensors (e.g. door sensors).
The new device measures four DC loads with currents ±10A (±15A peak) and voltage up to 40V. This is enough for pumps, lights and fridges on a small vessel. Thanks to the built-in shunts, installation is very easy. For higher currents, we recommend the upcoming Battery Monitor (to be released in January), which works with an external shunt and has only theoretical limits: you can choose a 5A shunt or 1500A.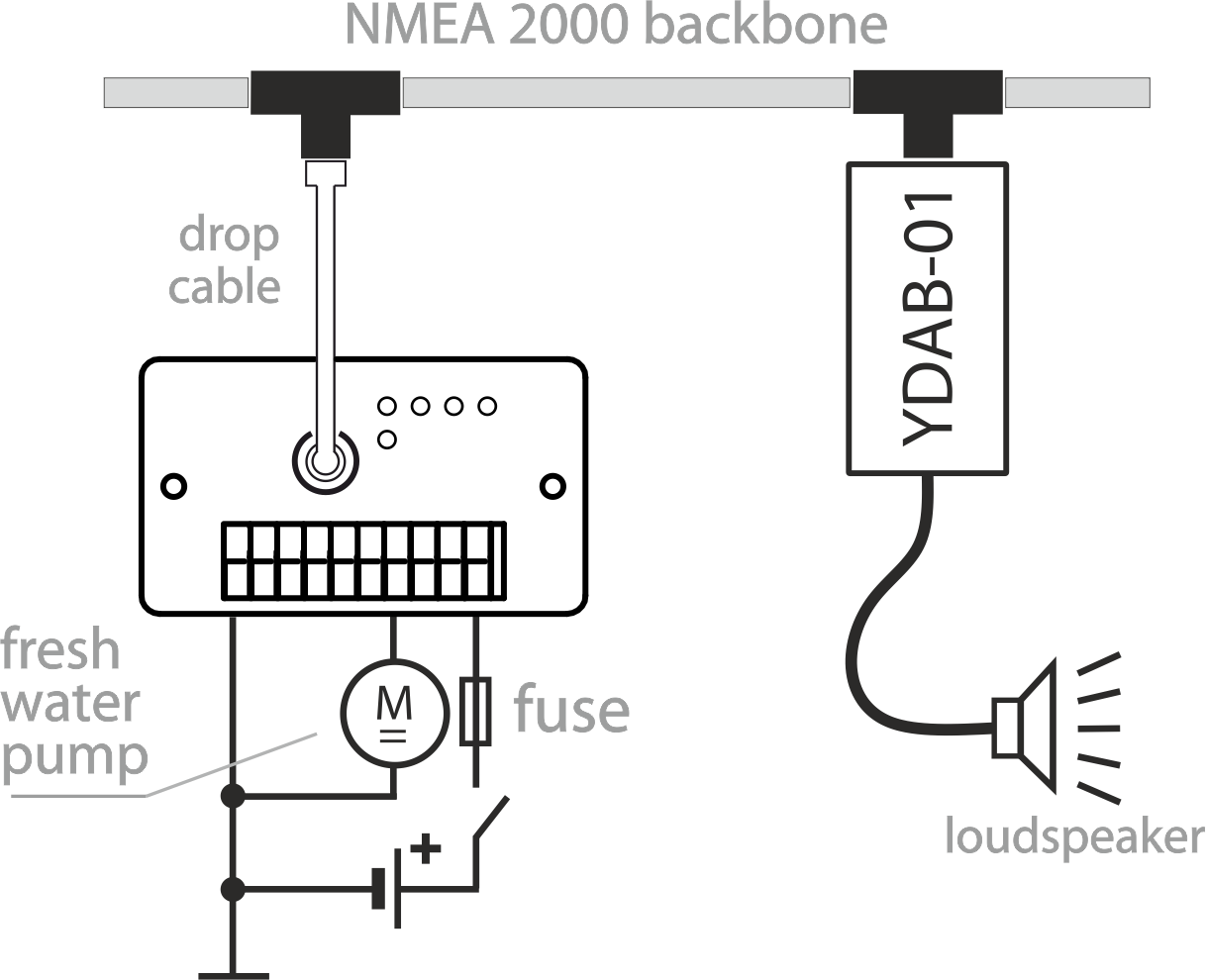 Picture 2. Basic alarm system (Run Indicator and Alarm Button)
The main feature of the Run Indicator is the flexible rules system for managing digital switching equipment. In addition to basic conditions like overcurrent or high voltage, the device can count how often the load was switched on and the frequency of switching. It allows detecting fresh water system leaks or hull leaks (see the Section IV of Manual for examples). In conjunction with the Alarm Button, it allows you to build a custom alarm system in minutes (Picture 2).
On a rented boat, the Run Indicator can extend the life of equipment by alerting about low battery charge, about dry operation of pumps, or about problems with intake or discharge pipes.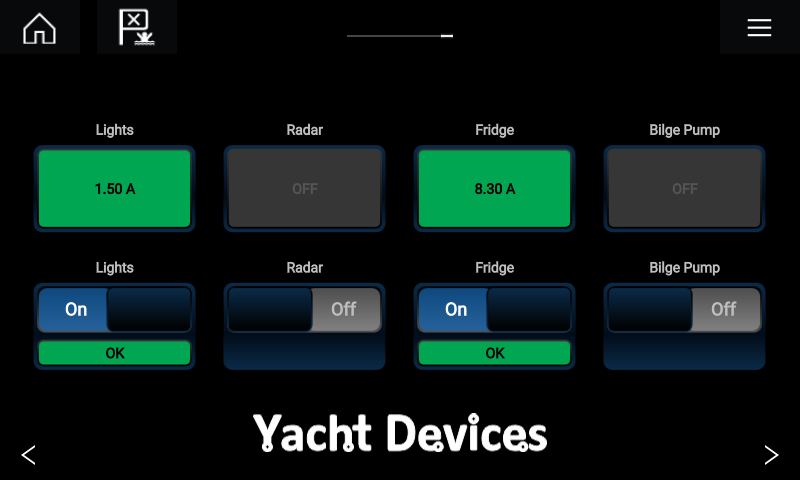 Picture 3. Raymarine Axiom with Run Indicartor and Circuit Control
On modern chart plotters with CZone support, you can see measurements as the state of digital switching channels (see Picture 3). We updated the script, which generates a personalized configuration file for an MFD online (with your own labels for loads and circuits) and now you can download a file for any combination of two of our digital switching products or for a single product. If you have more devices, contact with us and we'll help you (totally free).
The Circuit Control and Alarm Button also got updates to automatically read their CZone channel numbers from CZone configuration file when it is transmitted over the network (our devices can request the configuration when it was changed), and PRIMARY and SECONDARY commands are no longer required. All devices are now fully self-configured.
If you are generating the configuration file not at our web site, but, for example with the CZone Configuration Tool for PC, label our modules in the file with model ID and serial number in the following format: "YDCC-04 s/n 00260002" (without quotes, note that model is without R or N suffixes). When the device sees its model and serial number, it automatically re-configures circuits if required.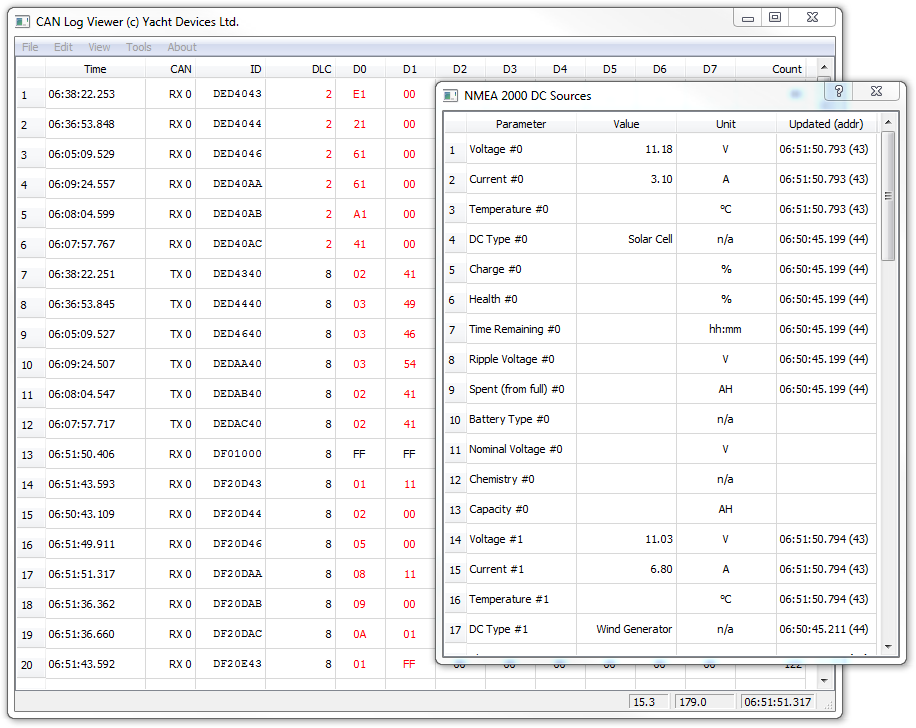 Picture 4. DC sources viewer in CAN Log Viewer
On legacy devices, loads of Run Indicator can be visualized as four "virtual" batteries. We added the battery viewer to the CAN Log Viewer (Picture 4), and it shows not only the voltage and current, but also the load type (Battery, Solar Panel, Wind Generator and other types available in NMEA 2000) and extended properties for batteries, like nominal capacity, charge state, etc. In the Run Indicator settings, you can specify the type of the load, but it is most probable that your "Solar Panel" will be displayed on the MFD as a usual battery (hey, Garmin and Raymarine, many vessels have solar panels!!!). To be sure that your legacy MFD is compatible with Run Indicator, check for support of NMEA 2000 PGN 127508.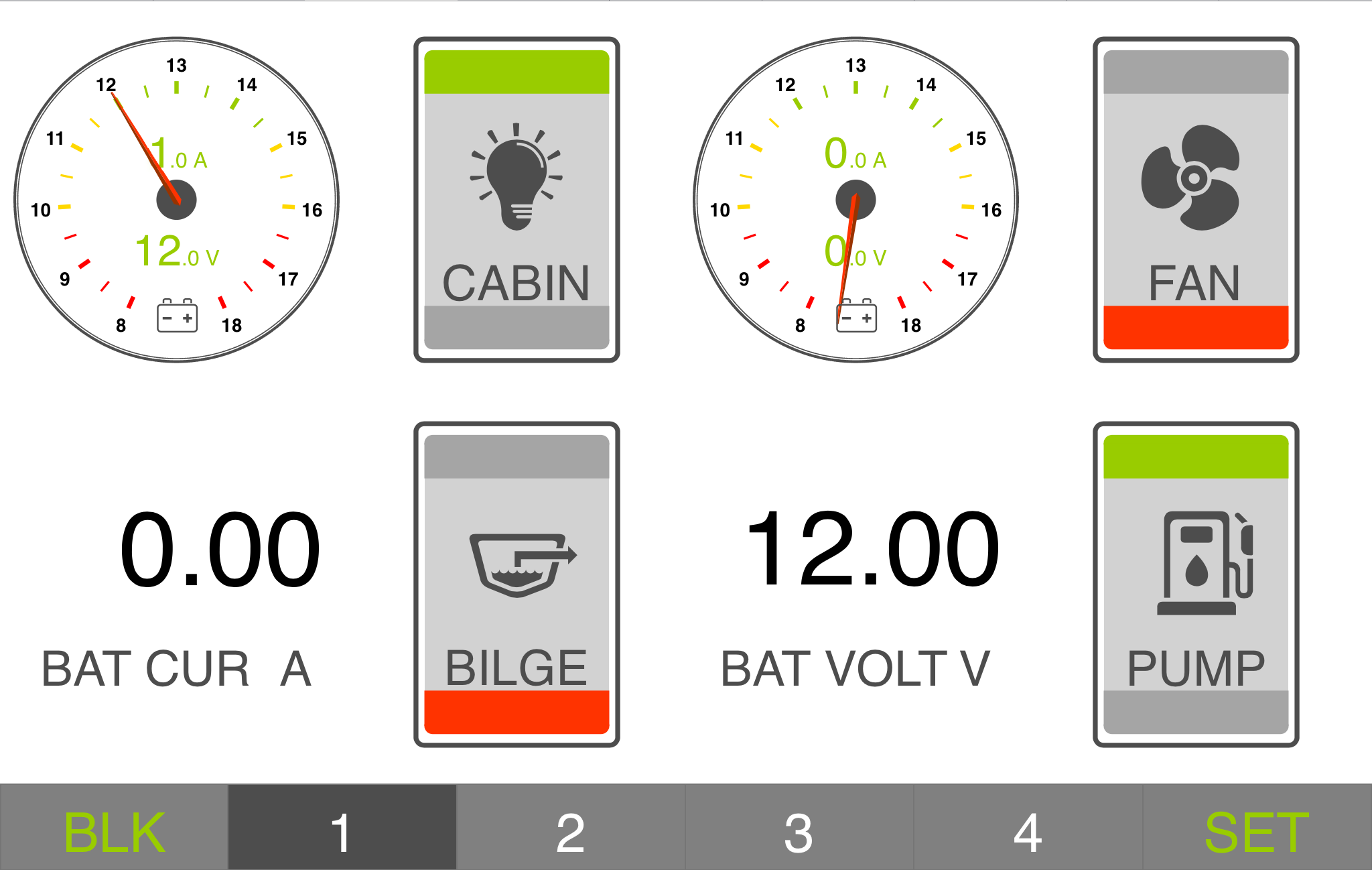 Picture 5. Battery gauges and databars, and digital switching controls of Web Gauges
Our Wi-Fi products (and upcoming Ethernet Gateway) can display Run Indicator loads in Web Gauges (both as batteries and as digital switching channels). If you have external access to your boat's Wi-Fi, it is cost effective solution to monitor bilge pumps and other equipment remotely via a web browser. On the screenshot above (Picture 5), we placed both types of controls (data pages of Web Gauges can be easily customized).
The Run Indicator is equipped with NMEA 2000 Micro Male connector and is available for order at USD $189. To learn more, please visit the product's page. Manual and firmware updates for all mentioned products are available at Downloads page.
Next articles: