December 13, 2019

New cables for Engine Gateway
Adapter cables for Caterpillar engines with round connectors are in stock. Cables for Cummins engines with similar connectors are expected in January.

We are glad to present the new Engine Gateway YDEG-04 adaptor cable with a round Deutsch HD16-9-96S connector for Caterpillar engines. The new cable is designed for the following models (the list is not complete): Caterpillar C7, C9, C12, C18 and C32.
Even if your engine is in the list, be sure that your engine is equipped with the standard connector and that you can find it, because some boats may have custom connectors.
To be 100% sure, you can turn the ignition on and check the voltage between the VCC and GND pins using the voltmeter (note that contacts on the engine side are in mirror image in comparison to the drawing above), you should get 12-24V DC readings. Then turn the ignition off (it is recommended additionally to cut off the power to the engine with the circuit breaker) and check the resistance between the CAN LOW and CAN HIGH pins using an ohmmeter — you should get reading in the range of 60-120 Ohms.
The new cable costs $49 (USD) and is already available for order with the Engine Gateway. Please use the bulk ordering page if you need to order cables separately from the gateway.
Cummins QSL9, QSM11, QSX15, QSK 19/45/60 engines have a similar connector (Deutsch HD16-9-1939S), but one pin has the key and two pins are thinner than the others are. The wiring of Cummins engines are also different from Caterpillar. Cummins cables will be available in January 2020 for the same price.
November 27, 2019

Yacht Devices at METS Trade 2019
We thank everyone who visited us at the booth in Amsterdam and made these days lively and extremely useful for us! We are glad to share photos from the expo (use the slider above, click to enlarge) and a new video about our family of digital switching products.
The METS Trade is the largest international B2B exhibition for marine equipment, materials and systems. It attracts significant press attention due for its DAME Design Award and I-nnovation LAB, where the most innovated products of the year are selected by a jury of industry experts.
We are proud that our multifunctional Alarm Button was selected as a finalist and showcased at both the awards ceremony and in the I-nnovation LAB hall. The winner in the marine electronics category was Garmin GPSMAP 86i, and we are highly motivated to design a product to compete and win the award in 2020.
We apologize to visitors that our Dutch and English catalogs had run out out by the morning of the 3rd day of the expo — we did not expect to be so popular. The awards ceremony brought many visitors to our booth, and we are very pleased with the number new partners and contacts we have from this event.
Ecology and electrical motors are the new trend in recent years, and many companies exhibited a wide range of a new generation of marine motors. We got a several requests from companies to add support for electrical motor controllers to our Engine Gateway, to make that data visible on NMEA 2000 devices. We are indeed highly interested in extending the protocols family supported by our Engine Gateway, and we are ready to add support of electrical motors for free. We also ready to help companies develop custom software for our Bridge; it is a very simple and easy starting platform for prototyping and development of CAN converters.
We were also very glad to meet our dealers from Europe, USA and Australia and to show them our new Battery Monitor, Run Indicator and Ethernet Gateway which will be released soon. Some of them are spent hours at our booth, helping us serve visitors at the busiest times, and we are very thankful for their help, especially Matijn Moeling from SlimSchip who was with us for all three days.
Ben Stein from YachtDevicesUS.com helped us record a short presentation of our family of digital switching products. With our products, you can manage AC and DC loads from chart plotters, tablets, and smartphones or from hardware buttons or over a CAN bus. We can switch loads, measure loads, display loads, and sound-signal events. Most of our sensors can also manage loads by user rules.
If you are missed the METS Trade, we invite you to Booth C13 in Hall 10, the booth of Kiel Nautic (Mathias Busse) at Boot Dusseldorf 2020, January 18-26, where our products will be exhibited and you'll be able to test them in action. We'll also be at the expo January 18-21, but will not be at the booth all the time. Please contact us for an appointment on at Booth 10.C13. We'll be glad to meet users, dealers and everyone who is interested to learn more about our products.
November 19, 2019

Yacht Devices Cloud Service is opened for testers
Free cloud storage service allows users of our Wi-Fi and Ethernet NMEA gateways and routers to share their position with family and friends, remotely monitor environmental conditions and easily access their vessel's tracks from home.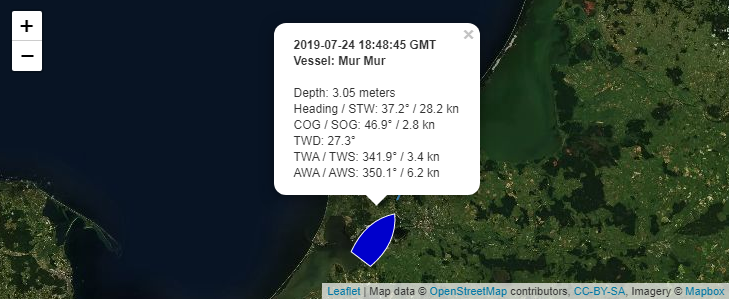 Yacht Devices offers a range of products to connect NMEA 2000, NMEA 0183 and SeaTalk equipment to laptops, smartphones and PCs by USB, Wi-Fi and Ethernet protocols. Our gateways and routers can record vessel data, including GPS position, depth and wind speed to the internal memory (available in YDNR, YDWN and YDWR; will be added to YDWG soon). In the next firmware update, we'll add selection of additional boat's data, like engine revolutions and tank levels, heeling and rudder angle. These data can be exported as GPS tracks, spreadsheet files or in other formats from the built-in web server of the device.
With the new firmware update, devices can automatically upload data to the cloud if the Wi-Fi or Ethernet network of the vessel is connected to the internet. This update is already available for NMEA 2000 Wi-Fi Router (1.20 version). To get started, the owner must register online to obtain the boat's key, which should be entered in the device's settings.
Vessel data can be shared with other registered user or to anyone via a unique link. Visitors can see vessel position on a map, view environmental conditions and other uploaded data. It is also possible to export data to GPX, spreadsheet and other files to load into cartographic and other programs, or upload to chart plotter.
The new service is a convenient way to get your fishing or sailing tracks at home. When you arrive at the homeport, the device can connect to the marina's Wi-Fi and your tracks will be in the cloud before you get to your own doorstep. Your friends or family can open the link you send in the web browser, and be sure that you are have already returned. If your boat is always connected to the internet, you can check the weather in the marina or charge of your batteries.
Our company declares that the service will have no data storage limits and all current functionality will remain free. In the future, Yacht Devices plans to add paid services for fleet management, charter and regatta organizer companies.
The service is open in beta testing mode for everyone. The service will be fully released in January 2020. Firmware update for NMEA 2000 Wi-Fi Router is available at Downloads page.
Next articles: