April 17, 2019

All the best in one product
We are glad to present the most anticipated product of the season: NMEA 2000 Wi-Fi Router YDNR-02N, equipped with one NMEA 2000, two NMEA 0183, and one SeaTalk ports and Wi-Fi. It combines the best features of our NMEA 2000 Wi-Fi Gateway and NMEA 0183 Wi-Fi Router.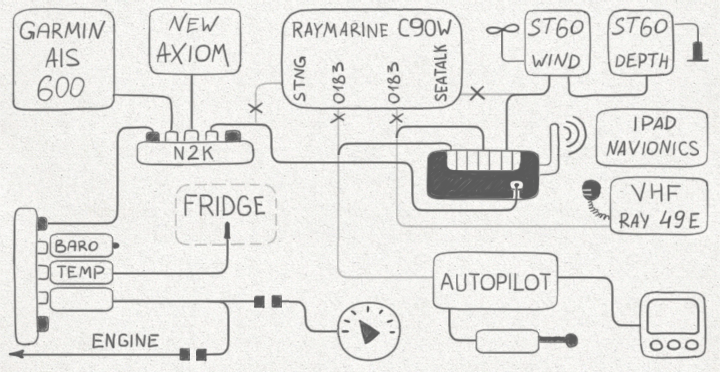 Modern chart plotters usually have no NMEA 0183 or SeaTalk interfaces. Raymarine Axiom chart plotters has Wi-Fi, but it does not include NMEA 0183 data stream and can be used only to mirror the screen. Hey, Raymarine, are you afraid of competition from software and apps? Don't worry, we sailed with you for 20 years and we will not change you for an iPad. By the way, the Router can establish its own Wi-Fi access point or connect to an existing network, including the network of a chart plotter. In this case, you will be able use screen mirroring apps and use marine apps on your mobile device at the same time.
The Router is a very suitable product for upgrades: it allows you to upgrade your other electronics step by step. It has the best conversion between NMEA 2000 and NMEA 0183 that you can find on the market, and it supports all known SeaTalk datagrams, including autopilot control.
If you have access to your boat's network over the internet (for most cases you need to install a 3G/4G router or a Wi-Fi router with VPN support for that, it is better to consult with a local IT guy), the Web Gauges placed on internal the web site of the Router will allow you to see your vessel's data in a web browser and turn digital switching equipment on and off.
The Router can be easily configured with a web browser: you can change the NMEA 0183 port speed, change routing rules, define data filters and so on. You can even see all data flows in a web browser (the Debug protocol); this allows Router setup and tuning the installation without any additional software.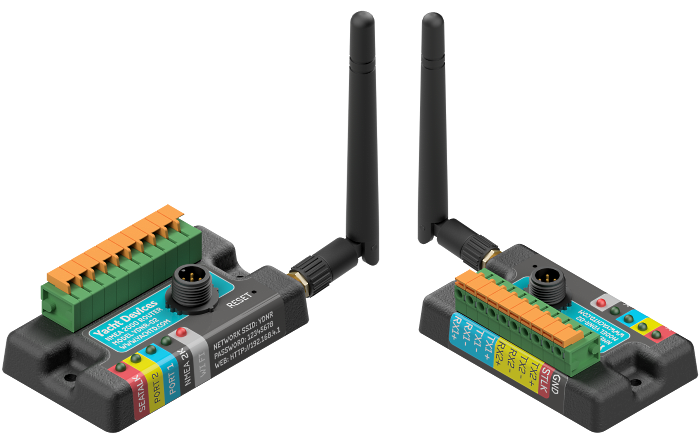 NMEA 2000 Wi-Fi Router (click to enlarge)
No less important, the Router is tiny (the base is less than a credit card!), sexy, and consumes less than 60 mA with all its ports connected. It has an external 3 dBi Wi-Fi antenna and a standard SMA female connector. The antenna can be connected with a cable or replaced by a model with better characteristics. This is not pertinent for owners of fiberglass or wooden boats less than 100 feet, but on a metal boat it can be reasonable to find a place where metal bulkheads will produce less reflection of the signal.
The Router is equipped with a NMEA 2000 Micro Male connector. To connect it with Raymarine SeaTalk NG, you will need an adaptor cable (Raymarine part number A06045 or A06075); for Simrad SimNet (old network with yellow sockets) the adaptor cable with Navico part number 24006199.
The Router is in stock and is available for USD $289 only. Please visit the product page or see the Manual to learn more about the product.
April 16, 2019

Meet the NMEA 0183 Multiplexer
Smart multiplexer with 5 x NMEA 0183 and SeaTalk ports for only USD $149. Read the article to find out what NMEA multiplexing and Eric Berne have in common.

We always had problems recommending the right NMEA 0183 multiplexer to our customers or friends. First, there are not too many products that cost less than $300 USD. And even the products over $300 can have serious limitations, like fixed port speed or lack of other settings.
Expensive products offer USB or Ethernet interfaces and PC software for configuration, but the price seems too high for many. In a typical scenario, the customer wants to install a multiplexer and forget about it for years. An extra interface for an additional $200, required only during installation, is still a reasonably high "setup fee".
We decided to offer a simple multiplexer with a reasonable price, and invented a way to replace the $100 USB or $200 Ethernet with a 1-penny paperclip.
The Multiplexer has five NMEA 0183 inputs and three outputs (or three TX/RX and two RX-only ports), and one SeaTalk port with a bi-directional converter between SeaTalk and NMEA 0183. One of the NMEA 0183 TX/RX ports is galvanically isolated and can be used to safely connect the serial port of a PC powered from the invertor.
NMEA ports can be configured for speed in the range from 300 to 115200 bps or even to automatically detect the speed of connected equipment. Individual data filters can be set for each port, and any routing rules or tunneling mode between ports can be set. Data received from an NMEA 0183 port can be routed to itself, so the Multiplexer can combine data from up to 5 different NMEA 0183 talkers and SeaTalk (this interface allows connection of multiple devices) and send data to multiple listeners.
So the Multiplexer has a lot of settings and features; how we can configure it with a paperclip?
Human life is much more complicated than NMEA 0183 multiplexing, but the famous psychiatrist Eric Berne found six patterns in our life scripts, and through the prism of these patterns, our lives and problems are not at all unique.
We also found six typical scenarios in NMEA 0183 multiplexing, and you can easily switch configuration presets by pressing the hidden button with a paperclip. If your situation is unique, you may need to connect the Multiplexer with a PC to change the settings of the selected preset with a command.
The Multiplexer is already in stock and costs only $149 USD. Visit the product page or see the Manual to check whether are we really are geniuses or just playing psychological games with you (to be honest, we are engineers and do not like psychology too much).
April 12, 2019

Tons of small updates
All products with Wi-Fi, CAN Log Viewer software, and rudder and tank adapters were updated. Meet the season with new firmware!
Actually, we do not have too many new features, but rather many small fixes and improvements. The Rudder Adapter and Tank Adapter got updates 1.01 and 1.03. These contain a small bug fix in calculations, and the Tank Adapter now supports 0-5V sensors in the same way as the Rudder Adapter. The Tank Adapter additionally has a REFERENCE setting (0 - 16V) used when the output of a voltage sensor depends on power supply. The user manual of the Tank Adapter was updated; see Section III.1.4 regarding voltage sensors connection.
All Wi-Fi products (YDWG, YDWN, and YDWR) got a lot of small fixes and improvements. Two of the most significant improvements are better SeaTalk reception (works fine on a bus even with a poor signal) and bus arbitration in the NMEA 0183 Wi-Fi Router.
The microcontroller of the NMEA 2000 Wi-Fi Gateway works at 1/4 of its possible speed to save your battery power. This was not enough to process messages when the NMEA 2000 bus was 100% loaded (in the real world, the NMEA 2000 bus is loaded at 10 - 20%), but we preferred to re-write and optimize some code instead of stealing your Amps. We are proud that this product consumes the same amount of power as five LEDs. This is cool for a Wi-Fi product and the best result among all the Wi-Fi gateways that we know.
We also optimized the CAN Log Viewer. This can be significant for netbooks or the rare laptop that someone may have on board. More importantly, this product now can send manually entered messages (or a set of them) to the CAN network (see the new "Tools" menu), which will come in handy for installers and developers.
In the "Tools" menu, you will also find menu items to download (backup) and upload ZCF files to chart plotters with CZone support. But note that you use these functions on your own risk. Unlike all others, Furuno chart plotters do not support upload of digital switching configuration files from a MicroSD card — special software and a very expensive CAN bus adapter are required.
But with this new feature, you can create a configuration file for your Circuit Control on our web site and upload it to a Furuno with the CAN Log Viewer. This also works with other chart plotters (Raymarine, Simrad, B&G, Lowrance) and allows, for example, renaming buttons on the MFD screen without inserting the card.
We also released a technical update for the Bridge. With it, the Bridge will not try to claim the address on the CAN2 interface and will not forward service messages automatically if its speed is other than 250 kbps. Devices manufactured since the second half of 2017 have a chip with more memory onboard than was used in the previous devices. The update allows storing of larger user programs on new devices, and future updates of firmware will require more memory.
And a few words about our upcoming products and updates. The first shipments of NMEA 0183 Multiplexer and NMEA 2000 W-Fi Router have already been sent to dealers and they will be available for all users next week. Manuals (Multiplexer, Router) are already available for download.
There is one more great thing expected for our engine gateways (YDEG, YDES). It will soon be possible to replace engine temperature or pressure data with data from a specified NMEA 2000 temperature or pressure sensor. For example, the line in the configuration file:

     SUBSTITUTE_OIL_TEMP=0,1,2

will instruct the gateway replace the oil temperature data of port (0) engine with the air temperature data (1) of the specified instance (2).
We have no pressure sensor adapters for NMEA 2000 yet, but very probably we will offer a solution soon. Subscribe to our mailing list to keep informed. We will also will offer great discounts on earlier, non-upgradable models of our Barometers and Thermometers without digital switching support next week, but this special offer will be available to our customers and subscribers only.
All updates are available in the Downloads section and are strongly recommended.
Next articles: