May 8, 2018

New versions of Barometer, Thermometer and Humidity Sensor
New versions of our sensors support firmware updates, multiple methods of configuration and all are certified by the National Marine Electronics Association.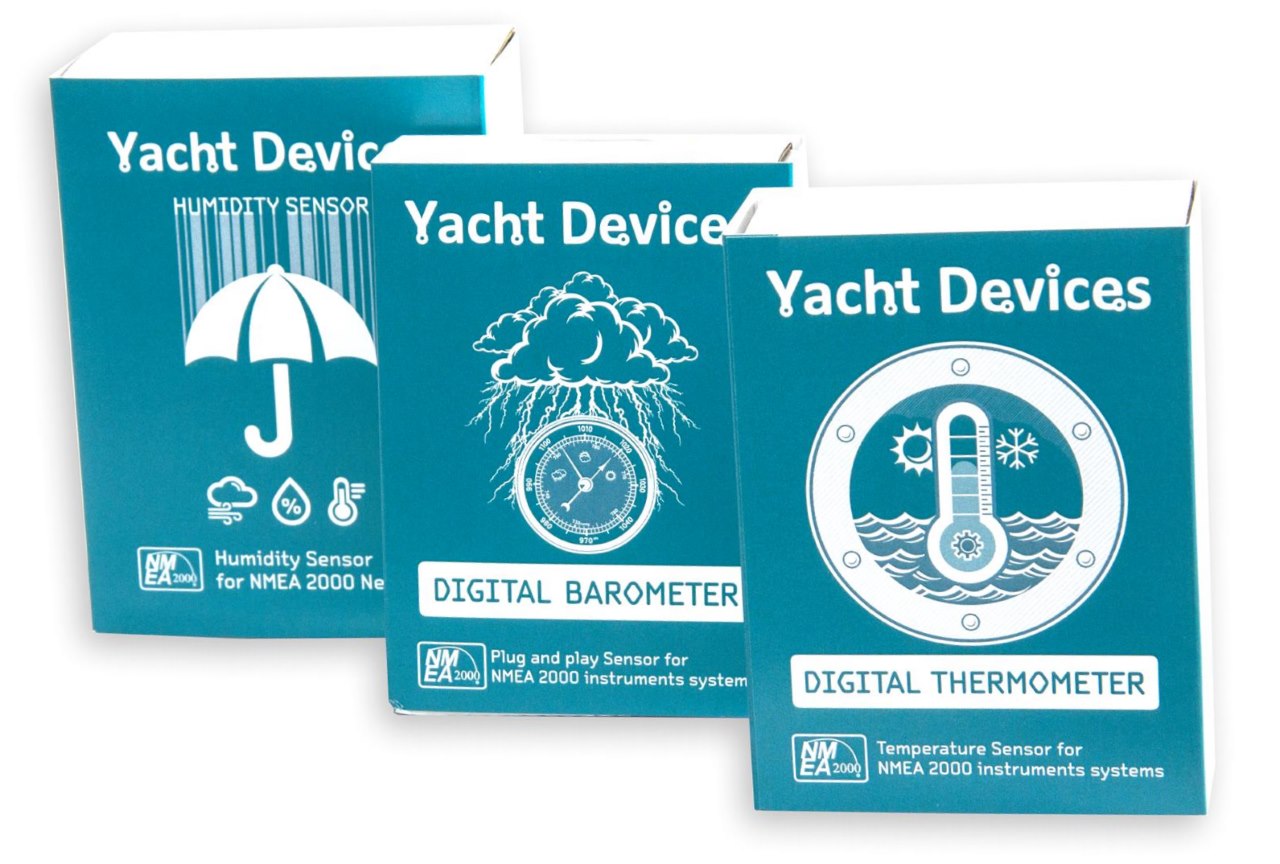 We are glad to inform you that the Digital Barometer YDBC-05 has successfully passed NMEA certification, and all our digital sensors are now certified.
Sensor configuration is especially important for our Thermometer, which sends measured data as "Air Temperature" with the default factory settings. However, it can be configured to send data as "Water Temperature", "Engine Room Temperature" and so on, 14 data types are available.
All sensors support three programming methods:
The tricky way, by a special sequence of datum or variation settings on a chart plotter. This method has been used in our sensors since 2015 and is compatible with most chart plotters. You can see our old video with this method here. It works almost everywhere, but you must read the manual carefully and have some patience.
With a special installation description string which can be entered for the Device in some modern models of chart plotters or in special software. Here you can see a video how to program the Humidity Sensor using CAN Log Viewer software. Just type "YD:OUTSIDE" and the Humidity Sensor will send the data as "outside humidity". Type "YD:INSIDE" and it will send the data as "inside humidity". Very simple, and it is one more reason to order our NMEA 2000 Wi-Fi Gateway, if your chart plotter does not allow the entering of an installation description for NMEA devices.
NMEA 2000 Standard offers a way to change some settings, like the frequency or priority of messages. And it is implemented in professional software like Maretron N2K Analyzer. This method is also supported, but all this functionality (except priority of the messages) is also supported in method 2.
The following settings can by changed by the user:
NMEA 2000 device instance and system instance. It is required for professional installers only.
NMEA 2000 data instance. You may have, for example, ten Thermometers which send "Fridge Temperature" with different data instances. In the far beautiful future, you will able to configure the data page of the chart plotter to show all your ten fridges. Today, you are probably happy if your chart plotter has a data bar for the fridge, despite the fact that this data type has been present in the Standard since 2006.
Type of measured data. The Thermometer has 14 options, the Humidity Sensor has two (inside and outside humidity), and the Barometer has only one, it always sends measured data as atmospheric pressure.
Sensor offset. Although our devices use only high quality digital sensors, you may need to align it with readings from other ship equipment.
Transmission interval of periodic messages. Any periodic message can be turned off. It can be useful to turn off old messages with low data resolution, if your new equipment is not smart enough to see that data with higher resolution is also available from the same sensor.
Priority of messages. Why did we add this feature? Because we can.
Installation description. This is great NMEA 2000 feature. Your installer may leave contacts or notes in the device memory, and these notes can be viewed on modern chart plotters or in software like our CAN Log Viewer. Unicode descriptions are supported (in addition to ASCII), so notes may be in your native language.
In addition, a great new feature: from now on, all our devices except Smart Relay has a firmware update option!
Video 1. Device configuration and update (download, 8 MB)
We are sure that the firmware of our sensors is bug-free and already has more functions than any other sensor available on the market. However, it is always better to have the option to add something. We hope that our sensors will sail with you for many years and remains with you after boat's refit.
Sensor firmware can be updated using the free CAN Log Viewer software (runs on Microsoft Windows, Linux and Mac OS X) connected with NMEA 2000 using our NMEA 2000 USB Gateway or NMEA 2000 Wi-Fi Gateway. You can see the process in this video. The CAN Log Viewer becomes a powerful diagnostics software tool; it has device configuration options, and this is the second reason to have our USB or Wi-Fi Gateways.
New firmware for the Barometer, Thermometer and Humidity Sensor is Version 1.40. The first Barometers and Thermometers with this firmware were sent to customers at the beginning of April, and most resellers already have it in sock.
Detailed information about product availability is in the table below:
Product
Status
Digital Barometer YDBC-05R, YDBC-05N
Digital Thermometer YDTC-13R, YDBC-13N
Devices with the new firmware version are already in stock since mid-April. Most resellers already have the new version in stock.
Digital Barometer YDBC-05RT, YDBC-05NT
Digital Thermometer YDBC-13RT, YDBC-13NT
(models with terminator)
The current version does not support firmware updates and can be programmed using datum/variation only (first method). Devices with the new firmware will be in stock in September.
Humidity Sensor YDHS-01R, YDHS-01N
Current firmware version supports all features except firmware updates. Devices with the new firmware version will be in stock in September.
Manual for Barometer and Thermometer with firmware 1.40 of is available here. The manual for the previous firmware versions is here. The latest manual for the Humidity Sensor (Version 1.02) is here.
Next articles:
Previous articles:
See also: recent news, all news...