June 22, 2018

Updates for Wi-Fi and USB Gateways
The new firmware for NMEA 2000 gateways supports conversion of MTW, MWD, MDA, VWR and VLW sentences to NMEA 2000. Wi-Fi gateways now have new circular gauges for tanks.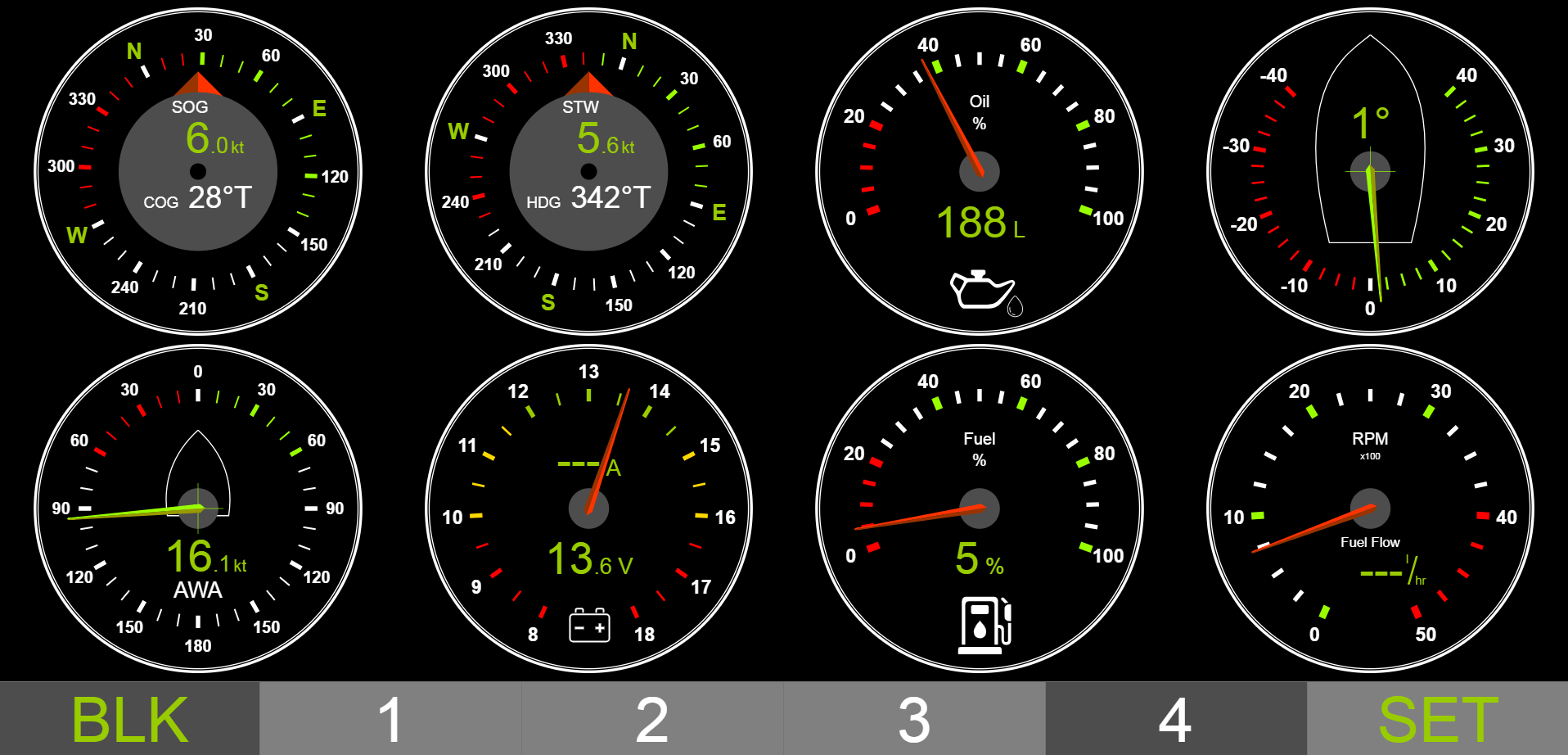 In the previous update of NMEA 2000 Wi-Fi Gateway and NMEA 0183 Wi-Fi Gateway firmware, we added data bars and rectangle gauges for fluid levels in tanks. Today's updates add circular gauges for fluid level. They are made in the same style as gauges for wind, engine, rudder and batteries.
If you need a display for your tanks or batteries or engines, you can do it with an inexpensive smartphone or tablet, or you can even transform a TV in the saloon (if it has a web browser) into a dashboard. The only thing you need is our Wi-Fi gateway.
If your tanks are still not connected to NMEA 2000, we are glad to inform you that a fuel level sensor adaptor will be released this month. It supports tank shape calibration, works with all types of resistive sensors and can work in parallel with Volvo Penta MDI, 1-coil and 2-coil analog gauges.
The NMEA 2000 Wi-Fi Gateway and NMEA 2000 USB Gateway can convert NMEA 0183 data to NMEA 2000 and vice versa. The new version adds conversion of MTW (water temperature), MWD (wind direction), VWR (relative wind speed and angle), VLW (logs distance for USB Gateway only, NMEA 2000 Wi-Fi Gateway support it as of the last update), VWR (relative wind and angle) and MDA (atmospheric pressure, temperature of air and water, relative air humidity and wind data are supported) to NMEA 2000.
You might be surprised to learn that so important data types were not supported before. There are a few reasons for this. First, NMEA 0183 has many duplicated (and obsolete) sentences. So for over 10 years already VWR has not been recommended for new designs. Gateways support modern MWV, which contain the same data as VWR. Second, we implemented conversion of water temperature and other environmental data types from NMEA 2000 to NMEA 0183 in the first version and did not consider that somebody may want to send water temperature or atmospheric pressure data from PC or smartphone to NMEA 2000.
However, the NMEA 2000 Wi-Fi Gateway can receive data not only from a smartphone or laptop. In tandem with an NMEA 0183 Wi-Fi Gateway, it can act as a wireless bridge to physical NMEA 0183 devices. This is not a popular use, because wires are more reliable than a Wi-Fi link, so there should be some additional factors involved if this choice is made.
Our gateways already have great conversion capabilities: they support AIS, routes and waypoints, autopilot messages, some proprietary messages and extensions, and all major standard messages and sentences. And we'll make they better and better. We like to do it -- that is the real reason why we added these sentences.
Firmware updates for NMEA 0183 Wi-Fi Gateway (v1.02), NMEA 2000 Wi-Fi Gateway (v1.13) and NMEA 2000 USB Gateway (v1.13) are available on the Downloads page.
Next articles:
Previous articles:
See also: recent news, all news...