May 14, 2018

Monitor over 100 tanks with our Wi-Fi Gateways
Get to know the new graphical gauges and text data bars for tanks and battery monitoring in the NMEA 0183 Wi-Fi Gateway and NMEA 2000 Wi-Fi Gateway firmware updates.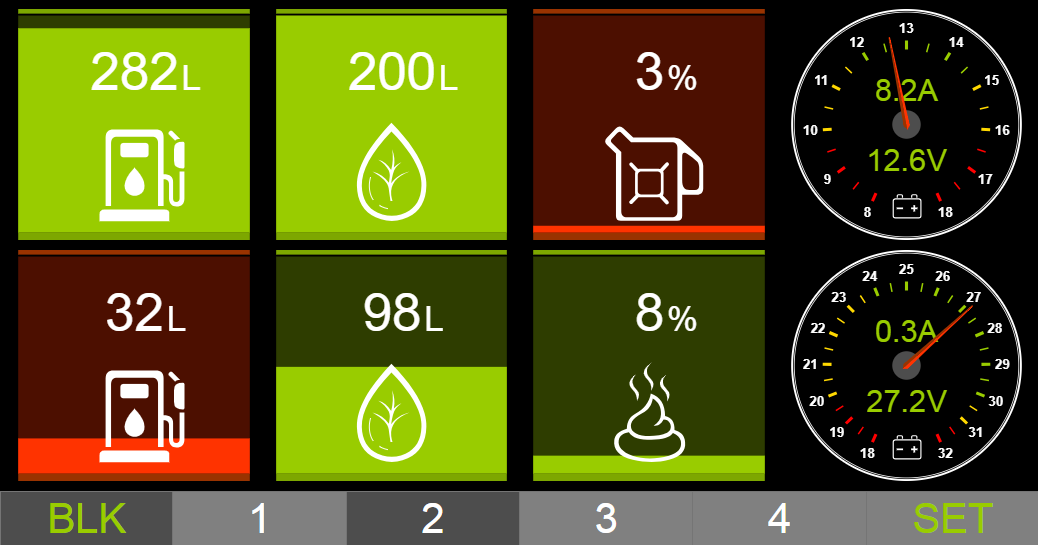 As electronic developers, we are always tracking innovations. Recently, Raymarine integrated drone control to Axiom chart plotters. It sounds cool. Integration of a secondary water tank is boring. Yes, Raymarine chart plotters still support only one fresh water tank. Sailing yachts of 34 - 50 feet usually have two water tanks. And ten years ago they had usually two water tanks. Despite drones being very popular, we are sure that more boats have secondary tanks than a drone on board.
Many obvious things in real world are still undone. However, happy owners of our Wi-Fi gateways now can add text data bars or graphical gauges with fuel (diesel), gasoline, oil and live well, fresh, grey and black water tanks data. Up to 16 tanks of each type are supported. You can choose percentage or volume in liters or gallons. Please, see this article to learn more about web gauges integrated to our products.
We also added a voltmeter gauge and text data bars with battery voltage, current and temperature. Up to 16 batteries are supported. In the settings, you can switch between a 12V and a 24V battery scale. Take an inexpensive Android tablet and turn it into a nice looking and extremely cheap tank or battery monitor.
In the case of the NMEA 2000 Wi-Fi Gateway, there is no magic. NMEA 2000 has had all these features since 2006 at least. But NMEA 0183 has no data types for batteries and tanks. You should feed a NMEA 0183 Wi-Fi Gateway with $PCDIN or $MXPGN NMEA 0183 sentences (see this article) with fluid level and battery data.
These sentences are generated by our NMEA 2000 Wi-Fi Gateway, SeaSmart gateways, and MiniPlex gateways and will be generated by the upcoming version of our NMEA 0183 Gateway YDNG-03 (this product is already NMEA certified and will be in stock at the next month).
We have also added a graphical rudder gauge (two rudders are supported) and fixed minor bugs in the firmware updates of both products.
You can download firmware update for the NMEA 2000 Wi-Fi Gateway and for the NMEA 0183 Wi-Fi Gateway at Downloads page.
Next articles:
Previous articles:
See also: recent news, all news...