May 23, 2018

Firmware update for the J1708 Engine Gateway
We are glad to announce that we have made this great Gateway even better! Now it offers user alerts, support of private messages and better coexistence with EDC displays and other devices.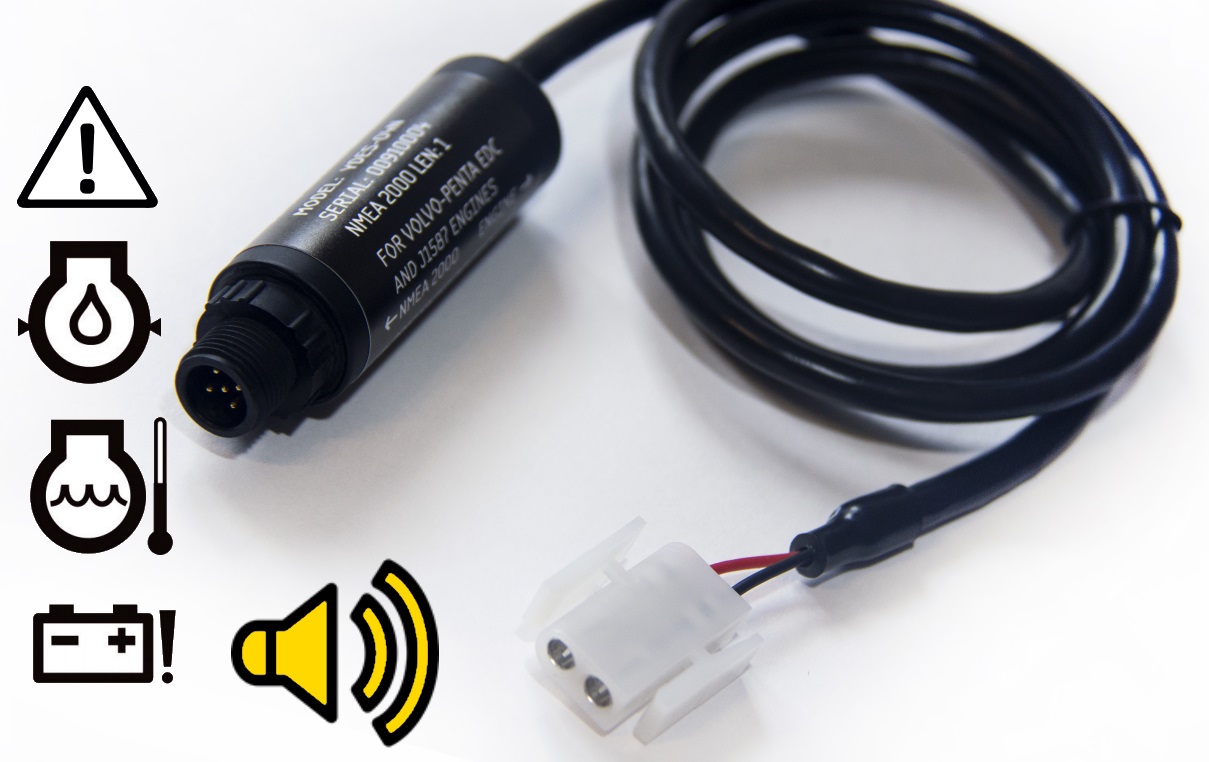 Regardless of religion, we all pray to an engine when entering an unknown harbor by a narrow channel between shallows in a fresh wind. We promise fresh oil, new filters and belts.
In case of trouble, the engine control unit sends trouble codes and the Gateway converts commonly used diagnostic trouble codes to NMEA 2000 (see the Table 2 in Appendix E). However, there is no guarantee that your engine supports and send all these codes. Moreover, KAD/TAMD engines do not send trouble codes at all. Additionally, older engines may require gentle operation, and crew and renters should not forget about it.
That is why we added user alert settings for high revolutions, boost pressure, coolant temperature, low oil pressure and low alternator voltage. You can specify 3000 RPM for the high revolutions alert in the Gateway's configuration, and this will generate an alert when revolutions are above the specified value, even if your tacho has a 6000 RPM scale or the engine's brain thinks that it is still young and should signal after 5500 RPM only.
These settings work in addition to alerts sent by engine's electronics. If you do not need these alerts, set the values to OFF. If you do not need engine alerts, you can block them with the ENGINE_ALERT_MASK setting.
In this firmware update, we also added support of messages sent by EDC displays to KAD and TAMD engines. The Gateway intercepts the EDC Display requests and the engine's answers, and sends much smaller requests.
The J1708 data link is 9600 baud only and can transfer about 900 bytes per second. This is enough, and in the case of J1587 engines (Caterpillar, Volvo Penta D12, etc.) they send most of the data by a schedule, so displays and gateways can simple listen to the bus and send requests for a small number of parameters only.
However, in the case of KAD/TAMD engines, all data are sent in response to a request. And if two devices are sending requests with high frequency, the number of collisions increases. As a result, some displays may show data link error warnings. Now this problem is solved. We also added an article (see section IX) which will help you configure the Gateway in case of similar problems with other equipment.
And the last new feature is designed for professional installers and complex J1708 networks. The J1587 Standard defines private messages which contain the recipient's MID (address). Usual messages that have only the sender's MID are "globally addressed".
PIDs (parameter identifiers) used in private messages are proprietary and their meaning does not coincide with PIDs defined in J1587 Standard and is used in "globally addressed" messages. Nevertheless, you can instruct the Gateway to intercept and process such messages. You can specify up to four MIDs of recipients in the settings.
You can learn more about these features in the Gateway's manual. The Firmware update is available on the Downloads page. We recommend this update to all KAD/TAMD owners, to monitor overheating and other possible engine problems better.
Next articles:
Previous articles:
See also: recent news, all news...