July 17, 2020

New Sailing Yacht data set
All important data from engine and sensors on your yacht can be logged by our NMEA 2000 Wi-Fi and Ethernet gateways to internal memory or to our Cloud Service.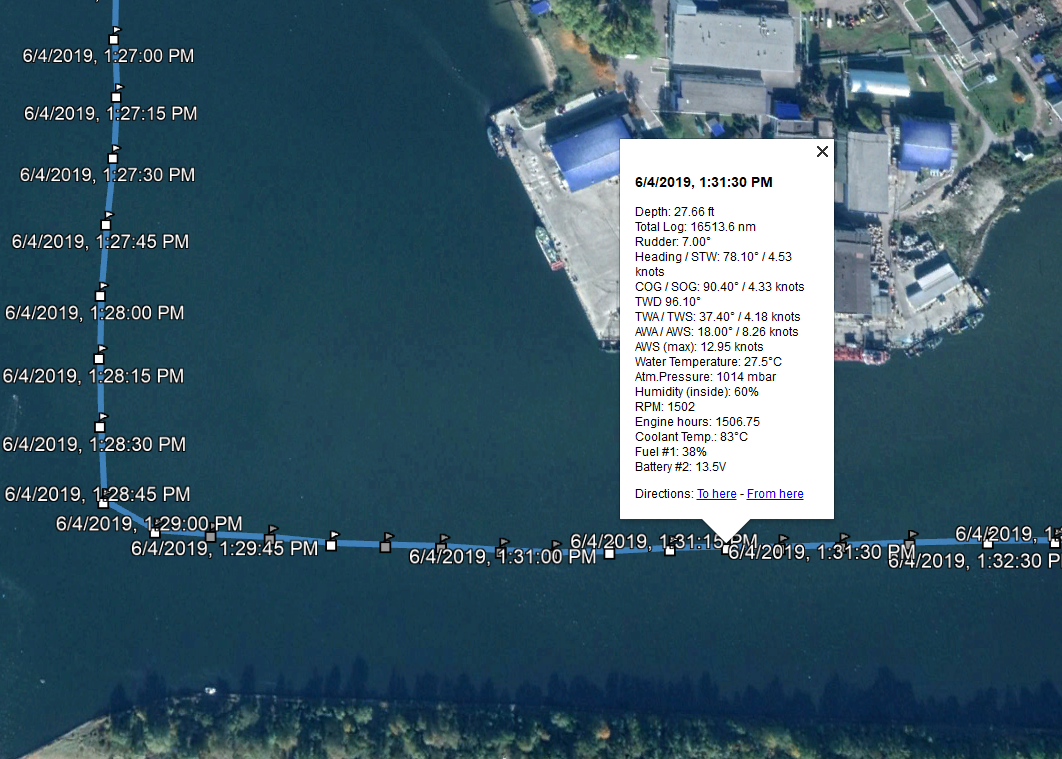 Many sailors like to analyze their trips. Many are interested in remotely monitoring of weather conditions in a marina or at anchorage, as well as the state of the boat's systems. Today we are proud to present an inexpensive solution without monthly fees or other payments. You only need to have our NMEA 2000 Wi-Fi Gateway, NMEA 2000 Wi-Fi Router o NMEA 2000 Ethernet Gateway.
These products can record sailing data to an internal memory. Recorded data can be exported as GPS tracks (see the screenshot of Google Earth above with a loaded track) or spreadsheets, and/or uploaded to free our Cloud Service where you can monitor them in a web browser and share with any interested persons. With the new update, you can choose what data set to record (see the table below).
Parameter
Comment

Basic data set

Date and time
Since 01/01/2015, older dates are ignored
GPS position
0.0000001° resolution
COG and Heading (true)
0.1° resolution
SOG and STW
0.01 m/s resolution
AWA, TWA
0.1° resolution
AWS, TWS
0.01 m/s resolution
TWD
Calculated at export
Depth
0.01m resolution
Reserved
13 bits for future use

Sailing Yacht data set

RPM
1 revolution/bit resolution
Gear
F/N/R/Unknown
Coolant temperature
0..254° Celsius
Engine hours
15 min/bit up to 8192 hours or 1 hour/bit
Fuel tanks #1 and #2
0.4% resolution
Water tanks #1 and #2
0.4% resolution
Waste tank
0.4% resolution
Battery #1 and #2
7..32.4 V; 0..250A discharge, charge <1A, <5A, >5A
AWS Max
Maximum wind recorded between points
Air temperature
-20..100° Celsius, 0.5° resolution
Water temperature
-20..100° Celsius, 0.5° resolution
Atmospheric pressure
0.5 mbar resolution
Air humidity
Outside (preferred) or inside
Total log
0.1 nm resolution
Rudder angle
0.25° resolution
Yaw, roll and pitch
0.25° resolution
Digital switching
Banks #1 and #2, channels 1-4
The Sailing Yacht data set includes all data from the Basic data set. The only reason to use the Basic data set is if you've been at work for a secret service agency and think that the total log and waste tank data are too personal. In future updates, we plan to add data sets for boats with twin engines, motor boats (focused on engine data instead of environmental), and for charter boats (groundings, engine warnings, etc.). So you will be able the to choose the data set most suitable for you.
Memory Capacity
The internal memory of the NMEA 2000 Ethernet Gateway accommodates 16256 map points and the memory of NMEA 2000 Wi-Fi Gateway and NMEA 2000 Wi-Fi Router can fit 12160 points (regardless of the data set chosen). The points interval can be configured from 15 seconds to 1 hour, and the memory can thus hold from 2 days to 2 years of sailing data. Old data will be automatically overwritten. The setting "Do not save points closer than 5 meters apart" allows exclusion of anchorages from the recording.
The Cloud Service has no limitation on volume or age of saved data.
Data Costs
Every record takes 64 bytes of memory. When the Cloud Service is configured, devices connect to the Cloud every 15 minutes. To monitor your boat in a marina, you can configure the device to record points every 5 minutes, and do not forget to remove the mark from "Do not save points closer than 5 meters apart" option.
With the Wi-Fi Gateway or Router, you can leave a cell phone configured as an access point on board and expect that the device will connect to the Cloud 96 times per day and each session will be less than 1 kb (we use HTTP protocol to transfer data, so we send about 250 bytes of HTTP headers to the server in addition to binary data and receive an answer of about 300 bytes in length).
If you have 1GB of prepaid data, it will be enough for 10.000 days or 27 years. Note that apps or operating systems can download updates over Wi-Fi, so it is recommended to check settings and traffic if you leave the boat in another country for a long time.
The device connects to the Cloud when it has more than one point to transmit. If you configured the device to record points every 30 minutes, if will connecting with the Cloud 24 times per day. In this case you can leave the boat with 1 GB of prepaid data for 100 years.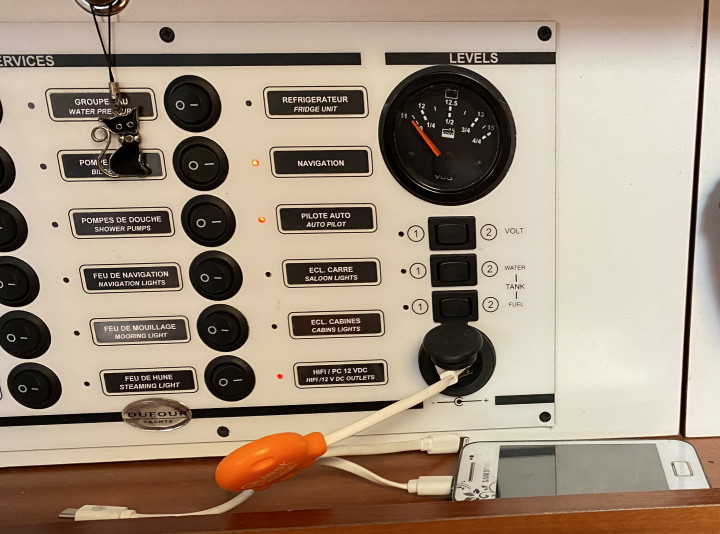 Energy Costs
Our devices consume about 50 mA, the typical chart plotter (which provides GPS signal) at minimum brightness consumes about 1A, most of NMEA 2000 sensors consume 50-100 mA, and cell phones consume less than 100 mA when the screen is off and Wi-Fi and cell data are not used too frequently.
On a typical sailing yacht, you can expect that the current of your "monitoring system" with cell phone, chart plotter at minimum brightness, NMEA 2000 Wi-Fi Gateway and a dozen NMEA 2000 sensors will be less than 2Ah, maybe as low as 1.5Ah. If you have a dedicated NMEA 2000 GPS receiver, the total consumption can be less than 0.5 Ah or 6W/day. It can be easily covered by one solar panel.
Use Cases
Data backup. It is always good to have a backup of your sailing with depth and other data. Just configure the logging and you will be able to export your data from the web interface of the device as spreadsheets or GPX tracks. We support different XML schemas, including Garmin, and exported tracks can be loaded to a chart plotter or displayed in any cartographic application like OpenCPN or Google Earth

Racing. The data record contains momentary data, and to analyze tacking performance, a 15 seconds interval is not enough. We are proud that many famous racers use our Voyage Recorder that provides data with 1-second resolution and min/max/avg/median calculation for important parameters, and even support tensiometers. But the data provided by Sailing Yacht data set are enough to analyze your tactics and sailing performance and compare with other boats. You can also use our devices for control on a long race to be sure that gear was not engaged during while under sail.

Remote monitoring. The new data set provides you with digital switching banks data, and in conjunction with the Run Indicator or the Circuit Control, you can monitor bilge pumps and other analog circuits. With the upcoming Battery Monitor, it will be able to monitor the charge of your batteries, and of course, you can use any NMEA 2000 sensor.

Rented boats. You can easily check that a boat has not visited prohibited areas, was not on ground, and that the engine was used at normal speeds. You may use a cell phone to monitor your boat all the time, or configure the device to use your home marina Wi-Fi, and you'll get data in the Cloud before they are finished with ropes. Note that you can make a Wi-Fi network using a cell phone or hidden device.

Friends and family. The Cloud Service allows sharing of your data to a registered user or by a "secret" link, and even your mom will be able to check that you are arrived with a web browser. Traffic is moderate and the Cloud Service can be used even with a satellite phone. Uploading during a typical 20-day Atlantic crossing will take about 2 MB of traffic.

Our lovely s/v Mur Mur has been out testing the new firmware over the last ten days (total traffic was 30 MB in 10 days, but we found that email and some other apps are running), and you can visit the page with the real-time vessel's data to check where she is, what the current conditions (we have broken AirMar water temperature sensor) are and export tracks to explore our sailing (we did not sail in last ten days, but today we plan to perform a short trip!).

New firmware for NMEA 2000 Wi-Fi Gateway (1.42), NMEA 2000 Wi-Fi Router (1.25) and NMEA 2000 Ethernet Gateway (1.04)

is available at Downloads page.
Next articles:
Previous articles:
See also: recent news, all news...