July 1, 2020

NMEA 2000 Wi-Fi Gateway with Cloud
We are glad to inform you that data logging to internal memory, exporting data in GPX and CSV formats, and uploading data to the free Cloud Service was added.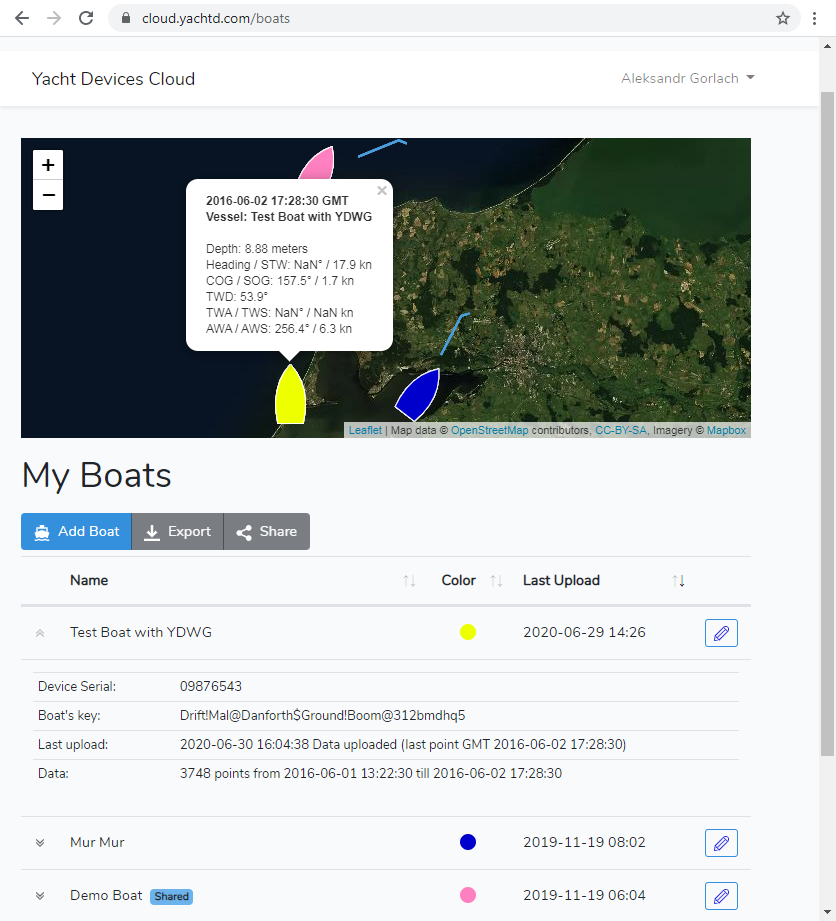 The NMEA 2000 Wi-Fi Gateway is one of our most popular products thanks its affordable price and rich feature set. In the 1.40 update, we added data logging to the internal memory. On the "Logging" page in the settings, you can choose a sample rate from 15 seconds to 1 hour. The memory capacity is 16256 points, so it can fit from 4 days to 2 years depending on the selected rate (old data are overwritten automatically).
Recorded data can be exported in CSV (spreadsheet) or GPX (tracks) formats from the YDWG web interface (Server #3 must be configured to the "Memory" protocol). And/or you can configure the gateway to upload data to our free Cloud Service when the boat's network is connected to the Internet.
For the time being, User Manual is not updated, but you can refer to Section XIV of the NMEA 2000 Wi-Fi Router manual, because the settings are identical. Likewise you can refer to the configuration guide published on the Cloud Service web site.
The Cloud Service is a simple but great thing, because it allows you to download your tracks and data from home or share your position with friends and family or monitor environmental conditions in a marina remotely. And it is absolutely free with no limitations! The NNMEA 2000 Wi-Fi Gateway is our 3rd product with Cloud support; previously it was presented with our NMEA 2000 Ethernet Gateway and the NMEA 2000 Wi-Fi Router.
Please note that the logging feature is turned off by default and you need to activate it manually in the settings of your device.
We have also updated Web Gauges, and now the thermometer databar and gauge can display exhaust gas temperature from twin engines.
The firmware update for NMEA 2000 Wi-Fi Gateway (v1.40) is available at Downloads page.
Next articles:
Previous articles:
See also: recent news, all news...