June 26, 2020

Critical update for Ethernet Gateway
The 1.03 update contains important bug fixes and is recommended for all users.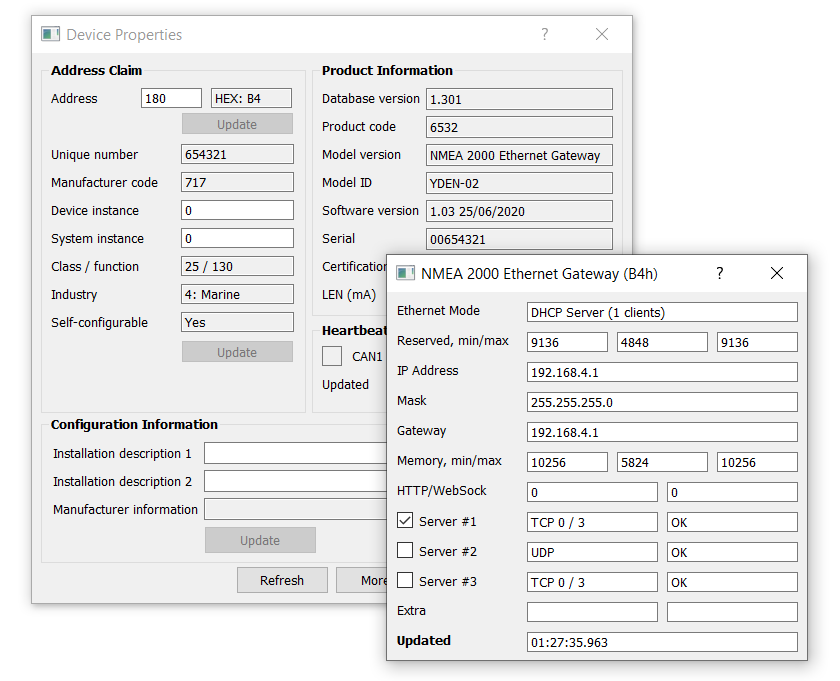 Along with bugfixes, we changed the engagement method for Emergency mode, used to load gateway with a fixed IP address. In this version, you need to hold the hidden button down during power on (see Section III.4 of the Manual, it was also updated). Thanks to that, in all modes except Magic, the Ethernet Gateway loads up in half of a second.
In the Magic mode, it can wait up to 10 seconds to get an IP address from the DHCP server in the network (if the server exists, it obtains an address within a second), and switches to the DHCP server mode in case of failure. That's why we recommend switching the factory default Magic mode to DHCP server or DHCP client mode at initial configuration: the gateway will start up much faster.
The CAN Log Viewer was updated to Version 1.33, and this version allows clicking the "More..." button in the properties of Ethernet Gateway to check the current mode and number of connections to the gateway's servers (see the screenshot above).
The Ethernet Gateway is our second product with Cloud support. Our Cloud Service is totally free and allows to see your vessel's position online, download tracks and share position and tracks with friends and family.
Right now, the gateway records only a basic set of data (position, depth, speed, course, wind) to the internal memory (you should manually turn it on one time on the the "Logging" page of the administrative web site). You can download recorded data from the "Memory" server of the gateway (as GPX tracks or spreadsheets), and/or configure the gateway to upload these data to Cloud Service. The configuration procedure is the same as for NMEA 2000 Wi-Fi Router: you need to enter the serial number in your account and get a key, which is then entered in the gateway's settings on the "Logging" page.
The firmware update 1.03 for Ethernet Gateway and CAN Log Viewer 1.33 are available on the Downloads page. For more details about the product, please see the product's page or User Manual.
Next articles:
Previous articles:
See also: recent news, all news...