December 25, 2019

The Ethernet Gateway is in stock
This is a really tiny and elegant device. In comparison to the Maretron IPG100, it is 50 times smaller, 19 times lighter (18 g vs 340 g), 4 times cheaper and uses 3 times less power.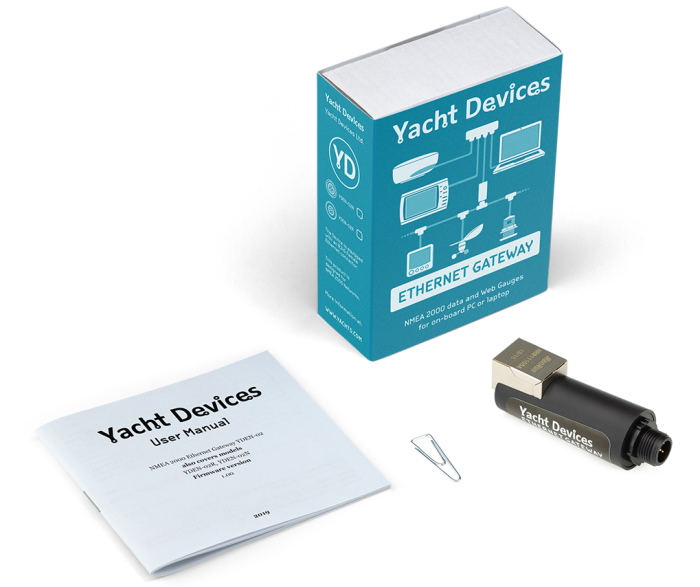 Despite its small size, under the hood (don't really open it) you will find:
web server for configuration and firmware updates;
Web Gauges to view vessel data right from a web browser;
bi-directional convertor between NMEA 0183 and NMEA 2000 with autopilot support;
3 x TCP / UDP data servers with NMEA 0183 and NMEA 2000 data streams for applications;
DHCP server for direct connection with a PC or laptop;
data logger which uses internal memory (12000 points with sailing data);
data export in GPX, spreadsheets or XML formats;
support of free Cloud Services to share your position and tracks online.
As with many of our other devices, it can be plugged directly to the NMEA 2000 or Raymarine SeaTalk NG backbone to save on cables, and it is equipped with a regular RJ45 Ethernet connector.
We have received many questions concerning whether it will support NMEA OneNet or not. The OneNet Standard was scheduled to appear in Q4 2019, but it looks like it is delayed again. It is possible, that in 2020 we'll see the first chart plotters with NMEA OneNet support (because many already have an Ethernet port, so it is only a software question), but for most sensors, OneNet is still very expensive and we do not expect the first wind sensor or heading sensor with OneNet interface before 2025.
The Ethernet Gateway will co-exist with NMEA OneNet on a single physical network, but the Ethernet Gateway will not work as a OneNet gateway. It will not provide interactions from NMEA 2000 devices to NMEA OneNet devices or vice versa.
The main goal of our product is to provide an interface for marine software. In 2019, we see that most marine applications still do not support NMEA 2000 and use the NMEA 0183 protocol released in 1983. Development cycles are very long for software and hardware, so right now we do not see any practical reasons for supporting OneNet.
The Gateway also works over any other marine network based on Ethernet technology, including Garmin Marine Network, Raymarine SeaTalk HS (High-Speed) or Raymarine RayNet.
Many navigational PCs have an Ethernet connection to the marine network to display radar data, and the Ethernet Gateway lets you use the same cable to receive NMEA 0183 and NMEA 2000 data in marine applications. If you have a Wi-Fi router installed on the boat, it will allow using data and Web Gauges on mobile devices, too.
Models of Ethernet Gateway with Raymarine SeaTalk NG connector (YDEN-02R) and NMEA 2000 Micro Male connector (YDEN-02N) are already on stock and can be ordered for USD $189. For more details about the product, please see the product's page or User Manual.
Next articles:
Previous articles:
See also: recent news, all news...