December 25, 2017

Happy New Year and Merry Christmas
Thanks to your help and support, it was very successful year for us. We are glad to remember 2017, announce a few upcoming products and wish you a Merry Christmas and Happy New Year!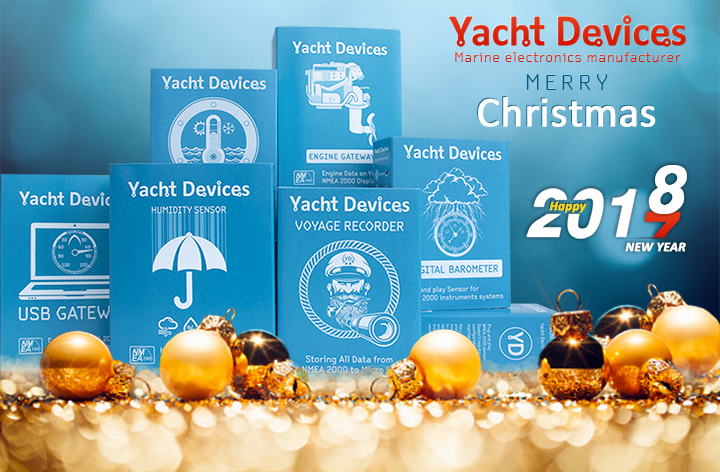 In March of 2017, we celebrated two years in business. It was a great year! Since beginning of the year, we have released five new products: Humidity Sensor, NMEA 2000 USB Gateway, NMEA 2000 Wi-Fi Gateway, NMEA 0183 Gateway, and J1708 Engine Gateway. Two of our products, Humidity Sensor and J1939 Engine Gateway, have passed NMEA 2000 certification.
We are proud of all our new products, because all of them have unique features.
It was a great year for business also. We now have new resellers in Germany, USA and Russia. In addition, we surprisingly got a nice two-page review in the September issue of Practical Boat Owner. After that, we received many requests from resellers and hope that the list of resellers expands by many new names this winter. By January, all our products will have CE and WEEE marks, nice looking boxes, and we hope those of you who are resellers will find a good place on your shelves for us! Last, but not least: sales have increased on 500%. Yes. Five hundred percent in comparison with 2016.
What is scheduled for 2018? Of course, new products, new features and an upcoming expo where you will able to meet us.
The Wi-Fi Gateway will get new data bars and graphs for web gauges in January. It is actually an inexpensive replacement for an instrument display in combination with a tablet or smartphone. And it will be much better.
The J1708/J1587 to J1939 adaptor, targeted to the industrial and heavy vehicles market, will be released during the winter. It has a robust waterproof case and can be installed in harsh environments. This product was planned in 2017, but we were really overloaded in the last few months.
The completely new product is the Smart Relay and is expected in January. This device helps you when you have two loads and only one power switch. For example, you have a combined deck/running light on the mast and only two wires (positive and negative) inside the mast. Smart Relay powers the first channel when you turn the power switch on, and it powers the second channel when you cycle the power switch twice in one second.

Smart Relay contains a bi-stable RT424F05 relay and takes power only when channels are switched; at all other times it consumes less than 0.5 mA. It can switch DC loads with continuous current up to 8A and peak current of 15A (4 seconds, 10% duty rate). To switch between channels, you should cycle the power in one second. If you need to have one load constantly on and one should also be on after the fast cycling of the power, just connect the first load to the incoming power terminals and the second load to channel 2.
The next big product is the NMEA 0183 Wi-Fi Gateway. It will have two NMEA 0183 ports, three TCP or UDP network servers, and will be able to work as an access point or connecting to an existing Wi-Fi network. It will have a variety of functions. A pair will able to work as a NMEA 0183 wireless extender. NMEA 0183 ports will have a configurable baud rate and will able to connect NMEA 0183 devices with different speed. Of course it will work as multiplexer, and you will able to combine data from physical devices with data from network devices (navigation software) and send the output to other physical devices or other network ports. And, as well as many other our products, it will able to filter data. This product is expected in March.
We are also hope to release in March the NMEA 2000 Fuel Level Sensor, designed to work with all types of resistive sensors. It will work as a standalone device or in parallel with analog gauges. It will be equipped with a MicroSD slot for firmware updates, configuration (tank number, capacity, shape) and fuel usage logging.
Of course, it is best to log data with our Voyage Recorder. We are working on a new version. It will looks the same, but it will have a 3.5mm audio jack socket near the card reader. You will able to record VHF conversations and weather forecasts from line out or talks on the bridge from a microphone. It will allow you to reproduce your sailing with all the details! You will be able to see other vessels' positions using AIS data recorded and hear the conversations! This product is expected in February and will sold in parallel with the current model.

We welcome you to the booth of Kiel Nautic (A49, Hall 11) at the Dusseldorf Boat Show in January, where our products will be presented by Matthias Busse, our German reseller. We are also planning to visit Dusseldorf and will glad to schedule a meeting January 20-22. Feel free to contact us!
We had an exciting year and have a lot of plans for 2018. Of course this is all made possible by your help, support and your passion. It is a great pleasure is to receive email starting with "Hi! I've waited 10 years for this product!". Every day we get a better feel for your desires, receive ideas and suggestions - and this makes us happy. Thank you very much. It was really a happy year for us, and we wish you a Merry Christmas and Happy New Year!
Next articles:
Previous articles:
See also: recent news, all news...