October 24, 2016

New firmware for Voyage Recorder and a great update of Recorder PC software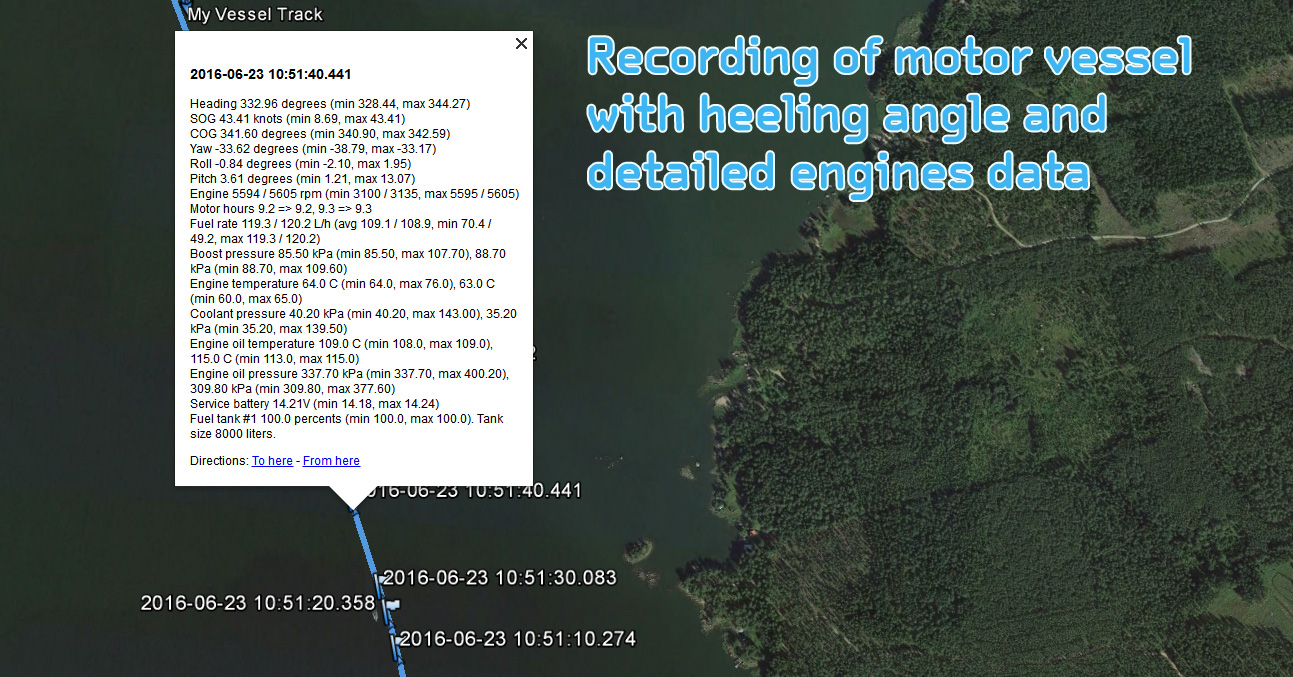 More than 10 engine parameters including fuel rate and temperature are now supported by the PC software (click on the picture above to enlarge). Developers will be glad to know that now the Recorder can work as a player.
The PC software (also known as YDVR Converter) supports vessels with one or two engines. The following engine parameters are now supported during data conversion to GPX (tracks) and CSV (spreadsheet) formats:
Engine speed (RPM)
Engine hours
Engine temperature
Coolant pressure
Engine load
Boost pressure
Engine oil temperature
Engine oil pressure
Transmission oil temperature
Transmission oil pressure
Fuel rate
Exhaust gas temperature
Note that Voyage Recorder saves all network data to a MicroSD card, so any old recordings that you have from Voyage Recorder can be converted with the new version of the software and you will see much more data about your sailing than before.
Another great feature, conversion to a new binary logs format (files with .CAN extension), was added. You may download the free CAN Log View tool, which works on Microsoft Windows, Mac OS X and Linux, to "play" these files on a PC screen and convert it to different formats, including CSV (spreadsheet) format and Voyage Recorder's .DAT format. This tool can also import data from spreadsheets to .CAN files.
CAN log format is open and intended to store CAN messages recorded from one or two CAN interfaces. It is a network-layer format, which is compatible with all application-layer protocols like NMEA 2000 or J1939. This format is also supported by our NMEA 2000 Bridge and Engine Gateway.
Voyage Recorder can play messages from CAN logs to a physical CAN network (see section IX. of Manual). This feature is targeted at developers, and may help to demonstrate, test and emulate equipment. Note that you may use Voyage Recorder not only in NMEA 2000 networks, but on any network which works at 250 kbps speed.
For example, if you get J1939 logs from some remote equipment, you may convert them with Microsoft Excel and the CAN Log View tool to CAN format, and then emulate this equipment locally with Voyage Recorder.
The firmware and product software also contains minor fixes and improvements, and we recommend these updates to all users.
Updates are available at our Downloads page.
Next articles:
Previous articles:
See also: recent news, all news...