February 3, 2021

Update for NMEA 2000 gateways and routers
The new firmware introduces two new data sets: "Motor Boat" and "Twin Engines", to record a vessel's data into the internal memory and store data in the Cloud Service.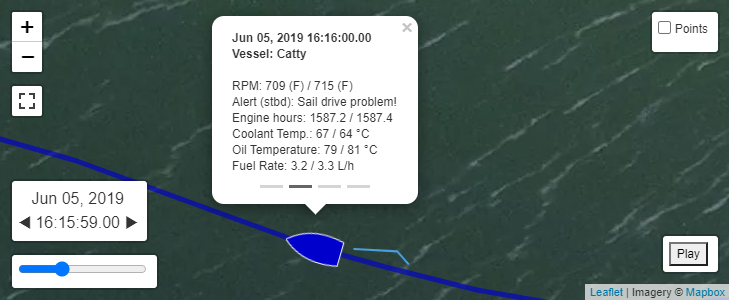 The Cloud Service is a free online service targeted at users of our NMEA 2000 gateways and routers. The Cloud service is supported by NMEA 2000 Wi-Fi Router YDNR-02, NMEA 2000 Wi-Fi Gateway YDWG-02, and NMEA 2000 Ethernet Gateway YDEN-02.
These devices can record navigation, weather, engines, tanks and batteries data, and the state of digital switching equipment to the internal memory. The full list of supported data types and technical details are available here. The user can choose a logging interval between 15 seconds and 1 hour and select the "data set" which is most suitable for the boat.
Today's firmware update offers four data sets. The Basic data set contains only basic navigation (position, depth, COS/SOG, heading and STW) and weather data. The "Sailing Yacht", "Motor Boat" and "Twin Engines" data sets incudes all data from the Basic data set and engine data (including warnings from engines and transmission, see the screenshot above), tanks, batteries, digital switching equipment stats, and extended navigation data like rudder angle and heeling (see the full list).
The recorded data can be exported from the Device's memory into a spreadsheet (.CSV file) or to a GPS track (.GPX file) from the built-in administrative web site. If your boat's Wi-Fi or Ethernet networks has an Internet connection, devices can be configured to automatically upload your data to the Cloud. You only need to register in the Cloud service, obtain the boat's key for your device and enter it to the settings.
The Cloud service offers unlimited and free backup for your data, allows viewing of your tracks online and download, supports sharing your data with family and friends, and helps you monitor your boat and its environment remotely. Please, learn more about advantages of the Cloud service there.
In a recent article in Yachting Monthly magazine, you can find ideas how to provide long-range connectivity with 4G/WiFi boosters. On our s/v Mur Mur, where we test all our products, we used an old Android phone with a mobile hotspot to test the Cloud service during the 2020 sailing season and kept a Wi-Fi Gateway constantly connected to the Cloud. It is budget solution, and Android's mobile hotspot allows to other devices (laptops, smartphones) to be connected and access the administrative web site of our Wi-Fi Gateway and Web Gauges.
The iOS 14 hotspot (tested on IPhone) also allows to clients to see each other, and allows the IPhone itself to see clients (you can get access to the administrative web site of the gateway and to Web Gauges). There is no way to find what IP address was assigned to a client, but it should be in the 172.20.10.1 — 172.20.10.15 range and you can test addresses one by one. If you have another gateway or router from Yacht Devices, the CAN Log Viewer application can help find the IP address.
Whichever solution you choose, we are sure that you will appreciate our service.
Firmware updates for NMEA 2000 Wi-Fi Router YDNR-02 (v1.30), NMEA 2000 Wi-Fi Gateway YDWG-02 (v1.50), and NMEA 2000 Ethernet Gateway YDEN-02 (v1.10) are available at Downloads section.
Next articles:
Previous articles:
See also: recent news, all news...