November 11, 2019

New firmware for Rudder Adapter
With the new firmware, the Device can work as a Trim Tabs sensor and provide angular type data over the Garmin "Custom Data Channel" protocol to deal with non-standard equipment; the voltage-output sensor support is also improved.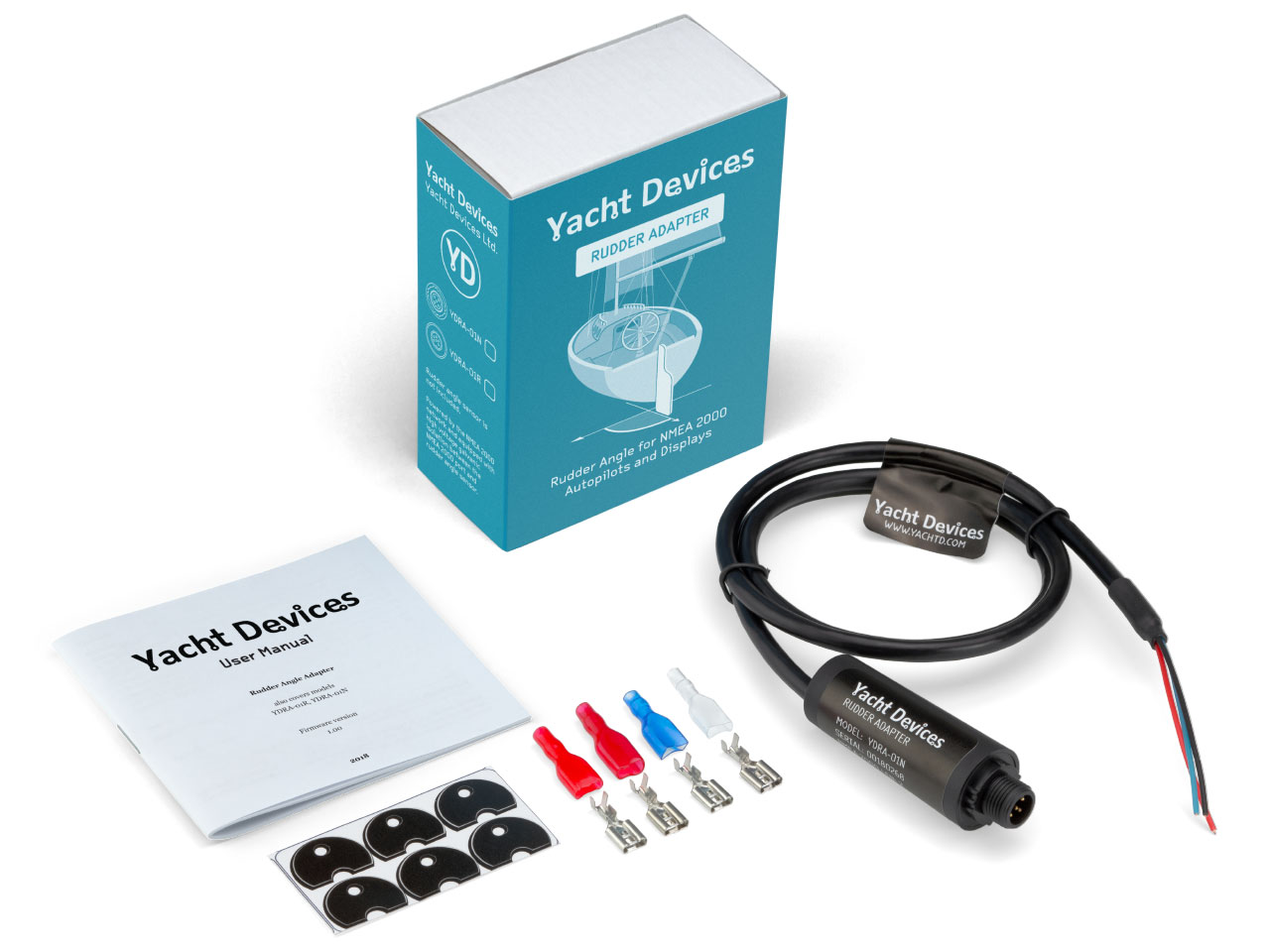 Rudder Adapter was tested with Curtiss-Wright NRH300DP No-Contact Rotary Position Sensor. This sensor has a 0.5—4.5 Volt analog output swing, while our device's old firmware supported only 0—5 Volt swing.
Now both voltage levels for "full port" and "full starboard" rudder positions can be set explicitly, in any range from 0 to +16 Volts with VOLTS_PORT and VOLTS_STBD settings.
Also we have changed the sensor connection configuration parameters of the YDRA-01 to make them more uniform with our Tank Adapter settings. Starting with firmware 1.02 for the Rudder Angle Adapter, the old SENSOR_TYPE and GAUGE_TYPE settings are replaced with a single CONNECTION setting, which can have the following values:
RESISTIVE — for standalone resistive type sensor connection,
1COIL, 2COIL and 2COIL_VCC — connection in parallel with single or two coil gauge,
VOLTAGE — for voltage output sensors.
Our customers also suggested an idea to connect Rudder Angle Adapter to the resistive trim tabs sensors and use the Rudder Adapter as a "Trim Tabs" NMEA 2000 data source. New TRIM_TABS setting activates one of the possible "Trim Tabs" modes, where the device will send "Trim Tab Status" PGN 130576 instead of "Rudder" PGN 127245.
Usually, a boat has two trim tabs, port and starboard, thus two YDRA-01 units should be used. The Device connected to the port trim tab should be configured as "Master", starboard — as "Slave" with TRIM_TABS=MASTER and TRIM_TABS=SLAVE settings.
Starboard "Slave" Device will send the measured value to the "Master" device over the NMEA 2000 network in our own proprietary PGN, and "Master" device will combine starboard trim tab value with its own (port) trim tab value, and then send a "Trim Tab Status" PGN 130576 with both port and starboard trim tab data.
When tabs are always synchronized, you can use one YDRA with the setting TRIM_TABS=BOTH, the device will report the same value for port and starboard tabs.
Also, we have added support for Garmin "Custom Channels" proprietary protocol, which allows display of non-standard data types on Garmin multifunctional displays. For example, NMEA 2000 has no data type for the rotary mast angle, but this value is vital and must be visible to the helmsman. Garmin channels protocol is supported in Expedition 10 software, SailMon and Diverse Yachts products.
If you have a compatible Garmin NMEA 2000 MFD/display, you can configure YDRA-01 to send the angular type data to one of the Garmin channels instead of the "Rudder" PGN 127245. You can activate this mode and select the channel with the CUSTOM_DATA setting, and set the data transmission interval with CUSTOM_DATA_INTERVAL setting.
We have also modified and added the corresponding "YD commands" you can use to configure the device with an installation description string. Command responses were also modified: if the command is sent to the Device and the parameter omitted, it will reply with the current parameter value.
Please, check the YDRA-01 updated manual. Firmware Update for Rudder Adapter YDRA-01 (1.02) is available on the Downloads page.
Next articles:
Previous articles:
See also: recent news, all news...