December 6, 2018

New digital switching products
We are very pleased to present the Circuit Control YDCC-04 and the Switch Control YDSC-04. These devices have low power consumption and are cost effective and well suited to building a NMEA 2000 digital switching system on small and medium size vessels.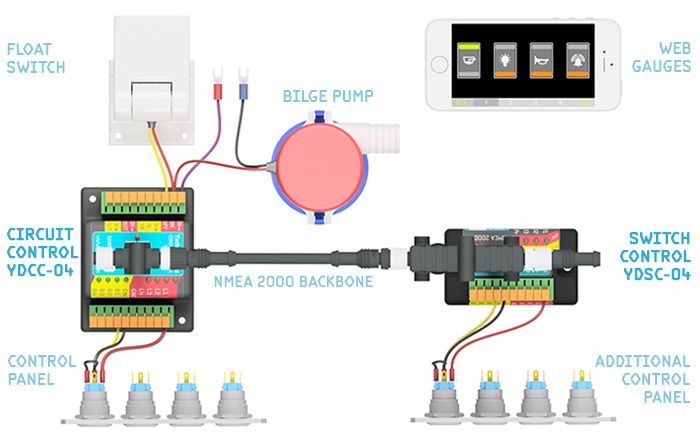 The main key to successful sailing is knowledge of your boat. You must know her possibilities, her behavior in different conditions and how her systems work. You will know from seeing advertising that digital switching will allow you to save on cables, reduce system complexity and control loads from different places and remotely, plus it opens doors to boat automation.
We are glad to present our pure NMEA 2000 digital switching system, which is extremely simple and does not require a degree in electronics or specialist software to install.
The core component is the Circuit Control, which has four latching (bi-stable) relays and terminals for connecting of four external buttons with LED indicators. Loads can be managed from the connected buttons or over NMEA 2000.
Latching relays remain in their state after being powered off and consume electricity only when switching. The average current consumption of the Circuit Control is only 30 mA, and you can reduce it to 18 mA by switching off the built-in LEDs using the device's settings.
The next advantage of relays is their compatibility with any type of load: direct current (DC), alternating current (AC) or audio. They do not heat up on high current and they provide high-voltage isolation. The mechanical endurance of the contacts is more than 2 million switching operations.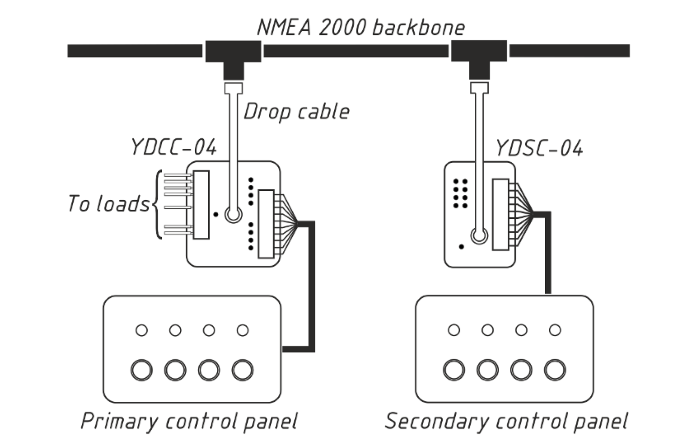 Figure 1. Typical system with two control panels
The Switch Control YDSC-04 is designed to set up additional control posts (see Figure 1) with duplicate physical buttons and LED indicators. It is compatible with other NMEA 2000 digital switching devices managed with standard NMEA 2000 PGNs 127501 and 127502.
Many digital switching systems require special button panels. You can connect any momentary push button (better with an integrated LED) to the Circuit Control or the Switch Control. It allows seamless integration to the existing boat interior.
The only thing you should know about the NMEA in your installation is that the devices working together must have the same "bank number" (all devices are supplied with zero number programmed), while independent digital switching systems on a single NMEA 2000 network must have different bank numbers (252 unique bank numbers are allowed in NMEA 2000). The bank number can be changed from the connected buttons or with any NMEA 2000 installer's software.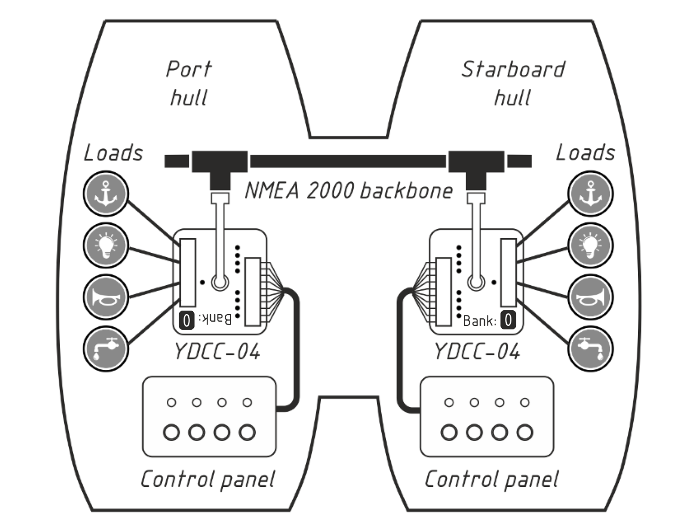 Figure 2. Parallel loads, synchronized Circuit Control units
The Circuit Control unit can work in parallel with other units (see Figure 2) and can be managed from multiple Switch Control units with a matched bank number. Loads can also be managed from "virtual buttons" of Web Gauges, or automatically managed by our sensors.
If you have external access to your boat's Wi-Fi network, the NMEA 2000 Wi-Fi Gateway with built-in Web Gauges will allow you to manage loads from everywhere using a web browser on any device (smartphone, PC, tablet, etc.).
The Circuit Control and Switch Control use standard NMEA 2000 PGNs and are designed to be compatible with Oceanic Systems, Offshore Systems, Chetco Digital, Maretron (see p.27 in the Manual) and Carling Tech displays and relay modules. To check whether your MFD is compatible, search the list of NMEA 2000 PGNs for numbers 127501 (in the "Receive" list) and 127502 (in the "Transmit" list).
UPDATE 13/12/2018: Loads connected to the Circuit Control YDCC-04 can be managed from all chart plotters with CZone support: this includes all modern models of Garmin, B&G, Lowrance, Simrad, Furuno and recent models from Raymarine (Axiom, eS, gS series). Unfortunately, these messages are not supported in Garmin and Raymarine chartplotters.They use CZone and EmpirBus digital switching systems which have proprietary and not publicly available protocols. We hope that these NMEA leviathans will return to following the Standard, but we will also try to find a way to add compatibility mode in the new firmware updates. Both our devices can be upgraded from CAN Log Viewer connected to NMEA 2000 with Wi-Fi or USB Gateway.
UPDATE 06/12/2018: The Circuit Control and Switch Control are certified by National Marine Electronics Association. The Circuit Control and Switch Control have been submitted for NMEA 2000 certification, and we expect that this will be passed by the end of this year.
Examples of digital switching systems are available on the Circuit Control page, while terminals and connectors of devices are described in the Appendix C of the Manual.
The Circuit Control (USD $289) and Switch Control (UDS $149) are in stock. To learn more or order products, visit the Circuit Control and Switch Control pages.
Next articles:
Previous articles:
See also: recent news, all news...