December 21, 2018

Merry Christmas and Happy New Year
The holidays are coming, and we need to share our schedule, plans and some numbers! We thank all visitors, customers and partners for their help and support and wish Happy New Year, great pleasure voyages and successful races in 2019!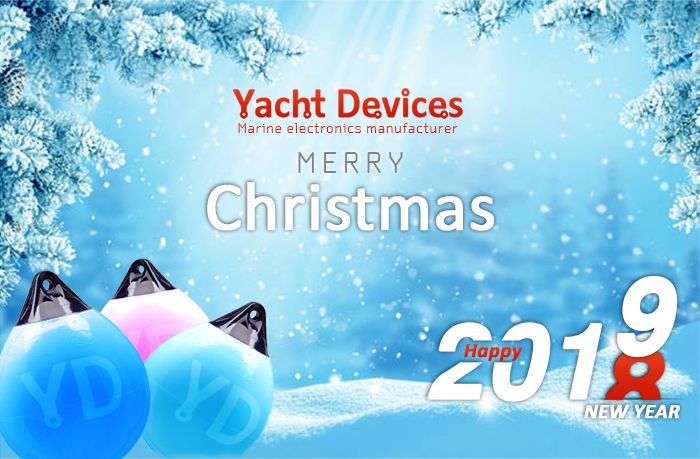 This year was highly productive for our company, we released eight new products:
This year we sold 3 times more units than in 2017, developed two OEM projects and established dealer relationships with about 40 companies from the marine market. We hope that at the beginning of 2019, you will find many more flags at the ordering page!
Along with the new releases, we continue updating our existing products:
NMEA certified six of our products in 2018. This also required great effort:
We are very proud of our recently-released Circuit Control; it is not only a pure NMEA 2000 digital switching product with the best price on the market, it is also compatible with Maretron and Offshore Systems, and with all modern chart plotters. It has an excellent chance to become #1 for small and mid-sized boats because it is very simple and easy to install.
Next year we plan to expand our digital switching product line with an alarm unit, our NMEA 0183 products line with a simple multiplexer (5x0183+SeaTalk), our NMEA 2000 gateways line with an all-in-one product (Wi-Fi, NMEA 2000, NMEA 0183, SeaTalk), and our NMEA 2000 sensors line with a battery sensor. We are keeping some projects secret as a surprise ;-)

We invite you to the Kiel Nautic booth (Hall 11 / A49) at the Dusseldorf Boat Show, where you will be able to see our products in action. And from January 19 till 23 (the first five days of the expo) you can meet us personally.
The Lithuanian and Polish warehouses will be on vacation from December 22 to January 3, and the Russian warehouse will be on vacation from December 30 to January 3. All orders placed during these vacation periods will be sent out on January 4. Technical and sales support will be on vacation from December 30 to January 2.
It was a great pleasure to work with sailors from the entire world in 2018; we wish all of you a Merry Christmas, Happy New Year, and pleasant voyages and successful races in 2019!
Next articles:
Previous articles:
See also: recent news, all news...