May 27, 2021

All N2K Gateways and Routers are updated again
New sentences and messages are supported, outgoing connections are added to NMEA 2000 Wi-Fi Router, and a special workaround for Yanmar 6LY3-UTP engine was added.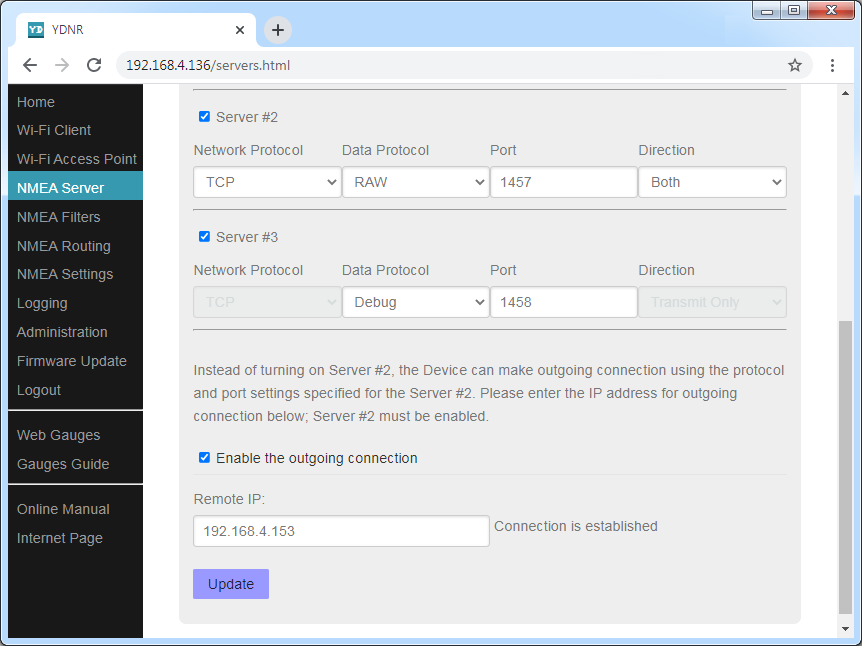 Recently we added support of new NMEA 0183 sentences (GST, BWR, GNS) and NMEA 2000 messages to the Ethernet Gateway, and now these changes are available in all our NMEA 2000 products. The online table with supported sentences was updated; you can check it here.
We also added support of outgoing connections to the NMEA 2000 Wi-Fi Router. Just like the Ethernet Gateway, it can make outgoing connections to a specified TCP port or send addressed UDP datagrams with NMEA 0183 or NMEA 2000 data. You can turn on this feature on the "NMEA Server" page, and it uses settings of data Server #2 (you should specify the remote IP address additionally, see the screenshot above). To use this feature, Server #2 must be turned on, but it will not be available when the outgoing connection is activated. The outgoing connection "replaces" Server #2; the filters and routing rules of Server #2 will be applied to the outgoing connection.
The Ethernet Gateway was also updated; it got a special workaround for supporting the Yanmar 6LY3-UTP engine (along with all other Gateways and Routers). This engine has NMEA 2000 output, but one of the outgoing messages has an incorrect length (one byte longer than in Standard). Previous firmware versions dropped such messages, but in this case, we make exclusion.
The new update also contains some bug fixes, and we recommend installing it to all our users.
Firmware updates for NMEA 0183 Gateway YDNG-03 (v1.22), NMEA 2000 Wi-Fi Gateway YDWG-02 (v1.56), NMEA 2000 Wi-Fi Router YDNR-02 (v1.36), NMEA 2000 Ethernet Gateway YDEN-02 (v1.22) and and NMEA 2000 USB Gateway YDNU-02 (v1.36) are available at Downloads section.
Next articles:
See also: recent news, all news...