November 19, 2019

Yacht Devices Cloud Service is opened for testers
Free cloud storage service allows users of our Wi-Fi and Ethernet NMEA gateways and routers to share their position with family and friends, remotely monitor environmental conditions and easily access their vessel's tracks from home.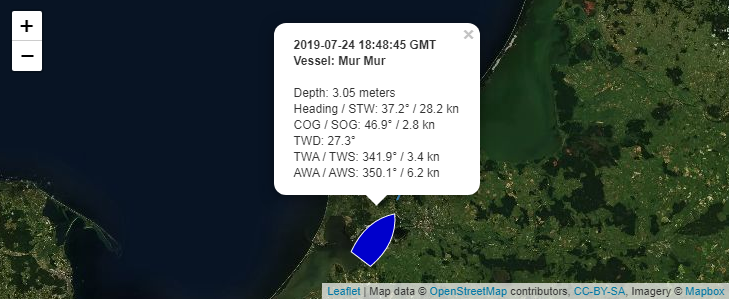 Yacht Devices offers a range of products to connect NMEA 2000, NMEA 0183 and SeaTalk equipment to laptops, smartphones and PCs by USB, Wi-Fi and Ethernet protocols. Our gateways and routers can record vessel data, including GPS position, depth and wind speed to the internal memory (available in YDNR, YDWN and YDWR; will be added to YDWG soon). In the next firmware update, we'll add selection of additional boat's data, like engine revolutions and tank levels, heeling and rudder angle. These data can be exported as GPS tracks, spreadsheet files or in other formats from the built-in web server of the device.
With the new firmware update, devices can automatically upload data to the cloud if the Wi-Fi or Ethernet network of the vessel is connected to the internet. This update is already available for NMEA 2000 Wi-Fi Router (1.20 version). To get started, the owner must register online to obtain the boat's key, which should be entered in the device's settings.
Vessel data can be shared with other registered user or to anyone via a unique link. Visitors can see vessel position on a map, view environmental conditions and other uploaded data. It is also possible to export data to GPX, spreadsheet and other files to load into cartographic and other programs, or upload to chart plotter.
The new service is a convenient way to get your fishing or sailing tracks at home. When you arrive at the homeport, the device can connect to the marina's Wi-Fi and your tracks will be in the cloud before you get to your own doorstep. Your friends or family can open the link you send in the web browser, and be sure that you are have already returned. If your boat is always connected to the internet, you can check the weather in the marina or charge of your batteries.
Our company declares that the service will have no data storage limits and all current functionality will remain free. In the future, Yacht Devices plans to add paid services for fleet management, charter and regatta organizer companies.
The service is open in beta testing mode for everyone. The service will be fully released in January 2020. Firmware update for NMEA 2000 Wi-Fi Router is available at Downloads page.
Next articles:
Previous articles:
See also: recent news, all news...