September 16, 2016

Engine and Tank Monitoring Firmware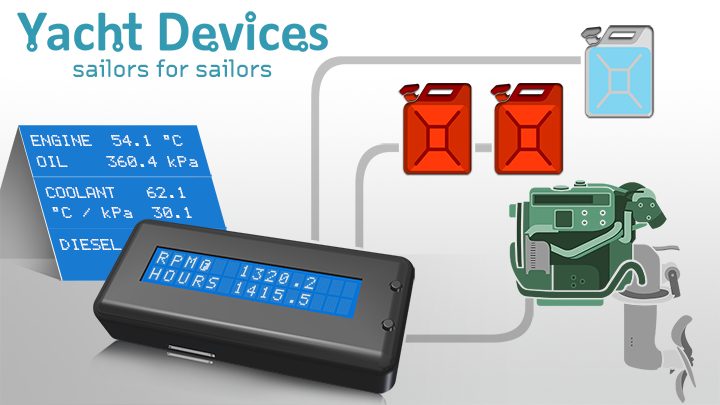 With this firmware for the Text Display YDTD-20, you can monitor up to four engines and transmissions, temperature in the exhaust system, the vessel's trim tabs, four batteries, four diesel and four gasoline tanks and three fresh water and three black water tanks.
The Display shows all possible engine and transmission data defined in NMEA 2000 2.100 standard (released at February 2015), except the engine's VIN and the engine's software version. We also included speed data (over ground, SOG, and thru water, STW) for your convenience. Supported data types are listed below.
Category: Engine
Engine speed, RPM
Total engine hours
Engine boost pressure
Engine tilt/trim
Engine oil pressure
Engine oil temperature
Engine coolant pressure
Engine coolant temperature
Alternator potential
Fuel rate
Fuel pressure
Engine load
Engine torque
Alarms and warnings
Exhaust gas temperature
Category: Transmission
Transmission gear
Transmission oil pressure
Transmission oil temperature
Alarms and warnings
Category: Vessel's data
Speed Over Ground
Speed Thru Water
Trim tabs
Category: Trip fuel
Time to empty fuel tanks
Distance to empty (fuel range)
Estimated fuel remaining
Trip run time
Fuel rate, average
Fuel rate, economy
Trip fuel used
Instantaneous fuel economy
Category: Tanks
Level as a percentage
Level in liters or US gallons
Tank capacity
Category: Batteries
Battery voltage
Battery current
Case temperature
You may download firmware from our web site for free, copy it to the MicroSD card, and change the type of your display in a minute! And, of course, at any moment you can switch back to the Instument Display firmware. We plan to release additional firmware products in the future.
You may download this update by the direct link or at downloads page. To learn more about the Text Display see: www.yachtd.com/products/display.html.
Next articles:
Previous articles:
See also: recent news, all news...