Stock clearance!
① 40% OFF our Humidity Sensor YDHS-01R (model with Raymarine SeaTalk NG connector) and YDHS-01N (model with NMEA 2000 Micro Male connector). Only until November 18 !
We are ready to release a new firmware version for Humidity Sensor, which will support firmware updates and will have digital switching support. Sensors with this firmware will be in stock on November 25.
Until November 18, you can purchase the Humidity Sensor with the old (non-upgradable) firmware with a great 40% discount, using the discount coupon STOCK18.
The Humidity Sensor is bug-free, and NMEA-certified, so this is a great offer if you only need the air temperature and relative humidity data, and have no plan to integrate it with digital switching equipment.
② 40% OFF for Digital Thermometer YDTC-13RT and YDTC-13NT (models with built-in terminator; with Raymarine SeaTalk NG or NMEA 2000 Micro Male connectors). Only until November 18 !
All models of our Digital Thermometers support firmware updates. However, we have a few units with old non-upgradable firmware in stock. All these units have a built-in terminator and must be connected to the network instead of an existing terminator.
Use coupon STOCK18 to get the model with the old (non-upgradable) firmware with the reduced price. This model is bug-free and certified by NMEA. To order the device with the new firmware, do not use the STOCK18 coupon when ordering.
Order Humidity Sensor Order Thermometer
How to apply the coupon?
Select the product on our ordering page or multiple products on the Bulk Orders page, and click the "Place Order" button. You will be redirected to the page of our e-commerce provider 2Checkout.Com.
Click on the "Add coupon code" link (at left from the total sum) and enter the coupon code: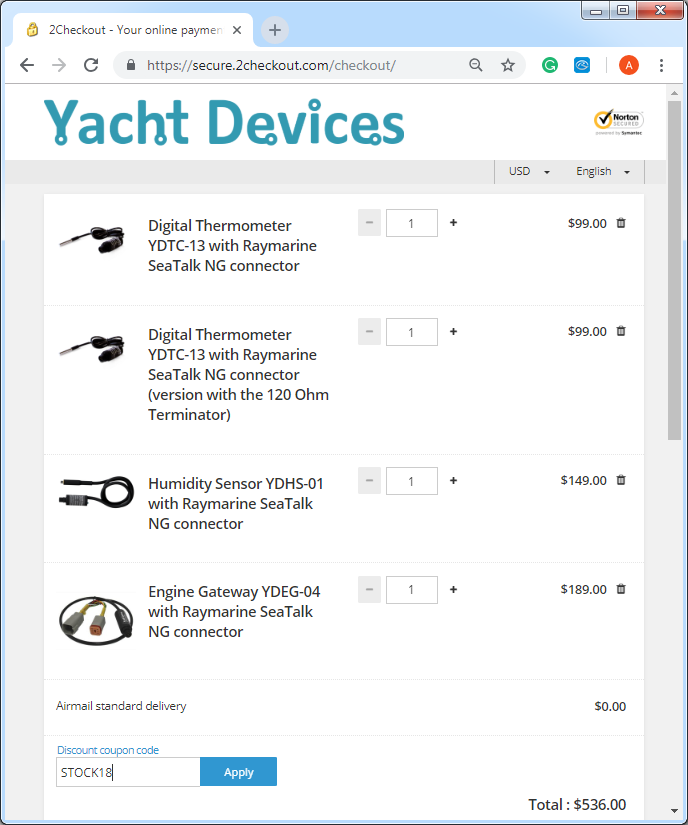 Click the "Apply" button, and the coupon will be applied to all products in the basket which are eligible for this promotion: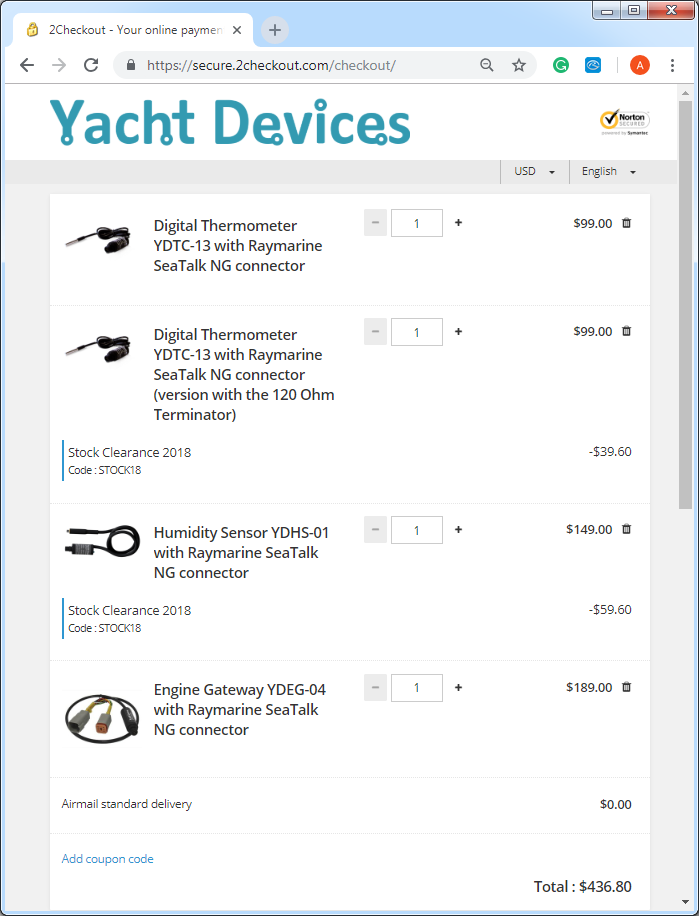 Order Humidity Sensor Order Thermometer