September 8, 2017

Update for Engine Gateway YDEG-04 and CAN Log Viewer
J1939 and NMEA 2000 data viewers added to free CAN Log Viewer. With its help, owners of Wi-Fi and USB gateways can view live network data in readable form; owners of Engine Gateway YDEG-04 can identify what data are available on the network and what are not. Version 1.17 of Engine Gateway YDEG-04 firmware is available.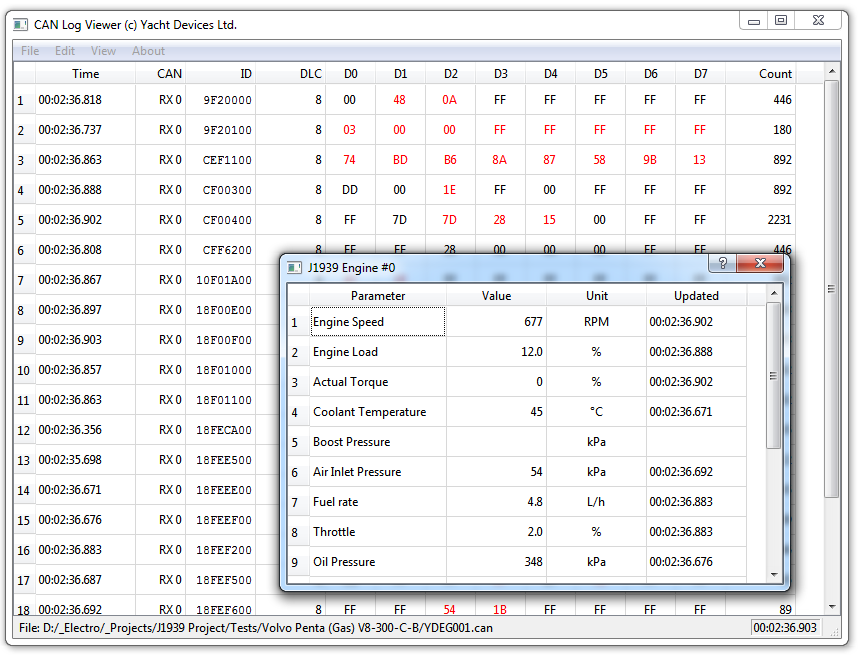 It was so simple and it is so cool, and we can't understand why we didn't add viewers to the CAN Log Viewer before. Now it can display the most important J1939 data and all NMEA 2000 data for two engines. Engine Gateway YDEG-04 owners can open its diagnostic recordings in this free program (works under Microsoft Windows, Mac OS X and Linux) and see in readable form what data are available. And what are not.
We can also add viewers for NMEA 2000 environmental data and navigation data (all major data types are supported, see the screenshot). Owners of Voyage Recorder can view recorded data, and owners of Wi-Fi and USB gateways can view live data with viewers (CAN Log Viewer also allows recording of live data to the file).
Of course, it is not a replacement of navigation software, and it is not a replacement of an information display, but it can be used for network troubleshooting, during testing, in trials and for setup. Many of our customers like to see what is inside, and we are glad to offer a free, simple tool.
We are sorry that we have not implemented all features promised in the new version of Engine Gateway YDEG-04 firmware 1.17, but our To-Do list has become a little shorter. We don't forget anything!
At first, transmission alerts are added. To turn off transmission alerts, set the TRANMISSION_ALERT_MASK setting value to zero. It works in the same way as the setting for engine alerts.
We also added an HOURS_OFFSET parameter. It is the number of seconds (zero in factory settings), which are added to engine hours. Some of our customers have replaced ECU and EDC modules, which reports engine hours since installation of module. This setting helps you get real data on gauges.
The current (SPN 114, SPN 115) is now reported with battery voltage. If it is available, of course. How to check? Very simple: record diagnostics data and open with CAN Log Viewer!
Lastly, the Gateway processes J1939 PGN 65279, "Water In Fuel Indicator", these data are used in the engine status. To suppress this alert, set the NMEA_ALERT_MASK to FFFEFF value. This sounds tricky, but we hope that Section VI.5 of the Manual demystifies this magic very clear.
The new CAN Log Viewer and Engine Gateway firmware update are available on downloads page.
August 25, 2017

J1708 Gateway and amazing review in PBO
We are proud to present the J1708 Engine Gateway for NMEA 2000, it supports J1587 protocol and it is the only Gateway with support of Volvo Penta KAD engine protocol. The latest issue of Practical Boat Owner magazine contains amazing review of our devices.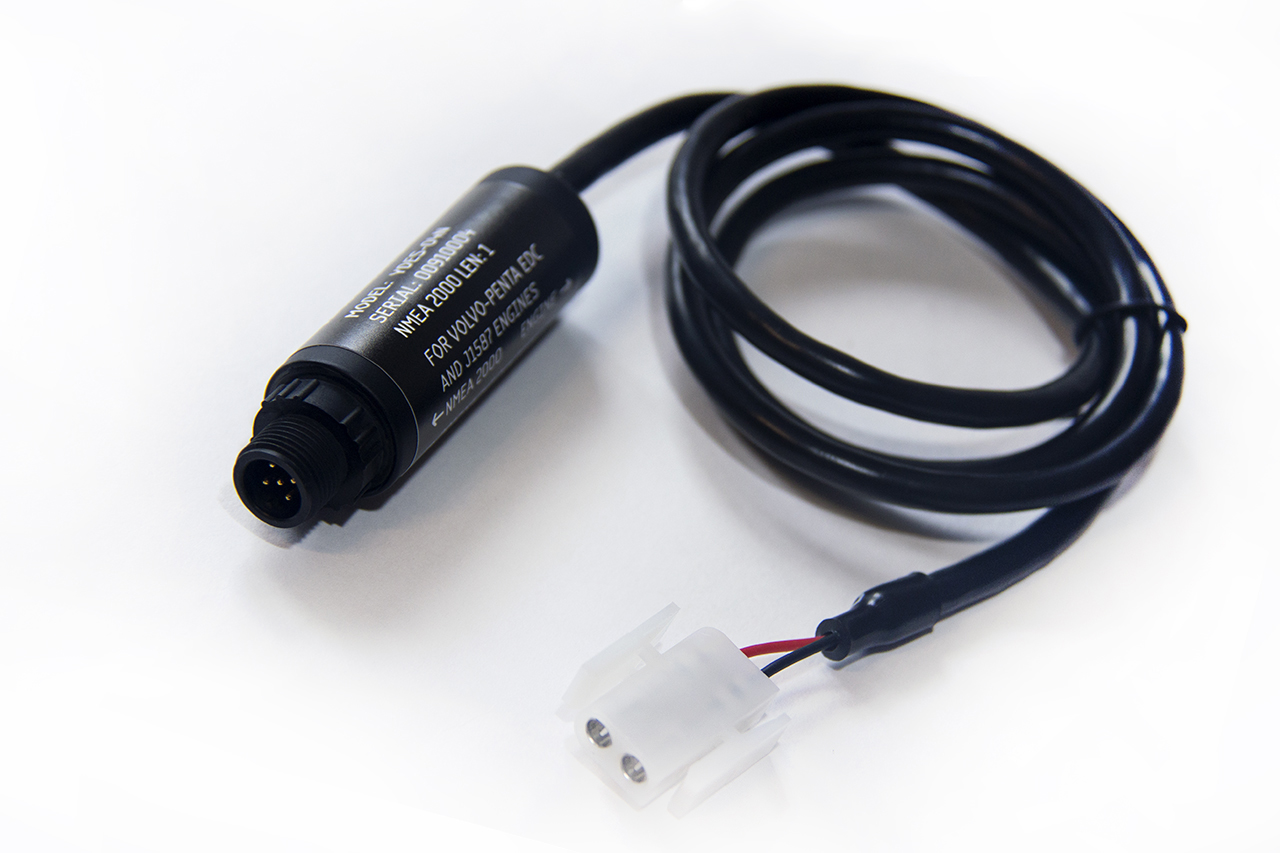 We started this project in the March, when found that we could not connect the Volvo Penta D12C-A MP engine equipped with EDC II using a J1939 interface. We had the same EDC unit from a Volvo truck in the lab, but the firmware of the marinized engine was very different. They use the J1939 interface for engine synchronization only.
Some manufacturers offer J1708/J1587 converters for J1939, but they have no experience with the marine market and we couldn't get the right answer concerning whether their product is compatible or not. At the same time, we had a lot of requests from KAD 44 and KAD 300 owners.
In April, when our creation, a new test adaptor wrapped in blue like a baby, was ready, we asked customers in the newsletter to test it. We sent out a test series in May. And we meet the surprise soon: KAD engines were silent. With the great help of a customer, we found that Volvo Penta EDC I engines use proprietary protocol compatible with J1708, but not with J1587...
And today this great work, in which several people from different continents were involved, is near to being finished, and we present our first device for J1708. It is a gateway from J1708 to NMEA 2000.
The Gateway provides all engine data supported in NMEA 2000 except tilt/trim for J1587 engines and the most important data for KAD engines. Reporting for two fuel tanks and two batteries is also supported. You can find a data table on the product page and technical data, including PID numbers, in the manual
As with many of other our products, it can record diagnostics data to a MicroSD card, is easily configured with a simple text file, and supports firmware updates. The Gateway automatically detects the engine protocol and we expect that it will work right out from the box without any additional settings.
The Gateway provides high voltage galvanic isolation for J1708, so there is no need to worry about impedance issues. It is not yet certified by NMEA, but it is ready for certification, tested with official tools and we will submit it for certification soon.
Our nice blue adapters (J1708 to J1939) will be released soon also. NMEA 2000 has a much smaller engine data set than J1939 protocol, so we need a bit more time to polish the firmware and especially the manual. At this moment, the adaptor is available by request with beta version of the firmware.
We wish to thanks all the users who took part in the testing of the adaptor, and especially Benjamine from the USA and Sasha from Germany, and we send our best greetings to all owners of Volvo Penta KAD engines with the momentous release of the Gateway, which they were very much waiting for. Next week we'll send personal notifications to everyone who contacted us on this subject.
And last, but not least. Ben Meakins from Practical Boat Owner magazine wrote a nice two-page review on many of our products in the September issue. We have proudly published the PBO verdict in the right frame of the main page and on this page below. We love this magazine, because, you know, we love to do things for boats and also to do things something on board ;)
---






« There are some useful products here, which can add to your NMEA2000 or Seatalk NG network. We found the USB gateway very effective to get network data to a laptop, and the Voyage Recorder is a great way to capture huge amounts of data of both your boat and its surroundings - useful to make a detailed logbook! »




Ben Meakins, Practical Boat Owner #617, September 2017
---
What is especially cool is that this is not a commercial publication and we never contacted PBO before. They just asked for several devices for testing and we sent them. It is great that PBO choose our products for review at its sole discretion. We always believed in what we do and now we know it for sure. Thank you Ben, it is a big honor for us and we see our BIG DREAM coming to life.
August 4, 2017

Jubilee device: NMEA 0183 Gateway YDNG-02
We are glad to inform you that our jubilee 10th product is in stock. It is a gateway between NMEA 2000 and NMEA 0183. Fast, smart and tiny.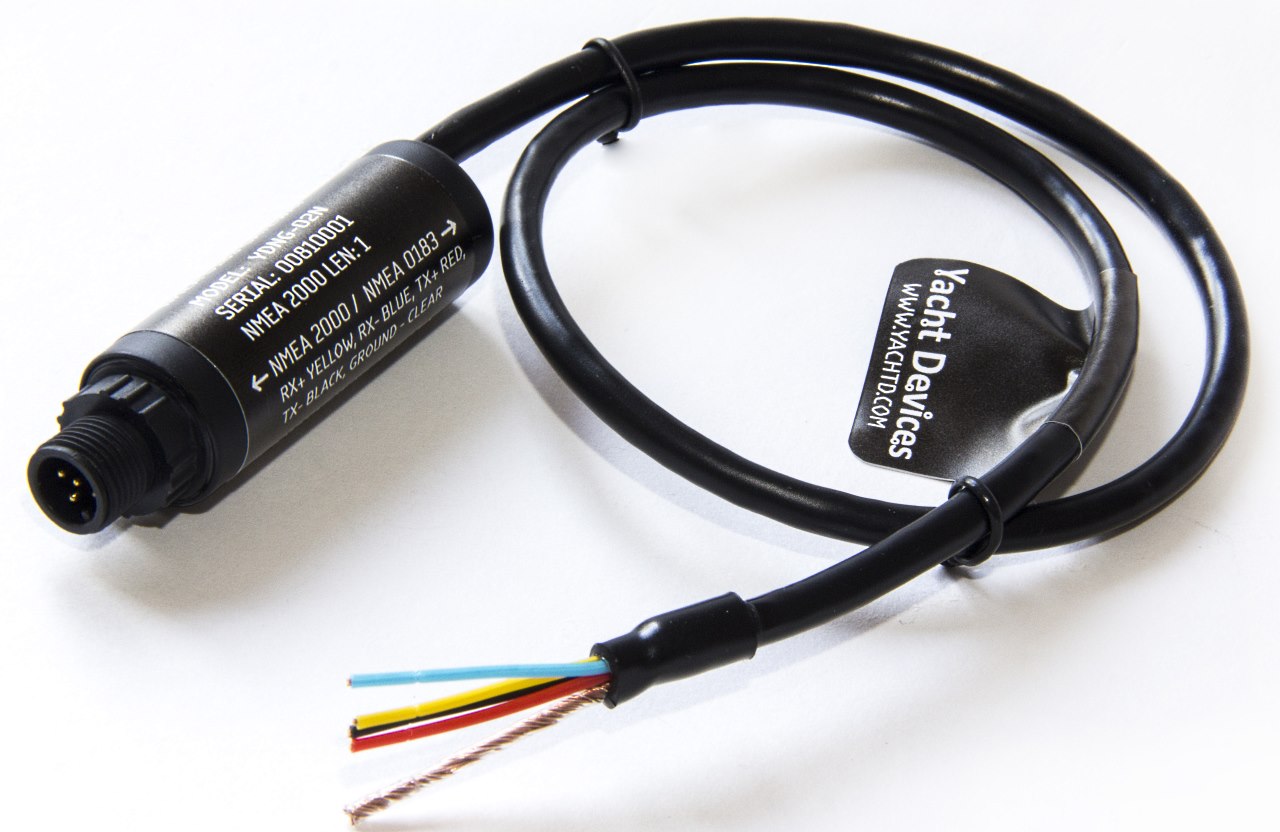 Our first product was introduced in March 2015. In the last two and half years, we have taken part in two NMEA conferences, exhibited at one expo, certified three devices in NMEA, and presented ten new devices in total. Moreover, we hope that two more new devices will be presented this summer (and we know that many of you are waiting for this - we are working hard!).
Our new Gateway is not just a "black box" or "black cylinder". It is equipped with a MicroSD slot, which allows recording diagnostics data (see example, extremely useful for NMEA troubleshooting), updating the firmware and configuring the device.
The Gateway has smart filters for NMEA 0183 sentences and NMEA 2000 PGNs (addresses and message IDs as well). The NMEA 0183 port of Gateway can be configured for any speed from 300 to 115200 baud and is compatible with RS-232 and RS-422 interfaces, AIS (38400 baud) and standard NMEA 0183 equipment (4800 baud).
And, of course, it provides high voltage galvanic isolation between NMEA 0183 and NMEA 2000, so you don't have to worry about impedance problems. You can safely connect it to the COM port of a PC or to a USB serial adaptor (we recommend our USB Gateway if you need a PC gateway for NMEA).
To learn more about the NMEA 0183 Gateway, see the product page and the Manual. Until August 11, you may order it with a 20% discount (coupon code: NMEA0183).
We wish to say thanks to all our users, who make our small startup so interesting and give us the energy to move ahead. It is a great pleasure to work for enthusiastic people from different continents and countries. Many offers of help, shared ideas, photos and logs from voyages, and videos with our devices have been put on forums and blogs and from customers and, we would say, our friends.
We extend our thanks to all of you and invite you to celebrate our jubilee!
Next articles: