May 23, 2018

Firmware update for the J1708 Engine Gateway
We are glad to announce that we have made this great Gateway even better! Now it offers user alerts, support of private messages and better coexistence with EDC displays and other devices.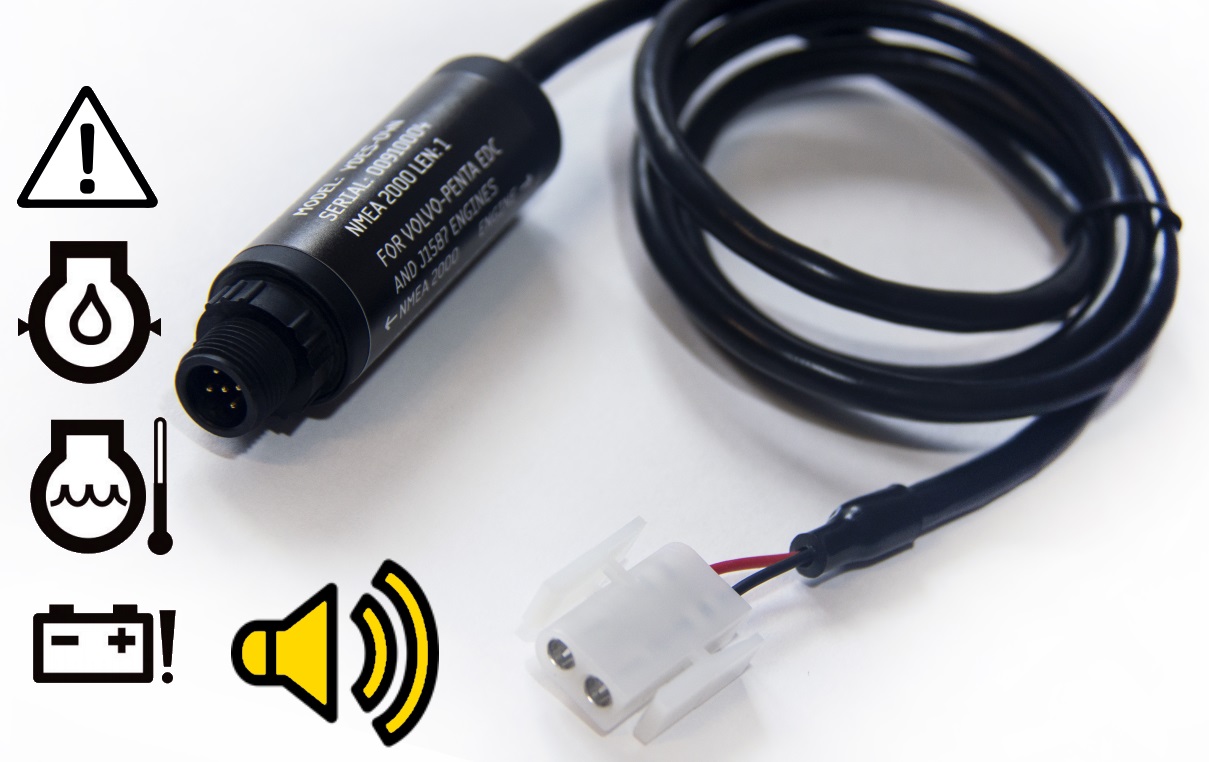 Regardless of religion, we all pray to an engine when entering an unknown harbor by a narrow channel between shallows in a fresh wind. We promise fresh oil, new filters and belts.
In case of trouble, the engine control unit sends trouble codes and the Gateway converts commonly used diagnostic trouble codes to NMEA 2000 (see the Table 2 in Appendix E). However, there is no guarantee that your engine supports and send all these codes. Moreover, KAD/TAMD engines do not send trouble codes at all. Additionally, older engines may require gentle operation, and crew and renters should not forget about it.
That is why we added user alert settings for high revolutions, boost pressure, coolant temperature, low oil pressure and low alternator voltage. You can specify 3000 RPM for the high revolutions alert in the Gateway's configuration, and this will generate an alert when revolutions are above the specified value, even if your tacho has a 6000 RPM scale or the engine's brain thinks that it is still young and should signal after 5500 RPM only.
These settings work in addition to alerts sent by engine's electronics. If you do not need these alerts, set the values to OFF. If you do not need engine alerts, you can block them with the ENGINE_ALERT_MASK setting.
In this firmware update, we also added support of messages sent by EDC displays to KAD and TAMD engines. The Gateway intercepts the EDC Display requests and the engine's answers, and sends much smaller requests.
The J1708 data link is 9600 baud only and can transfer about 900 bytes per second. This is enough, and in the case of J1587 engines (Caterpillar, Volvo Penta D12, etc.) they send most of the data by a schedule, so displays and gateways can simple listen to the bus and send requests for a small number of parameters only.
However, in the case of KAD/TAMD engines, all data are sent in response to a request. And if two devices are sending requests with high frequency, the number of collisions increases. As a result, some displays may show data link error warnings. Now this problem is solved. We also added an article (see section IX) which will help you configure the Gateway in case of similar problems with other equipment.
And the last new feature is designed for professional installers and complex J1708 networks. The J1587 Standard defines private messages which contain the recipient's MID (address). Usual messages that have only the sender's MID are "globally addressed".
PIDs (parameter identifiers) used in private messages are proprietary and their meaning does not coincide with PIDs defined in J1587 Standard and is used in "globally addressed" messages. Nevertheless, you can instruct the Gateway to intercept and process such messages. You can specify up to four MIDs of recipients in the settings.
You can learn more about these features in the Gateway's manual. The Firmware update is available on the Downloads page. We recommend this update to all KAD/TAMD owners, to monitor overheating and other possible engine problems better.
May 14, 2018

Monitor over 100 tanks with our Wi-Fi Gateways
Get to know the new graphical gauges and text data bars for tanks and battery monitoring in the NMEA 0183 Wi-Fi Gateway and NMEA 2000 Wi-Fi Gateway firmware updates.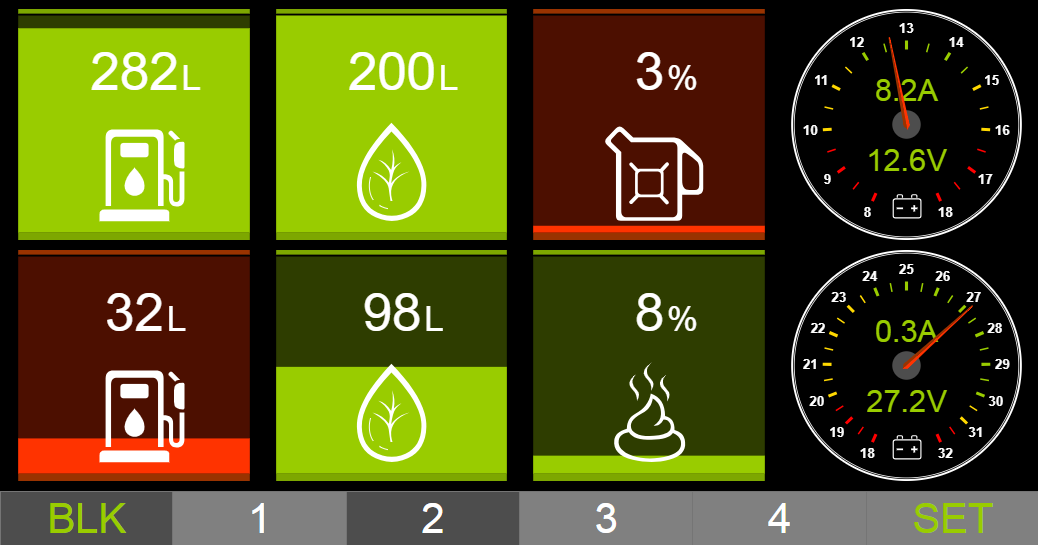 As electronic developers, we are always tracking innovations. Recently, Raymarine integrated drone control to Axiom chart plotters. It sounds cool. Integration of a secondary water tank is boring. Yes, Raymarine chart plotters still support only one fresh water tank. Sailing yachts of 34 - 50 feet usually have two water tanks. And ten years ago they had usually two water tanks. Despite drones being very popular, we are sure that more boats have secondary tanks than a drone on board.
Many obvious things in real world are still undone. However, happy owners of our Wi-Fi gateways now can add text data bars or graphical gauges with fuel (diesel), gasoline, oil and live well, fresh, grey and black water tanks data. Up to 16 tanks of each type are supported. You can choose percentage or volume in liters or gallons. Please, see this article to learn more about web gauges integrated to our products.
We also added a voltmeter gauge and text data bars with battery voltage, current and temperature. Up to 16 batteries are supported. In the settings, you can switch between a 12V and a 24V battery scale. Take an inexpensive Android tablet and turn it into a nice looking and extremely cheap tank or battery monitor.
In the case of the NMEA 2000 Wi-Fi Gateway, there is no magic. NMEA 2000 has had all these features since 2006 at least. But NMEA 0183 has no data types for batteries and tanks. You should feed a NMEA 0183 Wi-Fi Gateway with $PCDIN or $MXPGN NMEA 0183 sentences (see this article) with fluid level and battery data.
These sentences are generated by our NMEA 2000 Wi-Fi Gateway, SeaSmart gateways, and MiniPlex gateways and will be generated by the upcoming version of our NMEA 0183 Gateway YDNG-03 (this product is already NMEA certified and will be in stock at the next month).
We have also added a graphical rudder gauge (two rudders are supported) and fixed minor bugs in the firmware updates of both products.
You can download firmware update for the NMEA 2000 Wi-Fi Gateway and for the NMEA 0183 Wi-Fi Gateway at Downloads page.
May 8, 2018

New versions of Barometer, Thermometer and Humidity Sensor
New versions of our sensors support firmware updates, multiple methods of configuration and all are certified by the National Marine Electronics Association.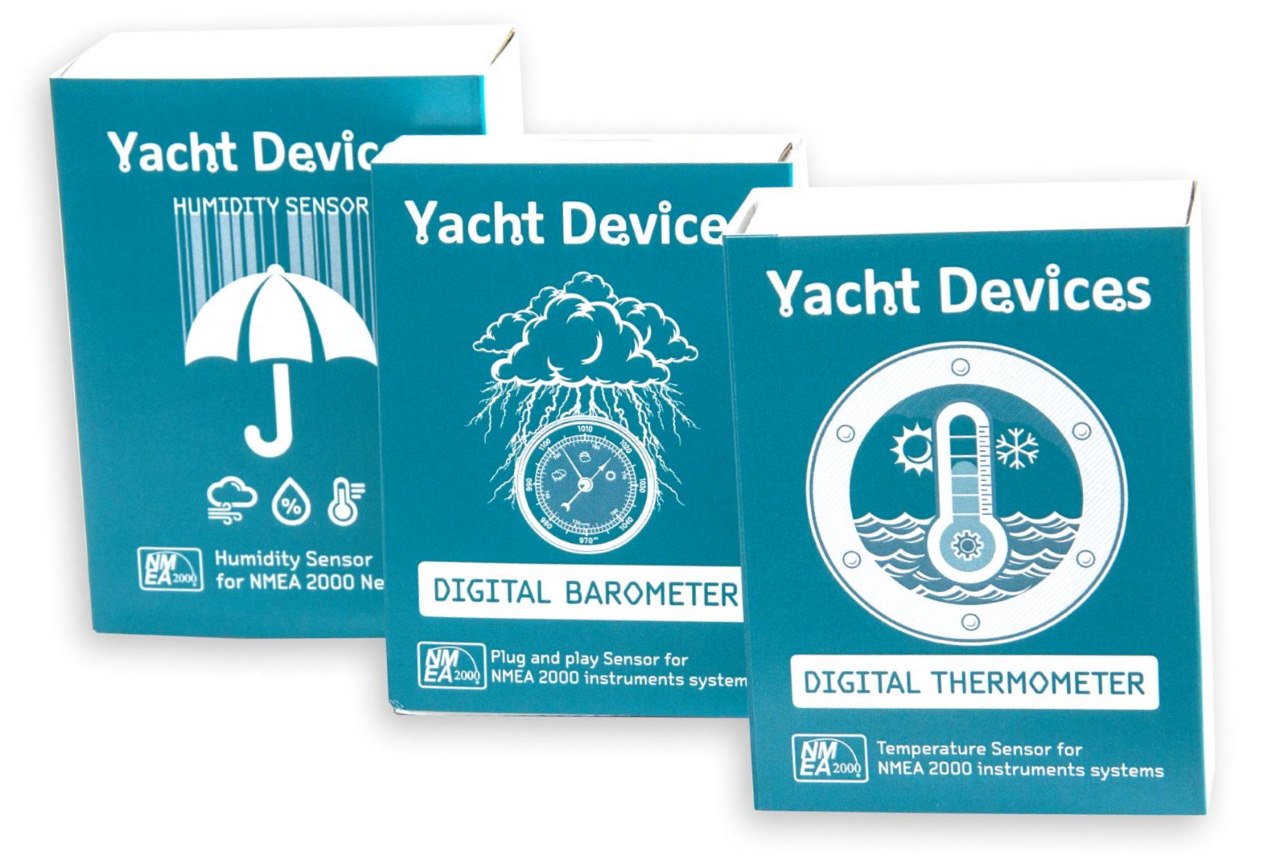 We are glad to inform you that the Digital Barometer YDBC-05 has successfully passed NMEA certification, and all our digital sensors are now certified.
Sensor configuration is especially important for our Thermometer, which sends measured data as "Air Temperature" with the default factory settings. However, it can be configured to send data as "Water Temperature", "Engine Room Temperature" and so on, 14 data types are available.
All sensors support three programming methods:
The tricky way, by a special sequence of datum or variation settings on a chart plotter. This method has been used in our sensors since 2015 and is compatible with most chart plotters. You can see our old video with this method here. It works almost everywhere, but you must read the manual carefully and have some patience.
With a special installation description string which can be entered for the Device in some modern models of chart plotters or in special software. Here you can see a video how to program the Humidity Sensor using CAN Log Viewer software. Just type "YD:OUTSIDE" and the Humidity Sensor will send the data as "outside humidity". Type "YD:INSIDE" and it will send the data as "inside humidity". Very simple, and it is one more reason to order our NMEA 2000 Wi-Fi Gateway, if your chart plotter does not allow the entering of an installation description for NMEA devices.
NMEA 2000 Standard offers a way to change some settings, like the frequency or priority of messages. And it is implemented in professional software like Maretron N2K Analyzer. This method is also supported, but all this functionality (except priority of the messages) is also supported in method 2.
The following settings can by changed by the user:
NMEA 2000 device instance and system instance. It is required for professional installers only.
NMEA 2000 data instance. You may have, for example, ten Thermometers which send "Fridge Temperature" with different data instances. In the far beautiful future, you will able to configure the data page of the chart plotter to show all your ten fridges. Today, you are probably happy if your chart plotter has a data bar for the fridge, despite the fact that this data type has been present in the Standard since 2006.
Type of measured data. The Thermometer has 14 options, the Humidity Sensor has two (inside and outside humidity), and the Barometer has only one, it always sends measured data as atmospheric pressure.
Sensor offset. Although our devices use only high quality digital sensors, you may need to align it with readings from other ship equipment.
Transmission interval of periodic messages. Any periodic message can be turned off. It can be useful to turn off old messages with low data resolution, if your new equipment is not smart enough to see that data with higher resolution is also available from the same sensor.
Priority of messages. Why did we add this feature? Because we can.
Installation description. This is great NMEA 2000 feature. Your installer may leave contacts or notes in the device memory, and these notes can be viewed on modern chart plotters or in software like our CAN Log Viewer. Unicode descriptions are supported (in addition to ASCII), so notes may be in your native language.
In addition, a great new feature: from now on, all our devices except Smart Relay has a firmware update option!
Video 1. Device configuration and update (download, 8 MB)
We are sure that the firmware of our sensors is bug-free and already has more functions than any other sensor available on the market. However, it is always better to have the option to add something. We hope that our sensors will sail with you for many years and remains with you after boat's refit.
Sensor firmware can be updated using the free CAN Log Viewer software (runs on Microsoft Windows, Linux and Mac OS X) connected with NMEA 2000 using our NMEA 2000 USB Gateway or NMEA 2000 Wi-Fi Gateway. You can see the process in this video. The CAN Log Viewer becomes a powerful diagnostics software tool; it has device configuration options, and this is the second reason to have our USB or Wi-Fi Gateways.
New firmware for the Barometer, Thermometer and Humidity Sensor is Version 1.40. The first Barometers and Thermometers with this firmware were sent to customers at the beginning of April, and most resellers already have it in sock.
Detailed information about product availability is in the table below:
Product
Status
Digital Barometer YDBC-05R, YDBC-05N
Digital Thermometer YDTC-13R, YDBC-13N
Devices with the new firmware version are already in stock since mid-April. Most resellers already have the new version in stock.
Digital Barometer YDBC-05RT, YDBC-05NT
Digital Thermometer YDBC-13RT, YDBC-13NT
(models with terminator)
The current version does not support firmware updates and can be programmed using datum/variation only (first method). Devices with the new firmware will be in stock in September.
Humidity Sensor YDHS-01R, YDHS-01N
Current firmware version supports all features except firmware updates. Devices with the new firmware version will be in stock in September.
Manual for Barometer and Thermometer with firmware 1.40 of is available here. The manual for the previous firmware versions is here. The latest manual for the Humidity Sensor (Version 1.02) is here.
Next articles: