December 13, 2018

NMEA certified, MFD compatible
Loads connected to the Circuit Control YDCC-04 can be managed from all chart plotters with CZone support: this includes all modern models of Garmin, B&G, Lowrance, Simrad, Furuno and recent models from Raymarine (Axiom, eS, gS series). The Circuit Control and Switch Control are certified by NMEA.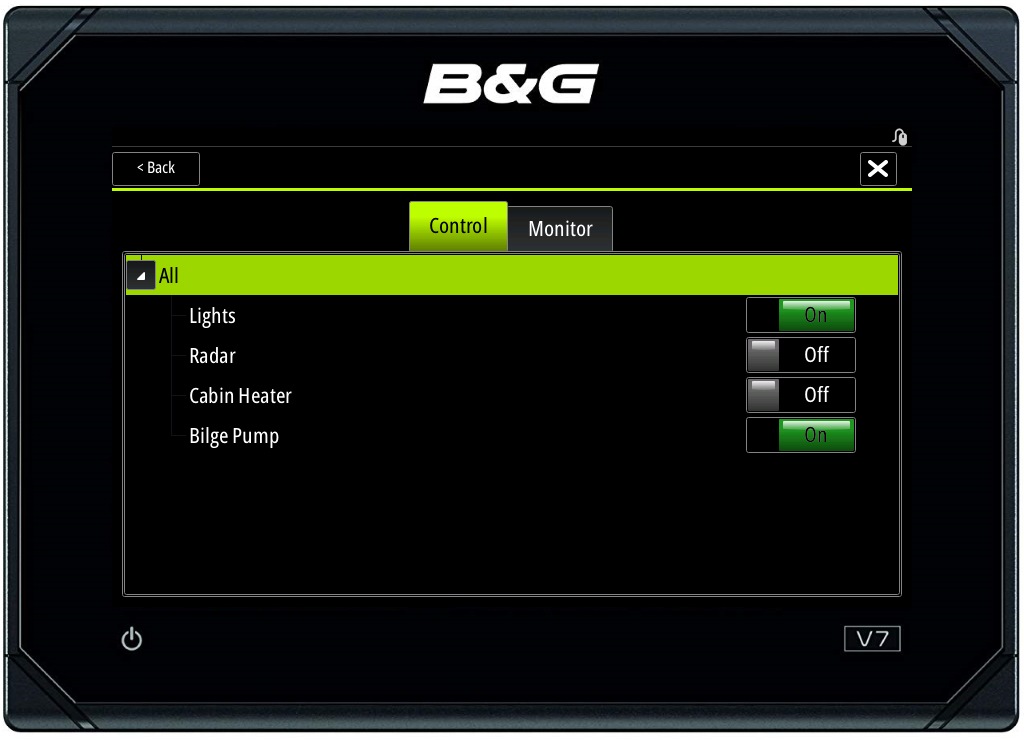 Picture 1. B&G Vulcan V7 with Circuit Control loads
We are glad to inform you that our digital switching products was certified by NMEA. The Circuit Control YDCC-04 and Switch Control YDSC-04 have passed certification; they are pure NMEA 2000 products using standard PGNs.
You can manage loads from connected physical buttons, with "virtual buttons" of our Wi-Fi Gateway or automatically, using our sensors. However, of course, there is great demand for management from an MFD screen.
With this update, you can do this from any chart plotter with CZone support, meaning all modern chart plotters of Garmin, B&G, Lowrance, Simrad, Furuno and recent models from Raymarine (Axion, es, gs series).
The only things you need are:
Connect Circuit Control (with 1.01 firmware) to your NMEA 2000 network.
Fill the form with the desired channel names below and download the personalized configuration file for your MFD.
Turn on CZone support on your MFD and configure the Dip Switch setting.
Upload the configuration file to the MFD (usually from MicroSD card).
That is all, now you can manage loads from your chart plotter!
Presentation of controls and the location of controls depends on the MFD manufacturer. Please refer your MFD documentation.
Please be aware about the following limitations in the current firmware version:
You can use only one Circuit Control with all your chart plotters, because the downloaded file contains the configuration for one Circuit Control unit only and the configuration file must be the same on all chart plotters with activated CZone support.
If you already have CZone equipment installed, you will overwrite the exiting CZone configuration with our file and your CZone equipment will not function properly.
In the next year, we'll publish a detailed manual about integration of our products to networks with existing CZone equipment and add the possibility to use multiple Circuit Control units.
Let's configure the system with B&G Vulcan v7 chart plotter and Circuit Control YDCC-04 unit. For other plotters, the actions will be similar.
STEP 1. Connection of Circuit Control
Please refer the section V of the Manual. You do not need to connect buttons or loads right now. It is enough to connect the NMEA 2000 cable to the Circuit Control.
STEP 2. Generation of CZone file
Please use this form to generate a CZone configuration file (.ZCF) for your MFD. The DIP Switch setting on the MFD must be different from YDCC DIP Switch setting (it is generated by the serial number). For example, you can use 00000001 to configure your MFD.
If the check box below is unchecked, you will need to activate CZone support in the Circuit Control manually (see below).
STEP 3. Turnung on CZone support on MFD
Go to "Advanced Settings" of Vulcan and turn on CZone support.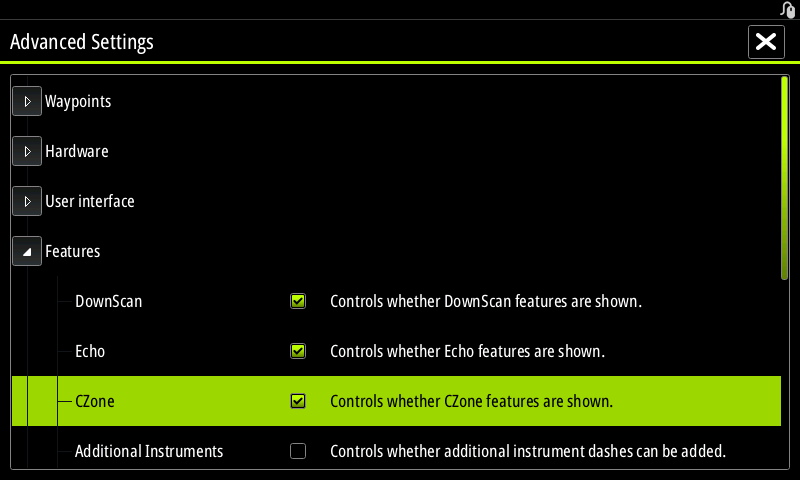 Picture 2. Activation of CZone in Vulcan V7
Now, locate the CZone icon in the "Settings" menu, and set "Dip Switch" setting to 00000001 or to any other value not matching with YDCC Dip Switch setting.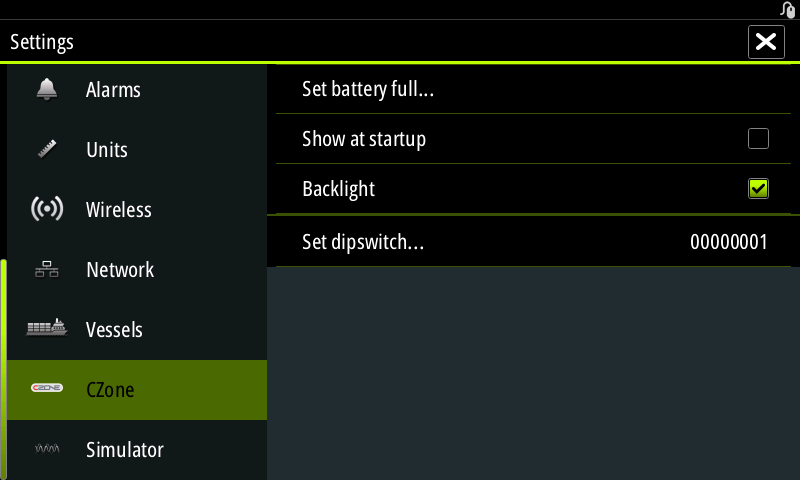 Picture 3. Dip Switch settings
STEP 4. Upload configuration to MFD
Save the file downloaded at the STEP 2 to the MicroSD card, insert it to Vulcan and locate "Files" item in the menu. Choose the MicroSD card, locate and import the file.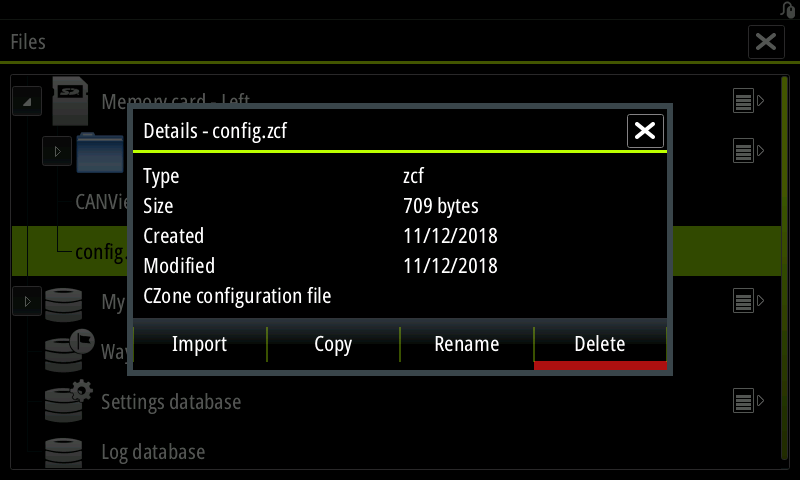 Picture 4. ZCF file import
The chart plotter should show you the "Configuration successful" message after file import.
If you are re-writing an existing CZone configuration (for example, you decided to rename buttons and uploading the configuration file second time), you may need to reboot your MFD after import to apply changes.
STEP 5. Test digital buttons
Now, locate the "CZone" icon in the menu (not in the "Settings" submenu!), tap on the "Control, Monitor" icon and you'll see your buttons as shown at the first picture!
You can switch buttons and hear that relays are switching (they are actually very quiet, because the case is totally filled with rubber) and see that status LEDs of Circuit Control are flashing properly.
Congratulations!
The Circuit Control is supplied with the setting "YD:CZONE AUTO", it means that CZone support will be automatically activated in the Circuit Control when the configuration file download from our web site is uploaded to MFD.
If you have more than one Circuit Control unit, CZone support will be activated at the same time on all connected units and caused the conflict. To prevent unnecessary activation, switch this setting to OFF from connected buttons or using software. Please, refer sections VII and X of the Manual.
If you unchecked the automatic activation at the step with CZone configuration file generation, you need to activate CZone support on Circuit Control manually; to do it, configure the setting to ON.
The firmware update 1.01 for Circuit Control is available on the Downloads page. The update procedure is described in the section IX of the Manual.
December 6, 2018

New digital switching products
We are very pleased to present the Circuit Control YDCC-04 and the Switch Control YDSC-04. These devices have low power consumption and are cost effective and well suited to building a NMEA 2000 digital switching system on small and medium size vessels.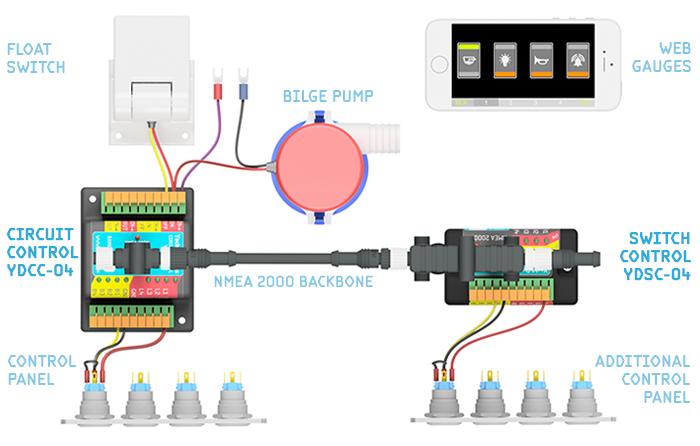 The main key to successful sailing is knowledge of your boat. You must know her possibilities, her behavior in different conditions and how her systems work. You will know from seeing advertising that digital switching will allow you to save on cables, reduce system complexity and control loads from different places and remotely, plus it opens doors to boat automation.
We are glad to present our pure NMEA 2000 digital switching system, which is extremely simple and does not require a degree in electronics or specialist software to install.
The core component is the Circuit Control, which has four latching (bi-stable) relays and terminals for connecting of four external buttons with LED indicators. Loads can be managed from the connected buttons or over NMEA 2000.
Latching relays remain in their state after being powered off and consume electricity only when switching. The average current consumption of the Circuit Control is only 30 mA, and you can reduce it to 18 mA by switching off the built-in LEDs using the device's settings.
The next advantage of relays is their compatibility with any type of load: direct current (DC), alternating current (AC) or audio. They do not heat up on high current and they provide high-voltage isolation. The mechanical endurance of the contacts is more than 2 million switching operations.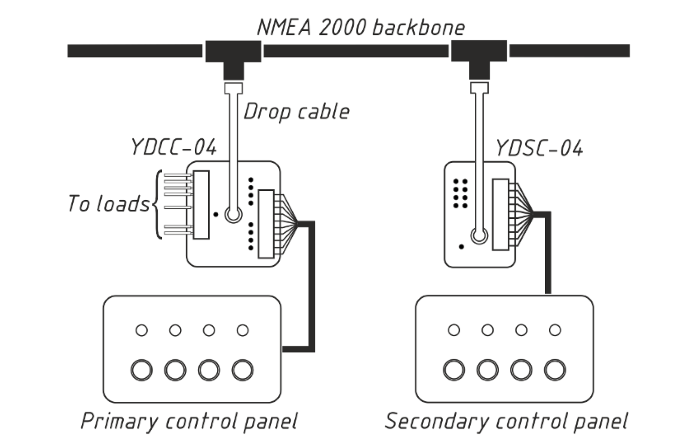 Figure 1. Typical system with two control panels
The Switch Control YDSC-04 is designed to set up additional control posts (see Figure 1) with duplicate physical buttons and LED indicators. It is compatible with other NMEA 2000 digital switching devices managed with standard NMEA 2000 PGNs 127501 and 127502.
Many digital switching systems require special button panels. You can connect any momentary push button (better with an integrated LED) to the Circuit Control or the Switch Control. It allows seamless integration to the existing boat interior.
The only thing you should know about the NMEA in your installation is that the devices working together must have the same "bank number" (all devices are supplied with zero number programmed), while independent digital switching systems on a single NMEA 2000 network must have different bank numbers (252 unique bank numbers are allowed in NMEA 2000). The bank number can be changed from the connected buttons or with any NMEA 2000 installer's software.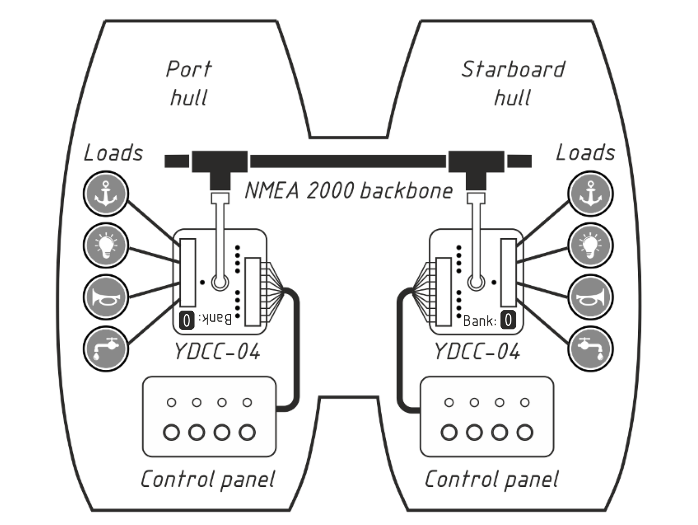 Figure 2. Parallel loads, synchronized Circuit Control units
The Circuit Control unit can work in parallel with other units (see Figure 2) and can be managed from multiple Switch Control units with a matched bank number. Loads can also be managed from "virtual buttons" of Web Gauges, or automatically managed by our sensors.
If you have external access to your boat's Wi-Fi network, the NMEA 2000 Wi-Fi Gateway with built-in Web Gauges will allow you to manage loads from everywhere using a web browser on any device (smartphone, PC, tablet, etc.).
The Circuit Control and Switch Control use standard NMEA 2000 PGNs and are designed to be compatible with Oceanic Systems, Offshore Systems, Chetco Digital, Maretron (see p.27 in the Manual) and Carling Tech displays and relay modules. To check whether your MFD is compatible, search the list of NMEA 2000 PGNs for numbers 127501 (in the "Receive" list) and 127502 (in the "Transmit" list).
UPDATE 13/12/2018: Loads connected to the Circuit Control YDCC-04 can be managed from all chart plotters with CZone support: this includes all modern models of Garmin, B&G, Lowrance, Simrad, Furuno and recent models from Raymarine (Axiom, eS, gS series). Unfortunately, these messages are not supported in Garmin and Raymarine chartplotters.They use CZone and EmpirBus digital switching systems which have proprietary and not publicly available protocols. We hope that these NMEA leviathans will return to following the Standard, but we will also try to find a way to add compatibility mode in the new firmware updates. Both our devices can be upgraded from CAN Log Viewer connected to NMEA 2000 with Wi-Fi or USB Gateway.
UPDATE 06/12/2018: The Circuit Control and Switch Control are certified by National Marine Electronics Association. The Circuit Control and Switch Control have been submitted for NMEA 2000 certification, and we expect that this will be passed by the end of this year.
Examples of digital switching systems are available on the Circuit Control page, while terminals and connectors of devices are described in the Appendix C of the Manual.
The Circuit Control (USD $289) and Switch Control (UDS $149) are in stock. To learn more or order products, visit the Circuit Control and Switch Control pages.
December 3, 2018

Gateways and Router update
Digital switching support in all products, Web Gauges barograph with the support of the Digital Barometer history, extended list of conversions between NMEA 0183 and NMEA 2000, comparison with competitors (table)
Figure 1. Digital switching buttons in Web Gauges
Web Gauges of NMEA 2000 Wi-Fi Gateway, NMEA 0183 Wi-Fi Gateway and NMEA 0183 Wi-Fi Router now have digital switching support for standard NMEA 2000 devices managed by PGN 127501 "Binary Status Report" and PGN 127502 "Switch Bank Control".
As 16 digital switching banks (with instances 0-15) and 16 channels are supported, you can in theory add 256 unique buttons to the Web Gauges data pages. However Web Gauges have four data pages, and the layout contains from one to twelve placeholders, so the actual maximum number of buttons is 64. You can choose an icon from the list and enter your own single or two line text label to the button.
To add new controls, we've changed the behavior of Web Gauges. In order to edit the data pages you will need to turn on the "Edit Mode". To do this click SET, and then set the "Edit Gadgets" setting to "On". To exit the "Edit mode", click on "Exit" at the top of the data page, or click "SET" and set "Edit Gadgets" setting to "Off".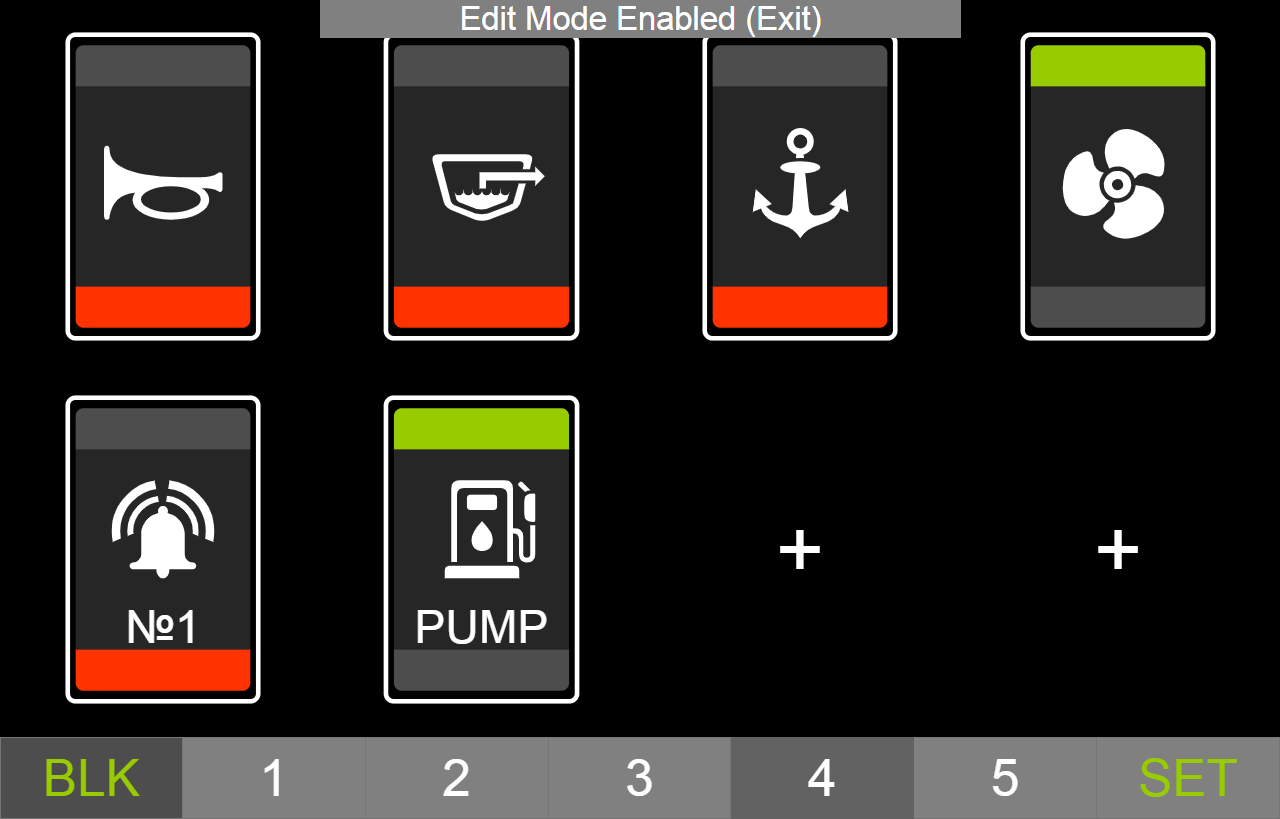 Figure 2. Edit mode is active
The Web Gauges send NMEA 0183 $PCDIN sentence with wrapped NMEA 2000 PGN 127502 to switch the channel's state. If Server #1 of the Gateway is configured as "Read only" (factory setting), the buttons will be able to display the channel state only. To allow the control, you should configure it to work in both directions.
Here is how it works in real life (red text — sent by Web Gauges, green text — the received answer):

	$PCDIN,00EAFF,00000000,00,0DF201*55
	$PCDIN,01F20D,0001900E,BB,0011FFFFFFFFFFFF*2C
	$PCDIN,01F20E,00000000,00,00FCFFFFFFFFFFFF*55
	$PCDIN,01F20D,0009716A,BB,0010FFFFFFFFFFFF*28


The first line is a request to all devices to report the state of the switching bank (sent once when the Web Gauges are loading). We have received only one answer from the NMEA 2000 device with the address 0xBB and bank instance 0, it has four channels, channels 1 and 3 are on, channels 2 and 4 are off (line 2). Web Gauges send the command to turn off channel 1 (user pressed the button, line 3), and the switching bank reports that channel 1 now is off (line 4).
The NMEA 0183 Gateway YDNG-03 and NMEA 2000 USB Gateway now support the $PCDIN messages required for digital switching. The NMEA 0183 Wi-Fi Gateway YDWN-02 and NMEA 0183 Wi-Fi Router has no NMEA 2000 link, so in order to be able to read the state of digital switching devices and control them, they should be connected to the NMEA 2000 network via NMEA 0183 Gateway YDNG-03 (it is important not to forget to remove the DIN sentence from the filters, it is "off" by default).
If you are a software developer, we will be happy to help you with the support of digital switching in your own products. If you are a hardware developer, we can test your devices or help to make them compatible (although they already should be, if you are following the NMEA 2000 standard).
Our own devices for digital switching are on their way and they will be released this week (the Manual is already available), subscribe to our mailing list to find out about it first!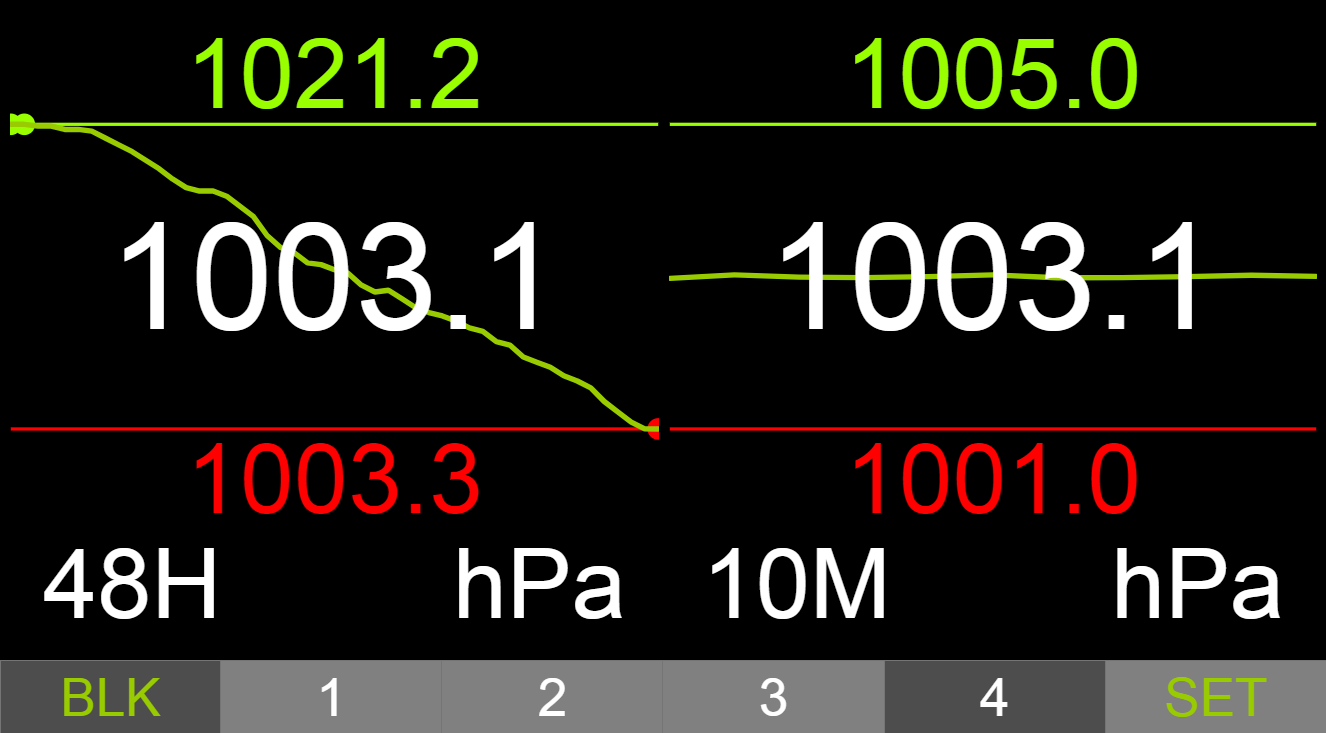 Figure 3. New barographs (48 hours and 10 minutes)
We have also completely re-written the barograph in Web Gauges. Now it displays the history in the interval from 48 hours to 10 minutes (Web Gauges also has a simple text data bar with the actual value only).
The history is downloaded from our Digital Barometer (firmware 1.50 is required) and stored in the browser's local storage. If you have a new Digital Barometer and it was on during the last 48 hours, you'll get graphs in a few seconds after the Web Gauges page is opened. Similarly, as for digital switching, you should configure Server #1 to read-write access, otherwise Web Gauges will not be able to send requests.
Web Gauges save actual atmospheric pressure and historical data received to the browser's local storage. If you have an old Barometer, or barometer from another company, the saved history will contain the data only for the time when Web Gauges were loaded at this device. That is, the pressure graph will not be lost upon page reload or smartphone reboot, but may have gaps if you turn off your smartphone for some time.
In the new updates, we've also fixed some bugs and extended the list of messages converted between NMEA 0183 and NMEA 2000 (it is the same for all our gateways).
NMEA 0183
Sentence
YD Products
Actisense NGW-1-AIS
Actisense NGW-1
Maretron USB100
iNavx
app
To N2K
From N2K
To N2K
From N2K
To N2K
From N2K
To N2K
From N2K
APB
yes
yes
yes
yes
yes
yes
BOD
yes
yes
BWC
yes
DIN*
yes
yes
yes
DBS
yes
DBT
yes
yes
yes
yes
yes
DPT
yes
yes
yes
yes
yes
yes
yes
DTM
yes
yes
yes
GGA
yes
yes
yes
yes
yes
yes
yes
yes
GLL
yes
yes
yes
yes
yes
yes
yes
yes
GNS
yes
GRS
yes
yes
GSA
yes
yes
yes
yes
yes
yes
yes
yes
GSV
yes
yes
yes
yes
yes
yes
yes
yes
HDG
yes
yes
yes
yes
yes
yes
yes
yes
HDM
yes
yes
yes
yes
HDT
yes
yes
yes
yes
yes
HSC
yes
MDA
yes
yes
yes
yes
MOB
yes
yes
MTW
yes
yes
yes
yes
yes
yes
yes
yes
MWD
yes
yes
yes
yes
yes
yes
yes
yes
MWV
yes
yes
yes
yes
yes
yes
yes
yes
PGN*
yes
RMB
yes
yes
yes
yes
yes
yes
yes
RMC
yes
yes
yes
yes
yes
yes
yes
ROT
yes
yes
yes
yes
yes
yes
RPM
yes
yes
yes
RSA
yes
yes
yes
yes
yes
RTE
yes
yes
yes
TXT
yes
VBW
yes
yes
VDO, VDM **
yes (11)
yes (11)
yes (9)
yes (9)
yes
VDR
yes
yes
yes
yes
yes
VHW
yes
yes
yes
yes
yes
yes
yes
yes
VLW
yes
yes
yes
yes
yes
yes
yes
VTG
yes
yes
yes
yes
yes
yes
yes
yes
VWR
yes
yes
yes
yes
yes
yes
VWT
yes
WPL
yes
yes
yes
XDR
yes
yes
XTE
yes
yes
yes
yes
yes
yes
yes
ZDA
yes
yes
yes
yes
yes
yes
yes
yes
* These proprietary sentences are used to transfer raw NMEA 2000 messages over NMEA 0183
** AIS VHF messages supported: YD - 1-5,9,11,18,19,21,24; ActiSense - 1-5,9,18,19,24
In the table above you can find the list of conversions available in our gateways, the gateways of ActiSense and Maretron (data source is available through the link in the header) as well as the list of supported messages in the popular iNavx application.
It looks like our gateways are winning, having the widest range of supported messages. To stay on top of the industry changes we release updates at least quarterly. The plan for the next update is to add DSC/DSE VHF messages support and to fill all the possible gaps in the table above. Subscribe to our mailing list and stay tuned!
Firmware updates for all mentioned products are available in the Downloads section.
Next articles: