November 16, 2017

Web Gauges and new sentences support
Update 1.08 for Wi-Fi, USB and NMEA 0183 gateways adds support of the MDA sentence. True wind calculation from apparent wind, fuel rate and engine temperature output are added to Wi-Fi and USB gateways. And a brilliant new feature was added to Wi-Fi gateway: now it has built-in web-based gauges that, coupled with your smartphone, can replace an instrument display.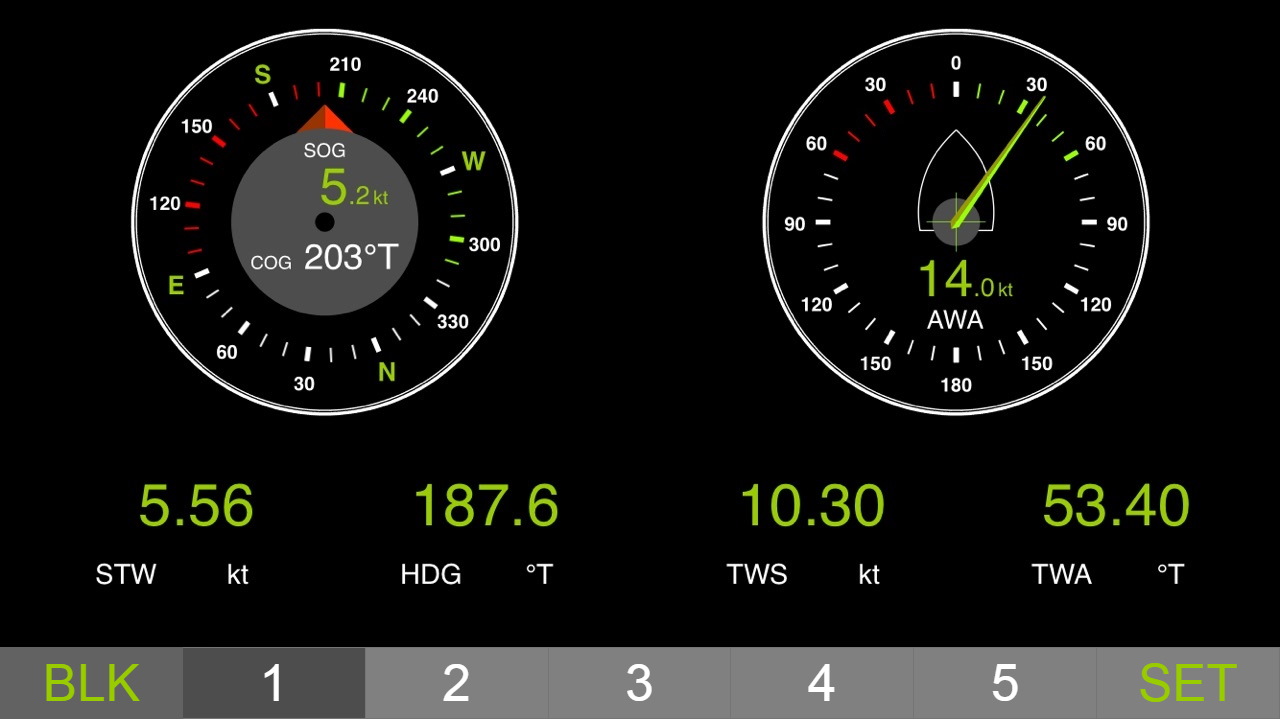 What is that above? It is a screenshot from an IPhone 7 connected to the NMEA 2000 Wi-Fi Gateway. It is not an app; it is just Safari with a page of the gateway's administrative web site displayed. We added colorful, web-based gauges, and now you can view real-time vessel data right from a browser.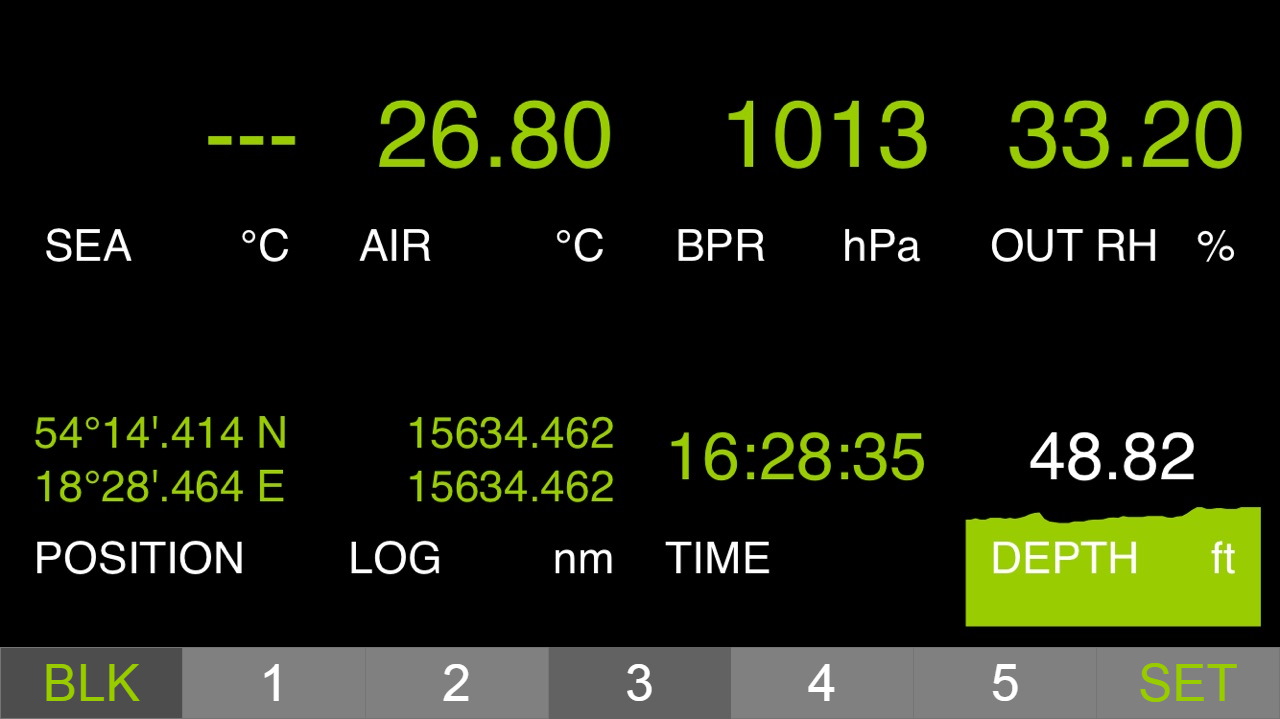 You can customize four data pages: both layout and the set of gauges displayed. All important data are available: tachometers for two engines with fuel rate, depth graph, circular gauges for wind and course, time, position, and environment data.
It works everywhere, on PC, laptop and smartphone. Gauges are written on pure JavaScript and require nothing else to run, but you need a modern browser. We tested the gauges on a recently purchased $25 Android tablet with the latest Google Chrome. This tablet hangs even when you are typing in the address bar, but the web gauges work if the number of circular gauges is limited. If you need a racing display, which will show only a few text data bars, a $25 Android tablet is an option. A small guide is published here if you wish to learn more about web gauges.
We found that most apps do not calculate true wind if only apparent wind is available. The wind sensor always measures apparent wind; true wind angle is calculated using SOG or STW data and true wind direction requires COG or heading. A chart plotter can join all these data and send calculated values to NMEA 2000, but usually TWD, TWA and TWS are not available.
Historically, STW/HDG are used to calculate true wind. However, this is not correct in places with strong current, and the "true" value of true wind can be obtained using the SOG/HDG pair. Therefore, our gateways offers four options: SOG/HDG (if you love truth), SOG/COG (if you have GPS only), STW/HDG (if tradition is most important), or you can disable calculations. In the last case the gateway reports true wind data only if they are calculated by another device available on NMEA 2000 network.
The default setting "Any" means that the gateway will detect what data are available on the network and will calculate true wind data using the best possible option. This setting can be modified on the "NMEA Settings" page of the Wi-Fi Gateway and with the SET command of the USB Gateway.
The MWV sentence is transmitted twice now, once for relative (apparent) and one for theoretical (calculated true) wind. Wind calculation is not supported in the 1.09 update of NMEA 0183 Gateway, and it will send true wind data only if they are available in NMEA 2000.
To get the fuel rate and engine temperature data in web gauges of Wi-Fi Gateway, we added transmission of these parameters to the XDR sentence, and added it to the USB Gateway too.
For better compatibility with old applications, we added transmission of deprecated MDA sentences of NMEA 0183 to all gateways. This contains atmospheric pressure, air and water temperature, outside relative humidity and wind data. All these data are also available in the modern XDR sentence.
Along with all these changes, we fixed some bugs and recommend this update to all users. Update 1.08 for USB, Wi-Fi and NMEA 0183 Gateway is available in the Downloads section. See this guide to learn more about web gauges.
November 8, 2017

CAN Log Viewer update 1.06 for Windows, Linux and Mac OS X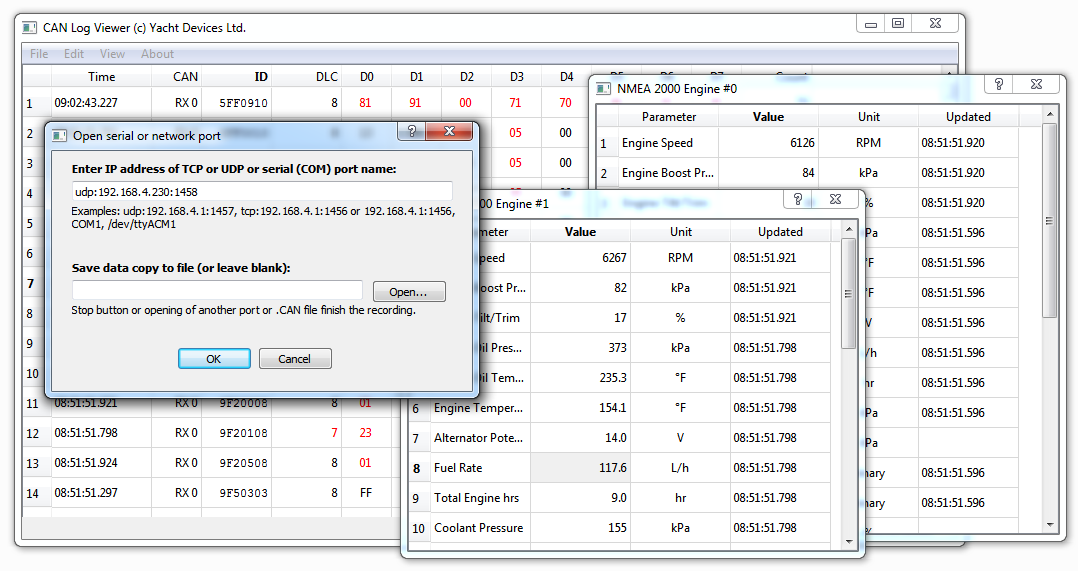 With this update, you'll be able to open logs of Raymarine chart plotters in the same way as .CAN files, connect to UDP ports of a Wi-Fi Gateway, and select preferred units for data viewers. In addition, message and data byte counters were added to the status bar and some other improvements were made.
Raymarine chart plotters are able to record SeaTalk NG (branded version of NMEA 2000) logs, files have names like SeatalkNG_00001.log and are similar inside to our RAW protocol:

  Rx 201357 09 f1 05 ac 20 15 3c c0 1f ff 7f ff
  Rx 201357 09 f1 05 ac 21 ff ff ff ff ff ff ff
  Rx 201358 09 f1 05 ac 22 ff 7f ff 7f ff 7f ff
  Rx 201358 09 f1 05 ac 23 ff ff ff ff ff ff ff
  Tx 201371 19 fa 04 01 80 ab bd ff 0e 04 39 37
  Tx 201371 19 fa 04 01 81 2c 71 ac 0d 00 00 00
  Tx 201371 19 fa 04 01 82 00 f2 0b 16 31 e6 a0
  Tx 201371 19 fa 04 01 83 a0 0f 00 00 00 00 f2
  Tx 201371 19 fa 04 01 84 20 0b 2f 72 9b d8 0e
  Tx 201371 19 fa 04 01 85 00 00 00 00 f2 01 e8


Now you can view these logs with the free CAN Log Viewer tool, and we hope that it will help Raymarine users tune and troubleshoot their systems without the help of Yacht Devices hardware products.
UDP protocol is faster than TCP because the gateway needs to wait for confirmation of the previous packet to send the next one, and data flow automatically restores after reconnection of Wi-Fi. So, UDP may be preferred if you need to record a few days data to a file with the CAN Log Viewer tool, for example. Cycling NMEA 2000 power or a temporary Wi-Fi connection loss will not stop recording.
The user interface is enhanced with unit settings (see the last item in the "View" menu) and two new data bars in the status bar. The first contains the number of messages received in the last second, and the second contains the number of data bytes received in the last second (two bytes are added to the message data length in case of an 11-bit CAN identifier and four bytes in case of 29-bit identifier).
This update also has some fixes and we recommend it to all users. You can download the program on the Downloads page.
November 7, 2017

How to set up a pair of Wi-Fi Gateways as a NMEA 2000 wireless bridge

A pair of Wi-Fi gateways can act as a NMEA 2000 wireless extender and allows joining of two or more physical networks. Benefits: saving on cables, reducing number of holes in bulkheads, unbeatable galvanic isolation, traffic filtering to reduce load on networks.
Wi-Fi gateways support RAW protocol, which transfers all NMEA 2000 messages (including proprietary), and NMEA 0183 protocol (NMEA 2000 data are converted to/from NMEA 2000). Both protocols can be used to set up a bridge between two NMEA 2000 networks.
With the factory settings, the gateway creates a Wi-Fi network with "YDWG" SSID (network name) and has the IP address 192.168.4.1. To configure the first gateway:
turn on the gateway, the second gateway must be off;
connect to the "YDWG" Wi-Fi network via mobile or laptop;
open "Wi-Fi Access Point" on the administrative web site (http://192.168.4.1/);
change the default network name (SSID) "YDWG" to anything else, for example, to "MyBoat";
connect to the "MyBoat" network to check your settings.
Connect the second gateway and configure it to act as a "Wi-Fi" client:
turn on the gateway and connect to "YDWG" Wi-Fi network;
open the "Wi-Fi Client" page on the administrative web site;
in the "IP Address Settings" section, choose "Static IP" and set the IP address to 192.168.4.100, net mask 255.255.255.0, and gateway address 192.168.4.1;
click the "Save" (not "Save and apply") button in the "IP Address Settings";
scan for Wi-Fi networks and choose "MyBoat", specify the password and click "Connect!" button;
connect to the "MyBoat" network and open http://192.168.4.100/ to check your settings.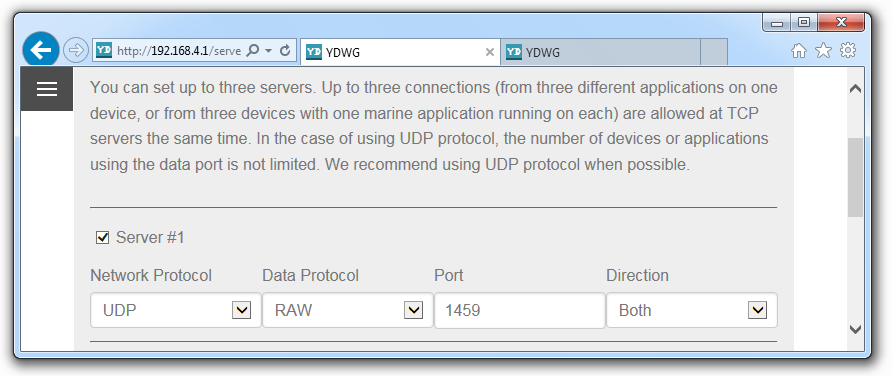 Figure 1. Example of server's settings
To pair the gateways, you need to set up both using UDP protocol and set the same port number. For example, open the "NMEA Server" page on the second gateway (http://192.168.4.100/) and configure any server to use "UDP" network protocol, "RAW" data protocol and port 1459 in "Both" directions (see Figure 1). Open the same page on the first gateway (http://192.168.4.1/) and configure any server the same as above. Voila!
Be sure that everything works so that you are able to see data from first network in the second one and vice versa. Now we'll show how you can tune your settings.
First, you can add a third gateway. All is done as for the second above but use the next IP address, 192.168.4.101. Congrats, you joined three NMEA 2000 networks!
If your gateways are used as extenders only, it may be good idea to make the network invisible and hide it from other devices to prevent unwanted connections:
on the "Wi-Fi Client" page of the second gateway, specify the network name in the "Other" field and click "Connect!";
on the "Wi-Fi Access Point" page of the first gateway, tick "Make the network hidden" and click "Change Access Point settings".
From now on, to connect to your network from a laptop or smartphone you will need to choose "Other network.." (or something like that) and type its name manually.
If you already have a Wi-Fi network on the boat, you can configure both gateways as clients of the existing network. The signal of the Wi-Fi router usually is stronger and it allows extension of the range but usually it is not required.
But what if you need only to get the depth data from the first network on the second? There is no reason to flood both networks. You can switch the data direction on first gateway to "Transmit Only" from "Both", and to "Receive Only" on the second gateway. This will reduce the traffic in first network but not at second one.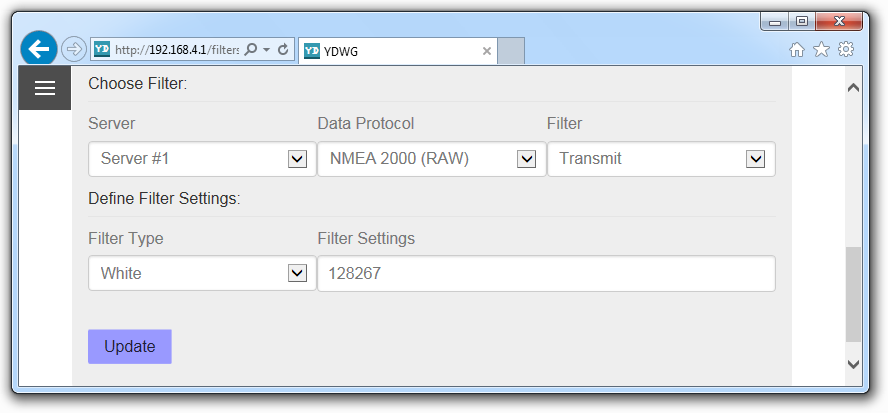 Figure 2. Filter settings
To reduce the traffic in the second network, you can configure the "Transmit" filter for the "RAW" protocol of the first gateway server to "White" type and set 128267 as the value (Figure 2), this is the message number (PGN) of "Water Depth" messages. In this case, the first gateway will transmit water depth only.
It looks easy, but we know that many of our customers are not familiar with NMEA 2000 but rather with NMEA 0183. In this case, you can switch servers of both gateways from RAW to NMEA 0183 protocol and set up "White" filter with "DPT" value (NMEA 0183 sentence for Depth).
We also wish to draw your attention to our NMEA 2000 Bridge product. It provides a reliable wired connection between two networks and is preferable in demanding applications. The Wi-Fi signal can be masked out and loss of the connection (despite low probability) should be considered.
To learn more about the Wi-Fi Gateway, see the product page. To learn more about NMEA 2000 Bridge, see this page.
Next articles: