January 15, 2019

Meet us at the Dusseldorf Boat Show

We invite you to the booth of our reseller, Kiel Nautic, at Europe's largest boat show from January 19 until 27. See our products in action and even connect to our NMEA 2000 network!
Try our digital switching products, digital sensors, and other our products at the booth of our reseller Kiel Nautic (Busse Yachtshop). Would you like to test apps on your IPad with our Wi-Fi gateway or get first-hand experience with our gateway's web gauges? It is easy; the Wi-Fi Gateway's network at booth A49 in Halle 11 will be open for all visitors. Until January 23, you can meet us personally at the expo. We will not be present at the booth all the time, so it is better to schedule a meeting (please, leave a phone number for an SMS or call).
While you are on your way to Dusseldorf, you can look at our updated product catalog: German, English, Swedish, Russian and French versions are already available.

We also wish to invite you to the booth of SlimSchip at HISWA 2019 (March 6-10, Hall 1 / 246) in Amsterdam. You can meet us personally at this event too.
December 21, 2018

Merry Christmas and Happy New Year
The holidays are coming, and we need to share our schedule, plans and some numbers! We thank all visitors, customers and partners for their help and support and wish Happy New Year, great pleasure voyages and successful races in 2019!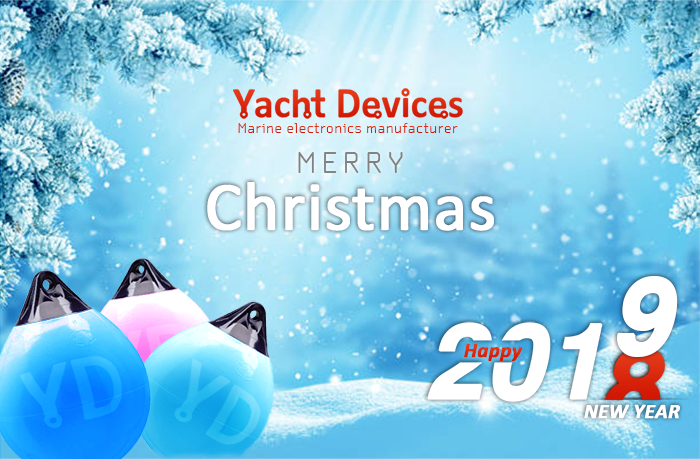 This year was highly productive for our company, we released eight new products:
This year we sold 3 times more units than in 2017, developed two OEM projects and established dealer relationships with about 40 companies from the marine market. We hope that at the beginning of 2019, you will find many more flags at the ordering page!
Along with the new releases, we continue updating our existing products:
NMEA certified six of our products in 2018. This also required great effort:
We are very proud of our recently-released Circuit Control; it is not only a pure NMEA 2000 digital switching product with the best price on the market, it is also compatible with Maretron and Offshore Systems, and with all modern chart plotters. It has an excellent chance to become #1 for small and mid-sized boats because it is very simple and easy to install.
Next year we plan to expand our digital switching product line with an alarm unit, our NMEA 0183 products line with a simple multiplexer (5x0183+SeaTalk), our NMEA 2000 gateways line with an all-in-one product (Wi-Fi, NMEA 2000, NMEA 0183, SeaTalk), and our NMEA 2000 sensors line with a battery sensor. We are keeping some projects secret as a surprise ;-)

We invite you to the Kiel Nautic booth (Hall 11 / A49) at the Dusseldorf Boat Show, where you will be able to see our products in action. And from January 19 till 23 (the first five days of the expo) you can meet us personally.
The Lithuanian and Polish warehouses will be on vacation from December 22 to January 3, and the Russian warehouse will be on vacation from December 30 to January 3. All orders placed during these vacation periods will be sent out on January 4. Technical and sales support will be on vacation from December 30 to January 2.
It was a great pleasure to work with sailors from the entire world in 2018; we wish all of you a Merry Christmas, Happy New Year, and pleasant voyages and successful races in 2019!
December 13, 2018

NMEA certified, MFD compatible
Loads connected to the Circuit Control YDCC-04 can be managed from all chart plotters with CZone support: this includes all modern models of Garmin, B&G, Lowrance, Simrad, Furuno and recent models from Raymarine (Axiom, eS, gS series). The Circuit Control and Switch Control are certified by NMEA.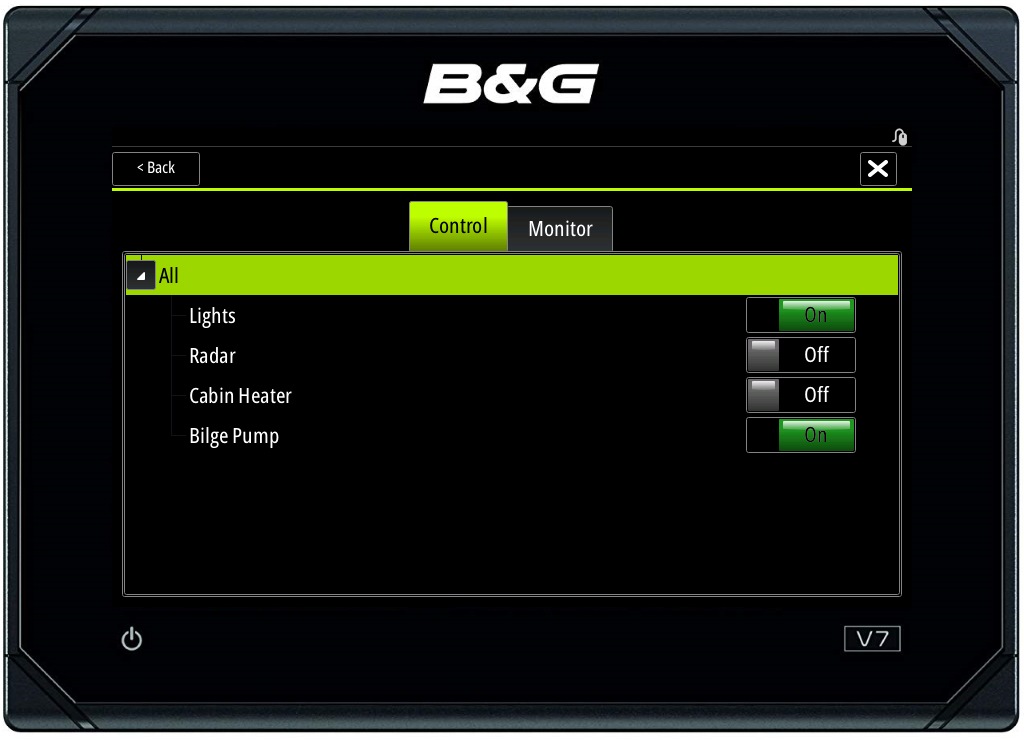 Picture 1. B&G Vulcan V7 with Circuit Control loads
We are glad to inform you that our digital switching products was certified by NMEA. The Circuit Control YDCC-04 and Switch Control YDSC-04 have passed certification; they are pure NMEA 2000 products using standard PGNs.
You can manage loads from connected physical buttons, with "virtual buttons" of our Wi-Fi Gateway or automatically, using our sensors. However, of course, there is great demand for management from an MFD screen.
With this update, you can do this from any chart plotter with CZone support, meaning all modern chart plotters of Garmin, B&G, Lowrance, Simrad, Furuno and recent models from Raymarine (Axion, es, gs series).
The only things you need are:
Connect Circuit Control (with 1.01 firmware) to your NMEA 2000 network.
Fill the form with the desired channel names below and download the personalized configuration file for your MFD.
Turn on CZone support on your MFD and configure the Dip Switch setting.
Upload the configuration file to the MFD (usually from MicroSD card).
That is all, now you can manage loads from your chart plotter!
Presentation of controls and the location of controls depends on the MFD manufacturer. Please refer your MFD documentation.
Please be aware about the following limitations in the current firmware version:
You can use only one Circuit Control with all your chart plotters, because the downloaded file contains the configuration for one Circuit Control unit only and the configuration file must be the same on all chart plotters with activated CZone support.
If you already have CZone equipment installed, you will overwrite the exiting CZone configuration with our file and your CZone equipment will not function properly.
In the next year, we'll publish a detailed manual about integration of our products to networks with existing CZone equipment and add the possibility to use multiple Circuit Control units.
Let's configure the system with B&G Vulcan v7 chart plotter and Circuit Control YDCC-04 unit. For other plotters, the actions will be similar.
STEP 1. Connection of Circuit Control
Please refer the section V of the Manual. You do not need to connect buttons or loads right now. It is enough to connect the NMEA 2000 cable to the Circuit Control.
STEP 2. Generation of CZone file
Please use this form to generate a CZone configuration file (.ZCF) for your MFD. The DIP Switch setting on the MFD must be different from YDCC DIP Switch setting (it is generated by the serial number). For example, you can use 00000001 to configure your MFD.
If the check box below is unchecked, you will need to activate CZone support in the Circuit Control manually (see below).
STEP 3. Turning on CZone support on MFD
Go to "Advanced Settings" of Vulcan and turn on CZone support.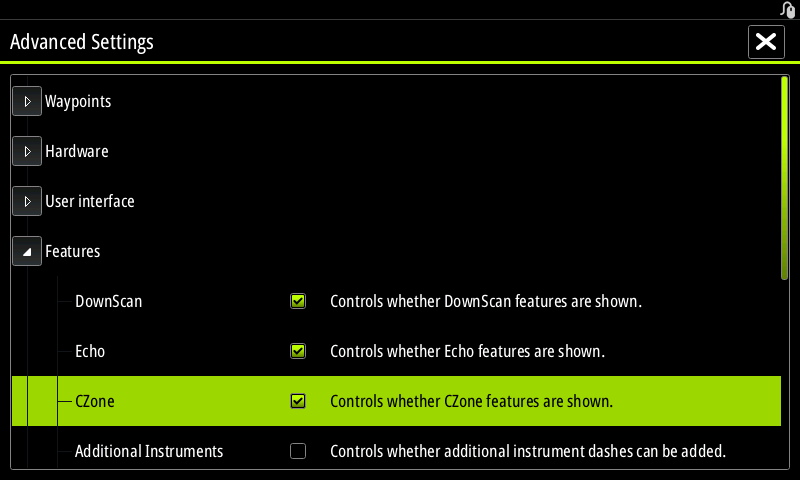 Picture 2. Activation of CZone in Vulcan V7
Now, locate the CZone icon in the "Settings" menu, and set "Dip Switch" setting to 00000001 or to any other value not matching with YDCC Dip Switch setting.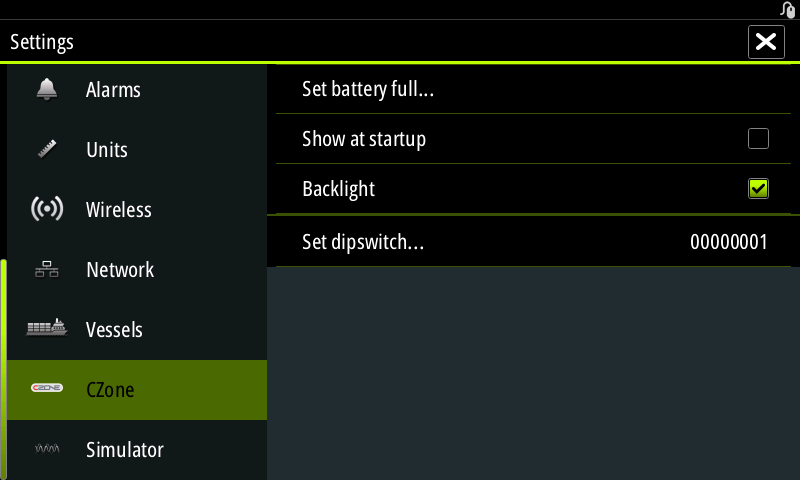 Picture 3. Dip Switch settings
STEP 4. Upload configuration to MFD
Save the file downloaded at the STEP 2 to the MicroSD card, insert it to Vulcan and locate "Files" item in the menu. Choose the MicroSD card, locate and import the file.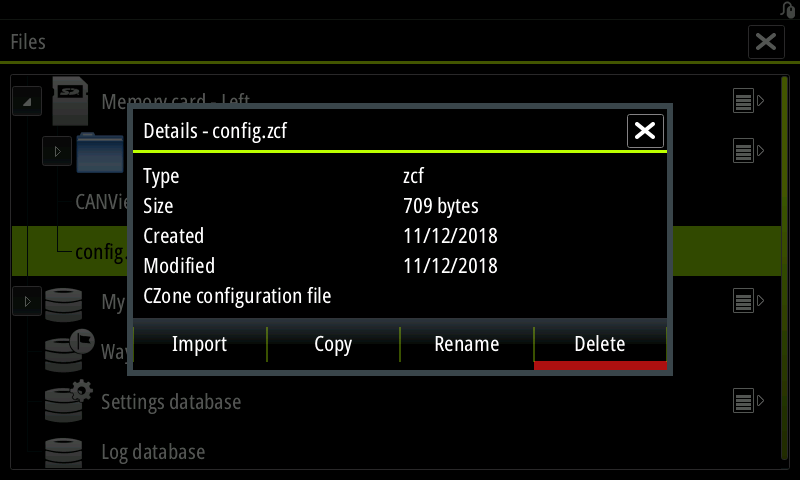 Picture 4. ZCF file import
The chart plotter should show you the "Configuration successful" message after file import.
If you are re-writing an existing CZone configuration (for example, you decided to rename buttons and uploading the configuration file second time), you may need to reboot your MFD after import to apply changes.
STEP 5. Test digital buttons
Now, locate the "CZone" icon in the menu (not in the "Settings" submenu!), tap on the "Control, Monitor" icon and you'll see your buttons as shown at the first picture!
You can switch buttons and hear that relays are switching (they are actually very quiet, because the case is totally filled with rubber) and see that status LEDs of Circuit Control are flashing properly.
Congratulations!
The Circuit Control is supplied with the setting "YD:CZONE AUTO", it means that CZone support will be automatically activated in the Circuit Control when the configuration file download from our web site is uploaded to MFD.
If you have more than one Circuit Control unit, CZone support will be activated at the same time on all connected units and caused the conflict. To prevent unnecessary activation, switch this setting to OFF from connected buttons or using software. Please, refer sections VII and X of the Manual.
If you unchecked the automatic activation at the step with CZone configuration file generation, you need to activate CZone support on Circuit Control manually; to do it, configure the setting to ON.
The firmware update 1.01 for Circuit Control is available on the Downloads page. The update procedure is described in the section IX of the Manual.
Next articles: